Farmers' Market Box 2-13-13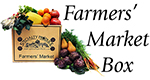 Red Chard – Jaime Farms
SUMO Citrus – Suntreat Packing
All Red Potatoes – Weiser Family Farms
Watermelon Radish – McGrath Family Farms
Baby Red Beets – Jaime Farms
Romaine Lettuce – Solution Farms
Red Carrots – Coastal Organics or Jaime Farms
Strawberries – Be Wise Ranch
Yams – Earthbound Farms
Organic Juicing Bag:
Japanese Tomatoes – Beylik Farms
Moro Blood Oranges – Stehly Organics
Red Bell Peppers – Jaime Farms
Red Beets – Coastal Organics
Carrots – Coastal Organics
Strawberries – Be Wise Ranch

Click here to Watch Video on YouTube
Catalina Offshore catch of the week: Pargo

click the links above & search for products on our website with recipes attached
Below are some great recipes courtesy of Diane Phillips (Cucina Divina) & Mischa's Cafe & Juice Bar (located just down the street from us!) for you to try out with the produce from your bag. Let us know on our Facebook Page or through twitter if you tried any of them!
FMB JUICE RECIPES
The Red Juice Cocktail
1 red bell pepper
3ea carrots
1ea red beets
1ea tomato
The OJ Carrot Juice
1ea red beets
3ea carrots
2ea oranges
The Love Juice
6ea oranges
1/2pt strawberries
Specialty Produce Recipe Suggestions
courtesy of Diane Phillips (Cucina Divina)
Chicken Soup for the Italian Soul
Serves 8
2 tablespoons extra-virgin olive oil
1 small onion, finely chopped (1 small)
3 medium carrots, finely chopped
One 1 head red Swiss chard cleaned, stems trimmed and cut into 1/2-inch pieces (you should have 4 to 5 cups)
8 cups chicken broth
4 large eggs
1/2 to 2/3 cup freshly grated Parmigiano Parmigiano-Reggiano
Salt and freshly ground black pepper
1. In a large skillet, heat the oil over medium high medium-high heat, and sauté the onion, carrots, and escarole, turning in the oil to coat.
2. Sauté the vegetables until the onion begins to soften, about 2 to 3 minutes, add the broth, cover, and simmer for 30 minutes.
3. The escarole will be tender.
4. In a medium mixing bowl, whisk together the eggs and 1/2 cup of the cheese.
5. Drizzle the egg mixture into the simmering soup, stirring as you are pouring it in. Season with salt and pepper if necessary, Serve the soup immediately garnished with additional Parmigiano, if desired.
Beet Carpaccio with Buratta, Arugula, Orange Basil Vinaigrette
Serves 6
A similar dish is served at our very own Farm House Café, in San Diego. You can easily make this at home.
Two bunches beets, tops trimmed, and scrubbed
One bunch arugula, cleaned, and spun dry
2 buratta (buratta is a fresh mozzarella with a creamy center—you can substitute fresh mozzarella if you can't find buratta—it's available at Mona Lisa)
2 Sumo oranges, segmented
1/2 cup extra virgin olive oil
1/4 cup fresh orange juice
2 tablespoons sugar
2 tablespoons aged Balsamic vinegar
6 large leaves basil, finely sliced
Salt and pepper
1. Preheat the oven to 400 degrees, and place the beets on a baking sheet. Bake for 30 to 45 minutes until tender. (they will show no resistance when pierced with the end of a sharp paring knife)
2. Remove the beets from the oven, allow to cool, and peel the beets.
3. Arrange the arugula on 6 salad plates. Thinly slice the beets and arrange over the arugula.
4. Thinly slice the buratta, and arrange 3 pieces over the beets.
5. Arrange the orange slices around the outside of each plate.
6. In a small bowl, whisk together the oil, orange juice, sugar, Balsamic vinegar and basil. Taste for seasoning and adjust with salt and pepper and drizzle over the salad.

Creamy Caesar Romaine Salad with Garlic Crostini
Serves 6
The dressing is a great dip for veggies, or dressing for potato or pasta salad. You might want to steam your red potatoes, and add them to this salad.
For the Dressing
1/2 cup mayonnaise
1/4 cup sour cream
1/4 cup freshly grated Parmesan cheese
1 teaspoon fresh lemon juice
1 teaspoon anchovy paste
1 garlic clove, minced
1 teaspoon Worcestershire sauce
1 teaspoon freshly ground black pepper
1. In a small mixing bowl, whisk together the ingredients until blended. Cover and refrigerate for up to 5 days.
For the Garlic Crostini
One baguette, sliced into 1/2-inch slices
1/2 cup olive oil
6 garlic cloves, minced
1. Preheat the oven to 350 degrees. Line a baking sheet with a silicone baking liner and place the baguette slices on the baking sheet in one layer.
2. In a small bowl, combine the oil and garlic, and brush the baguette slices with the garlic oil.
3. Bake for 10 to 15 minutes until the crostini are golden.
4. The crostini can be stores in zip lock bags for up to 3 days, or frozen for up to 1 month.
For the Salad
One head romaine lettuce, washed, spun dry, and cut into pieces
1 cup finely shredded Parmigiano Reggiano
Garlic Crostini
1. In a large salad bowl, toss the lettuce with some of the dressing.
2. Plate the salad, and sprinkle each serving with Parmigiano and serve with 2 crostini.
Romaine Lettuce: The thick ribs, especially on the older outer leaves, should have a milky fluid which gives the romaine the typically fine-bitter herb taste.
Red Carrot Cake with Strawberry Frosting
Makes one 13-by-9-inch cake or 36 cupcakes
1 1/2 cups canola oil
2 cups sugar
3 large eggs
2 teaspoons vanilla paste or extract
3 cups thinly shredded red carrots
One 8-ounce can crushed pineapple (do not drain)
1/2 cup chopped pecans or walnuts (or omit)
3 cups unbleached all-purpose flour
2 teaspoons baking soda
2 teaspoons ground cinnamon
1. Preheat the oven to 350°F. Coat a 13 x 9-inch baking pan with nonstick cooking spray. Or line cupcake tins with cupcake papers. If not using papers, coat the inside and tops of muffin tins with non-stick cooking spray.
2. In a large bowl, beat together the oil, sugar, eggs, and vanilla. Add the carrots, pineapple and juice, and nuts, stirring until blended. Add the flour, baking soda, and cinnamon and stir to combine. Pour the batter into the prepared pan and bake until a skewer inserted in the center comes out clean, 40 to 50 minutes. CUPCAKES: 20 MINUTES.
3. Place the pan on a rack and let cool completely. Spread the top of the cake with the cream cheese frosting.
4. Do-Ahead: At this point, you can cover and refrigerate for up to 4 days or freeze for up to 2 months.
Strawberry Cream Cheese Frosting
Makes 6 cups, enough to frost two 9-inch layers, one 13 x 9-inch cake, or 48 cupcakes
One 8-ounce package cream cheese, softened
1/2 cup (1 stick) unsalted butter or margarine
1 cup strawberries, finely chopped
5 cups confectioners' sugar
1/2 teaspoon lemon extract
Milk, as needed
1. Using an electric mixer beat together the cream cheese and butter in a medium-size bowl.
2. Add the strawberries, and beat to break them up.
3. Stir in the confectioners' sugar and extract and beat until the mixture is of spreadable consistency.
4. If the frosting is too thick, beat in some milk, 1/2 teaspoon at a time, until desired consistency is reached.
5. Do-Ahead: At this point, you can cover and refrigerate for up to 5 days or freeze for up to 6 months. I recommend you soften it at room temperature after it's been refrigerated, so it's easy to spread.
Strawberry Shortcake Layer Cake
Makes one 2-layer 9-inch cake; serves 12 to 14
You will need more strawberries for this cake, but if you would like, bake the cakes, save one and freeze it in a zip-lock bag, and make the shortcake with the single layer and the basket of strawberries in the box.
1 ¾ cups cake flour
2 teaspoons baking powder
1/2 teaspoon salt
1/2 teaspoon baking soda
1 ½ cups sugar
1 cup (2 sticks) unsalted butter, softened, and cut into 1/2-inch bits
1/2 cup whole milk
4 large eggs
1 tablespoon vanilla extract or vanilla bean paste
1. Preheat the oven to 350°F. Coat two 9-inch round baking pans with nonstick cooking spray.
2. In the food processor, combine the flour, baking powder, salt, baking soda, and sugar and pulse 2 to 3 times. Distribute the butter over the flour mixture and pulse until the flour resembles small peas.
3. Pour the milk into a 2-cup measuring cup, add the eggs and vanilla, and beat with a fork to break the eggs up. With the food processor running, add this through the feed tube and process for about 45 seconds. Scrape down the sides, then process again for another 30 to 45 seconds, until blended.
4. Divide the batter equally between the 2 prepared pans. Smooth the tops, without pressing down on the batter. Bake until golden and a skewer inserted in the center comes out clean, 25 to 30 minutes.
5. Transfer the pans to a rack, cool for 10 minutes, remove from the pans, and allow to cool completely.
6. Do-Ahead: At this point, you can cover with plastic wrap or put in zipper-top plastic bags and refrigerate for 2 days or freeze for up to 2 months. Defrost before continuing.
Shortcake Assembly and Filling
4 pints fresh strawberries
1/2 to 1 cup granulated sugar (depending upon the sweetness of the berries)
1 tablespoon liqueur, such as Grand Marnier or amaretto (optional)
2 cups heavy cream
2 cups mascarpone cheese
1/2 cup confectioners' sugar
1. Set aside 1 pint of strawberries for garnish. Hull the remaining 3 pints of strawberries, slice 1/2 inch thick, and put in a large bowl.
2. Split the 2 cake layers in half horizontally. Arrange strips of waxed or parchment paper around the edge of a serving platter.
3. Sprinkle the sliced strawberries with the granulated sugar and liqueur, if using, stirring to blend. Taste the berries while you are stirring to make sure they are sweet enough.
4. 4.With an electric mixer, whip the cream in another large bowl until soft peaks form, then add the mascarpone, and confectioners' sugar and continue to beat until stiff peaks form.
5. Place one cake layer on the waxed paper strips, top with a thin layer of about a third of the sliced strawberries, then a thin layer of whipped cream. Continue in this way, adding two more of the cake layers and using up the sliced berries. Top with the fourth cake layer and spread the remaining whipped cream over the top and sides of the cake. Garnish the top with the whole berries, or cut them in half and arrange in a chevron pattern from the center. Remove the waxed paper.
6. Do-Ahead: At this point, cover and refrigerate for at least 6 hours and up to 24 hours.
Helpful Hint: The whipped cream/mascarpone mixture is a great whipped cream frosting because it remains stable, meaning that you can refrigerate it and it won't weep as whipped cream has a tendency to do, and it stays stiff for quite a while. You can also make it a chocolate frosting, by adding ¼ cup cocoa powder and increasing the sugar to ¾ cup.
Post your photos on Twitter with the hashtag #spFMB or share them with the FMB community on our facebook page http://facebook.com/specialtyproduce!
If you haven't joined yet, you can order a bag for next week on our FMB page!