Farmers' Market Box 3-6-13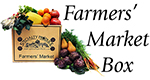 Green Cabbage – Jaime Farms
Cauliflower – Life's a Choke
Star Ruby Grapefruit – Garcia Organics
Sanguinelli Blood Oranges – J.J.'s Lone Daughter Ranch
Baby Parsnips – McGrath Family Farms
Romaine – Solution Farms
Lime – Local Organics
Spring Onions – Rutiz Farms
Mustard Frill Greens – McGrath Family Farms
Organic Juicing Bag:
Persian Cucumbers – Beylik Farms
Black Kale – McGrath Farms
Red Beets – Lakeside Organics
Celery – Jaime Farms
Fuji Apples – Earthbound Farms
Carrots – Earthbound Farms

Click here to Watch Video on YouTube
Catalina Offshore catch of the week: Hake
click the links above & search for products on our website with recipes attached
Below are some great recipes courtesy of Diane Phillips (Cucina Divina) & Mischa's Cafe & Juice Bar (located just down the street from us!) for you to try out with the produce from your bag. Let us know on our Facebook Page or through twitter if you tried any of them!
FMB JUICE RECIPES
Green Cocktail
Kale 3-4 leaves
Beets 1 each
Fuji Apples 2ea
Veggie Juice
Beets 1ea
Carrots 6-7each
Celery 4 stalks
Fruit Juice
Apples 2ea
3-4ea leaves
6ea cucumbers
Specialty Produce Recipe Suggestions
courtesy of Diane Phillips (Cucina Divina)
Blood Orange Honey Slaw
Terrific with BBQ, ribs, or ham, try this slaw at your next pot luck.
Serves 4 to 6
One green cabbage, washed, cored, and thinly sliced
One spring onion, finely chopped
2 Sanguinelli Blood Oranges, segmented, juice squeezed into a measuring cup
1 cup mayonnaise (see note)
2 tablespoons honey
1 tablespoon rice vinegar (or to taste)
About 1 or 2 tablespoons excess juice from orange
1. Put the cabbage, onion, and orange segments into a large bowl.
2. In a small bowl, whisk together the mayonnaise, honey, rice vinegar and any excess juice from the membrane of the oranges. Taste, it should have a nice balance of sweet/tart. Add more vinegar or honey if needed.
3. Toss the cabbage mixture with the dressing, refrigerate for at least 1 hour, or up to 6 hours. (the longer it sits, the acid from the orange juice, and vinegar will begin to "cook" the cabbage and onion—there may be some residual water in the bottom of the bowl, drain that off and serve.
4. Note on Mayonnaise: Low fat mayonnaise can be substituted, but be aware that low fat mayonnaise has a distinctive lemony flavor, so watch the amount of vinegar you use.
Pasta with Roasted Cauliflower, Tuna and Spring Onions
Roasted Cauliflower is delicious, and the addition of tuna to this makes it a quick weeknight one dish meal.
Serves 4 to 6
1 head cauliflower, cored and cut into florets
1/2 cup extra virgin olive oil
2 garlic cloves, minced
2 spring onions, white parts finely chopped; greens cut into 1¼2-inch pieces
Generous pinch dried red pepper flakes
Grated zest of one lemon
One 5-ounce can Italian tuna, packed in olive oil
1 pound dried penne or rigatoni, and cooked 3 minutes short of al dente, reserving some of the pasta water
1/2 cup freshly grated Pecorino Romano
1/4 cup finely chopped Italian Parsley (see note)
1. Preheat the oven to 400 degrees, and line a baking sheet with aluminum foil, or a silicone baking liner. Put the cauliflower onto the baking sheet, drizzle with 1/4 cup of olive oil, and sprinkle liberally with salt and pepper. Roast for 6 to 8 minutes, until tender. Remove from the oven, and set aside while finishing the sauce.
2. In a large skillet, heat the remaining olive oil over medium-low heat. Add the garlic and spring onions and cook until fragrant for 2 to 3 minutes. Add the pepper flakes, lemon zest, and tuna, flaking the tuna. Stir in the cauliflower, and the cooked pasta. Add some of the pasta water to make a sauce (about 1/2 cup) then stir in 1/4 cup of the cheese, stirring until the cheese is melted and the sauce comes together. Toss in the remaining cheese and parsley and serve.
Note about Italian parsley:
· If you buy a bunch and don't think you will use it all, wash it, and spin it dry.
· Wrap it in paper towels, and store in a zip-lock bag in the freezer. The parsley can be used directly from the freezer.
· Or chop it all, and store it in a zip-lock bag with a paper towel to absorb excess moisture.
· Parsley stored in water in the refrigerator will keep for about 10 days.
Cauliflower Mash
Serves 4
For those on a low carb diet, this works pretty well.
One head Cauliflower, cut into florets
1/4 cup heavy cream
4 tablespoons unsalted butter
Salt and pepper to taste
1. Bring 4 quarts of salted water to a boil, and add the florets, cooking for 5 minutes, or until very tender. Drain thoroughly.
2. In a mixing bowl, mash the cauliflower with 2 tablespoons of cream, and 2 tablespoons of butter, adding more cream or butter to make a creamy consistency. Season with salt and pepper to taste and serve.
Blood Orange and Red Grapefruit Marmalade
Makes about 3 pints
2 grapefruit
5 to 6 blood oranges
3 cups water
6 1/2 cups sugar
One 1 3/4-ounce package pectin
1. Using a swivel peeler remove the zest from the fruit, and cut the zest into 1/4-inch pieces. Add the zest to a saucepan with 3 cups of water, and bring to a boil. Simmer for 30 minutes.
2. While the zest is boiling, cut the ends off the fruit, and remove the pith (white membrane) from the fruit.
3. Slice the fruit into segments, dropping the segments into the water and zest. Squeeze any juice from the membranes into the pan.
4. Add the sugar to the fruit, and zest cooking liquid, and bring to a boil, the marmalade should reach 220 degrees on a candy thermometer.
5. Add the pectin, and remove from the heat.
6. Skim any foam from the top of the marmalade, and stir gently.
7. Transfer to heat-proof containers, cool to room temperature and refrigerate for up to 1 month.
8. The marmalade can be canned, in canning jars if desired.
Sautéed Red Frill Mustard Greens
A slow sauté over medium heat turns these mustard greens into something special to serve on the side.
Serves 2 to 4
1/4 cup extra virgin olive oil
4 garlic cloves, sliced
Pinch red pepper flakes (optional)
One bunch red frill mustard greens, washed, spun dry and coarsely chopped
1/4 cup chicken or vegetable broth
Salt and pepper to taste
1. In a large skillet over medium high heat, heat the oil, and add the garlic, sautéing until the garlic begins to turn translucent, about 6 minutes.
2. Add the red pepper flakes, and stir for 10 seconds, add the mustard greens and broth, cover, and simmer for about 15 minutes, remove the cover and sauté for another 10 minutes, until most of the liquid in the pan is absorbed, and the greens are tender.
3. Season with salt and pepper to taste.
Post your photos on Twitter with the hashtag #spFMB or share them with the FMB community on our facebook page http://facebook.com/specialtyproduce!
If you haven't joined yet, you can order a bag for next week on our FMB page!