Farmers' Market Box 3-13-13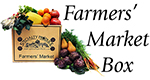 Arugula – Coastal Organics
Dino Kale – Be Wise Ranch
Meyer Lemons – Rancho Del Sol
PeeWee Mix Fingerling Potatoes – Weiser Farms
Rapini – McGrath Family Farms
Gold Nugget Tangerines – Rancho Del Sol
French Breakfast Radish – Be Wise Ranch
Snap Peas – Tutti Frutti Farms
Butter Lettuce – Go Green Agriculture
Organic Juicing Bag:
Meyer Lemons – Rancho Del Sol
Nantes Carrot – Coastal Organics
Italian Parsley – Be Wise Ranch
Kiwi – Earthbound Farms
Fuji Apples – Earthbound Farms
Strawberries – Be Wise Ranch

Click here to Watch Video on YouTube
Catalina Offshore catch of the week: Baja Grouper

click the links above & search for products on our website with recipes attached
Below are some great recipes courtesy of Diane Phillips (Cucina Divina) & Mischa's Cafe & Juice Bar (located just down the street from us!) for you to try out with the produce from your bag. Let us know on our Facebook Page or through twitter if you tried any of them!
FMB JUICE RECIPES
Breath Refresher
4ea carrots
1 handful fresh parsley
1ea meyer lemon
Capple Kiwi
3ea carrots
1e apple
2ea kiwi fruits
Kiwi Berry
3ea kiwi fruits
2 handfuls strawberries
2ea apples
Specialty Produce Recipe Suggestions
courtesy of Diane Phillips (Cucina Divina)
Broccoli Rabe Orzo soup
Serves 6
1/4 cup extra virgin olive oil
2 leeks, finely chopped, using the white and tender green parts
2 garlic cloves, minced
1 bunch rapini, cleaned and finely chopped
6 cups chicken or vegetable broth
1cup cooked orzo pasta
zest of 1 Meyer lemon
salt and pepper
1. In a 5-quart Dutch oven, heat the oil, and sauté the leeks and garlic for 2 minutes, add the rapini, and sauté another 2 to 3 minutes, until it begins to wilt.
2. Add the broth, orzo, and lemon zest, and simmer for 5 minutes. Season with salt and pepper and serve with a drizzle of olive oil over each serving.
Braised Dino Kale
Serves 4
This is a great way to make any sturdy green a terrific side dish with grilled or roasted meats.
1/4 cup extra-virgin olive oil
1 bunch Dino Kale, washed, stripped from center ribs, and torn into pieces (about 4 cups)
4 garlic cloves, rough chopped
Pinch red pepper flakes
1/3 cup chicken or vegetable Broth
Salt and fresh-ground black pepper
1. In a large skillet, heat 2 to 3 tablespoons of the olive oil over medium high. Add the garlic and pepper flakes. Sauté them for about 10 seconds, till they are fragrant.
2. Add the greens and stock. The pan will look heaping, but the greens shrink s as they cook down.
3. Reduce the heat to medium low, cover, and cook the greens for 10 to 15 minutes, or until they are tender. Check occasionally to make sure the greens are not burning, adding more liquid if needed.
4. Just before serving, season the greens with salt and pepper and more of the olive oil if desired.
Colcannon
Serves 4 to 6
A traditional Irish dish made with Kale or other sturdy green, and potatoes.
6 medium Yukon gold potatoes, cut into 1-inch chunks (leave the peel on if you prefer)
1/2 cup unsalted butter
2 leeks, finely chopped, using the white and tender green part
One bunch kale, stems trimmed, and finely chopped
1/2 to 2/3 cup warm milk or cream
1 cup finely shredded sharp white cheddar cheese (optional, but soooo good!)
Salt and pepper
1. Boil the potatoes in salted water to cover them for 10 to 15 minutes until tender. Drain the potatoes and keep warm.
2. While the potatoes are boiling, melt the butter in a large skillet, and sauté the leek
3. And the kale, until they are tender, about 5 minutes.
4. When the potatoes are drained, return them to their pan, and mash them with the leeks and kale, adding milk or cream to thin the potatoes.
5. Stir in the cheese, taste for salt and pepper, and serve hot.
Cook's Note: cold milk added to potatoes, will make them turn to glue, always warm the milk or cream before adding to potatoes.
Meyer Lemon Cookies
Makes 3 to 4 dozen
Simple to put together, these cookies can be refrigerated until you are ready to bake them, or keep a log in the freezer for emergencies!
3/4 cup unsalted butter, softened
1 1/4 cups powdered sugar
1 large egg
2 cups all-purpose flour
1 teaspoon baking powder
1/2 teaspoon salt
1/4 teaspoon baking soda
1teaspoon lemon oil (or grated Meyer lemon zest)
1 cup raw sugar granules
1. In the bowl of an electric mixer, beat together the butter and sugar until blended. Add the egg, and beat until well combined, the mixture may look like it's curdled—no worries.
2. Add the flour, baking powder, salt, baking soda and oil or zest, and beat until the mixture comes together.
3. Turn out onto a board, and divide in half and shape into a 6-inch by 1 to 1 1/2 -inch wide roll. Roll in the sugar to stud the outside of the roll.
4. Refrigerate for up to 3 days (the lemon flavor will intensify with age) or freeze for up to 2 months.
5. Preheat the oven to 400 degrees and line baking sheets with a silpat or parchment. Cut the cookie rolls into 1/4-inch slices and arrange on the baking sheets. Bake for 8 to 10 minutes until the outside of the cookies begin to turn golden. Allow to cool for 2 minutes on the baking sheets then transfer to racks to cool completely. The baked cookies can be frozen for up to 2 months, and stored air tight at room temperature for up 4 days.
French Breakfast Radishes with Unsalted butter and Fleur de Sel
Serves 6 to 8
One bunch Easter Egg or French Breakfast radishes, cleaned and thinly sliced
1 baguette, sliced 1/2-inch thick
French unsalted butter, room temperature (President)
Fleur de Sel
1. Spread a layer of butter on the bread and arrange the radish slices on top
2. Sprinkle with fleur de Sel and serve immediately.
Post your photos on Twitter with the hashtag #spFMB or share them with the FMB community on our facebook page http://facebook.com/specialtyproduce!
If you haven't joined yet, you can order a bag for next week on our FMB page!