Farmers' Market Box 3-20-13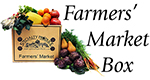 Asparagus – Life's a Choke
Green Garlic – Coleman Family Farms
Red Leaf Lettuce – Be Wise Organics
English Peas – Tutti Frutti Farms
All Red Potatoes – Weiser Family Farms
Rapini – McGrath Family Farms
Rhubarb – Woods Valley Ranch
Tango Tangerines – JJ's Lone Daughter Ranch
Organic Juicing Bag:
Celery – Jaime Farms
Mint – Rutiz Farms
Black Kale – Coastal Organics
Spinach – Coastal Organics
Red Delicious Apples – Earthbound Farms

Click here to Watch Video on YouTube
Catalina Offshore catch of the week: Dover Sole

click the links above & search for products on our website with recipes attached
Below are some great recipes courtesy of Diane Phillips (Cucina Divina) & Mischa's Cafe & Juice Bar (located just down the street from us!) for you to try out with the produce from your bag. Let us know on our Facebook Page or through twitter if you tried any of them!
FMB JUICE RECIPES
Juice 1
3 Stems Kale
A Few Handfuls Spinach
Juice 2
2 ea Apples
6 Stalks Celery
A Handful Mint
Juice 3
3 ea Apples
1 Bunch Spinach
Specialty Produce Recipe Suggestions
courtesy of Diane Phillips (Cucina Divina)
Strawberry Rhubarb Crumble
Serves 8
Really delicious spring dessert with sweet and tart flavors, along with a crunchy oat topping.
1 cup all-purpose flour
1/2 cup sugar
1/2 cup firmly packed brown sugar
1/2 cup rolled oats
1/2 cup cold unsalted butter, cut into small pieces
1. In a mixing bowl, combine the dry ingredients, using a pastry blender, or your fingers, cut the butter into the dry ingredients, until they hold together when pinched.
2. Set aside while making the filling.
4 cups rhubarb, tough ends trimmed, and cut into 1/2-inch pieces
2 cups ripe strawberries, sliced
1 cup sugar
3 tablespoons cornstarch
2 tablespoons lemon juice
Grated zest of 1 lemon
1. Preheat the oven to 350 degrees. In a mixing bowl, combine the rhubarb, strawberries, sugar, cornstarch, lemon juice, and zest.
2. Pour into a 9-inch baking dish.
3. Sprinkle the crumble over the fruit, and bake for 35 to 45 minutes, until the fruit is bubbling, and the crumble is golden brown.
4. Remove from the oven, and allow to rest for at least 10 minutes before serving warm with vanilla ice cream.
Pasta Primavera
Serves 6
Spring vegetables sautéed with green garlic, and tossed with your choice of pasta—fettuccine is a traditional pasta, but farfalle (bow ties) or penne can be used.
2 tablespoons extra virgin olive oil
2 tablespoons unsalted butter
1 tablespoon finely chopped green garlic
1/2 pound asparagus, tough ends trimmed, and cut into 1-inch pieces
1 cup shelled English peas
1/3 cup heavy cream (or chicken or vegetable broth)
Salt and freshly ground black pepper
1 pound fresh fettuccine, cooked 2 minutes in boiling salted water or if you use dry pasta, cook 3 minutes short of al dente
1/2 cup finely shredded Parmigiano Reggiano cheese
1. In a large skillet, heat the olive oil with the butter, and add the green garlic, sautéing for 1 minute until softened.
2. Add the asparagus, and cook another 3 minutes, until the asparagus begins to soften.
3. Add the peas, and cream or broth and cook for 3 minutes, until the peas soften.
4. Taste the sauce and adjust the seasoning, using salt and pepper.
5. Add the cooked pasta to the skillet, and toss to coat with the sauce.
6. Add 1/2 of the cheese to the skillet, and toss to melt the cheese.
7. Serve the pasta, and sprinkle each serving with some of the remaining cheese.

Red Leaf Lettuce Salad with Tango Tangerines
Serve 4
For the Dressing
1/4 cup tangerine (or orange) juice
1/4 cup rice vinegar
2 teaspoons sugar
1 teaspoon Dijon mustard
1/2 teaspoon finely chopped green garlic
1/2 cup vegetable or grape seed oil
1/2 teaspoon salt
3 drops Tabasco
1. In a small bowl, whisk together the juice, vinegar, sugar, mustard, green garlic, and oil. Taste for seasoning, add salt and Tabasco and whisk again.
2. The dressing will keep in the refrigerator for up to 3 days. It is also a great marinade for poultry, seafood, or pork.
To Assemble the salad
One head red leaf lettuce, washed and spun dry
1/4 cup finely chopped red onion
2 Tango Tangerines, segmented
Arrange the lettuce, onion, and tangerines in a large salad bowl. Toss the salad with the dressing, and serve.
Broccoli Rabe Bruschetta with Buratta
Serve 4 to 6
Broccoli rabe, or rapini will turn bitter if cooked too long, so just let it wilt in the skillet, but don't overcook it.
For the Bruschetta
1/2 baguette, sliced 1/2-inch thick
Olive oil
1. Preheat the oven to 350 degrees, and arrange the bread on baking sheets lined with a silicone baking liner, or parchment paper.
2. Drizzle oil over the slices, and bake for 10 to 15 minutes until the bread is crisp. Allow to cool.
To Prepare the Bruschetta
3 tablespoons extra virgin olive oil
3 garlic cloves, sliced
Red pepper flakes
1 bunch broccoli rabe, washed, any woody stems trimmed, and chopped
Juice and zest of a lemon
Salt and pepper to taste
8 ounces burratta or fresh mozzarella cheese
Fleur de Sel
1. In a large skillet, heat the oil and sauté the garlic for 1 to 2 minutes, until translucent. Add the red pepper flakes, and broccoli rabe, and cook over medium-low heat, stirring occasionally. When the rabe is soft and tender, turn off the heat, add the lemon juice and zest, and gently toss.
2. Spoon the broccoli rabe over the toasts. Cut the burrata and place on top of each toast, cut side up. Sprinkle with fleur de Sel and drizzle with olive oil.
Post your photos on Twitter with the hashtag #spFMB or share them with the FMB community on our facebook page http://facebook.com/specialtyproduce!
If you haven't joined yet, you can order a bag for next week on our FMB page!