Farmers' Market Box 3-27-13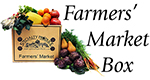 Lyon Artichoke – Life's a Choke
Star Ruby Grapefruit – Garcia Organics
Meyer Lemon – Rancho Del Sol
Sierra Lettuce or Grenbloise Lettuce – Coleman Farms
White Mushroom – Mountain Meadow Farms
Torpedo Onion – Tutti Frutti Farms
Cara Cara Oranges – J.J.'s Lone Daughter Ranch
Scarlett Bunch Turnips – Windrose Farm
Purple C Potatoes – Weiser Farms
Bok Choy – Solution Farms
Organic Juicing Bag:
Oro Blanco Grapefruit – Polito Farms
Meyer Lemon – Polito Farms
Pink Lady Apples – Rydell Farms
Strawberries – Be Wise Ranch
Valencia Oranges – Garcia Organics
Green Kale – Earthbound Farms

Click here to Watch Video on YouTube
Catalina Offshore catch of the week: Yellowfin Tuna
click the links above & search for products on our website with recipes attached
Below are some great recipes courtesy of Diane Phillips (Cucina Divina) & Mischa's Cafe & Juice Bar (located just down the street from us!) for you to try out with the produce from your bag. Let us know on our Facebook Page or through twitter if you tried any of them!
FMB JUICE RECIPES
Sunrise OJ
Strawberries 1/2pt
Oranges 3ea
Strawberry Lemonade
Meyer Lemons 3-4ea
Strawberries
Option 1 (muddled): Slice 2 strawberries
Option 2 (juiced): 1/2pt strawberries
Fruit Cocktail
Apple 1ea
Orange 1ea
Grapefruit 2ea
Specialty Produce Recipe Suggestions
courtesy of Diane Phillips (Cucina Divina)
Salad with Cara Cara Oranges and Orange Basil Vinaigrette
Serves 6
One head lettuce, washed and spun dry and chopped
1 torpedo onion, finely sliced
1/4 orange juice
1/4 cup balsamic vinegar
1 torpedo onion, finely chopped
2 tablespoons finely chopped basil
1/2 cup vegetable or grape seed oil
Salt and freshly ground black pepper
2 Cara Cara Oranges, peel and pith removed, and segmented or sliced
1. Arrange the lettuce and onion in a salad bowl.
2. In a small bowl, whisk together the orange juice, vinegar, onion, basil and oil, until blended. Toss the salad with some of the dressing and arrange the salad onto plates.
3. Garnish each serving with some orange segments. Drizzle with a bit more dressing if desired.
4. Do-Ahead: If you want to make the dressing ahead, don't add the basil until just before serving, as it will turn black immediately when it hits the balsamic vinegar.

Smashed Purple potatoes with Goat Cheese
Serves 6
These gorgeous and delicious potatoes will turn heads on your Easter table!
1 pound purple potatoes, scrubbed
1/2 to 2/3 cup extra virgin olive oil
3 garlic cloves, minced
2 teaspoons salt
1 teaspoon freshly ground black pepper
1 teaspoon dried thyme
One 11-ounce log goat cheese, crumbled
1. In a large saucepan place the potatoes in water to cover. Boil the potatoes until just barely tender (depending on size, this could take 15 to 30 minutes)
2. Meanwhile, preheat the oven to 400 degrees and line a baking sheet with a silicone baking liner, or aluminum foil.
3. In a small bowl, combine the oil, garlic, salt, pepper, and thyme, and pour onto the baking sheet.
4. When the potatoes are tender, drain them, and place on the baking sheet.
5. Using a pot holder, smash the potatoes with your hand and turn to coat the potatoes with the oil.
6. Do-Ahead: At this point, the potatoes can be refrigerated for up to 8 hours. Remove from the refrigerator 45 minutes before baking to get the potatoes to room temperature.
7. Sprinkle the goat cheese over the potatoes, and bake for 10 to 15 minutes until the goat cheese is melted, and the potatoes are crispy. Serve hot.
Creamy Lyon Artichoke Soup
Serves 6 to 8
Even though this has a few steps, the result is a creamy essence of artichoke soup that you will dream about! Serve in tea cups, and think about garnishing it with crispy leeks, prosciutto, crostini, or crumbles of goat cheese.
4 cups water with 1/4 cup Meyer lemon juice
One Lyon artichoke
1 teaspoon dried thyme
2 bay leaves
1 clove garlic, minced
1/4 cup unsalted butter
One torpedo onion, finely chopped
1/4 cup all-purpose flour
5 cups chicken broth
1/2 cup heavy cream
1 tablespoon lemon juice
Salt and Tabasco to taste
1. Pour the water and lemon juice into a large saucepan.
2. Cut the stalk from the artichoke, and cut the stalk into 1-inch pieces, and drop into the water.
3. Trim the artichoke by removing the tough outer leaves, and cut 1-inch from the top.
4. Cut the artichoke into quarters, and drop into the water.
5. Stir in the thyme, bay leaves, and garlic. Bring the mixture to a boil, and simmer until the artichoke is tender when pierced with the sharp point of a paring knife, about 20 minutes.
6. Drain the liquid, and remove the artichoke pieces from the saucepan.
7. On a cutting board, peel the stalk pieces, and save the meat from the inside.
8. Remove the hairy choke from the artichoke quarters, and remove the tough outer leaves to expose the heart. Chop the artichoke heart and set aside with the stem meat.
9. In another large saucepan, melt the butter over medium high heat and sauté the onion for 2 minutes.
10. Add the flour, and whisk for 2 minutes, until the flour is cooked. Gradually add the broth, whisking until smooth.
11. Bring to a boil, add the artichoke pieces, cream, and lemon juice.
12. Using an immersion blender, puree the soup (or cool the soup and puree in a blender) taste for seasoning and adjust using salt and Tabasco. Serve hot.
Do-Ahead:
· The artichokes can be cooked 2 to 3 days ahead.
· The soup will keep in the refrigerator for up to 3 days.
· If you would like to freeze it, freeze without the cream, then add the cream after defrosting.
Crispy Scarlett Turnips
Serves 4
One bunch scarlet bunched turnips, scrubbed, trimmed and sliced thinly
1/3 cup extra virgin olive oil
1 teaspoon salt
1/2 teaspoon freshly ground black pepper
Fleur de Sel (finishing salt)
1. Preheat the oven to 400 degrees. Arrange the turnips on a baking sheet lined with a silicone baking liner or aluminum foil.
2. Drizzle the turnips with the oil, sprinkle with salt and pepper and toss the turnips to coat.
3. Bake for 10 to 15 minutes, until the turnips are crispy. Remove from the oven and sprinkle with Fleur de Sel or a finishing salt. Serve warm.
Torpedo Onion and Mushroom Bread Pudding
Serves 8
Serve this side dish with roasted meats, poultry, or seafood for a change of pace from potatoes.
2 tablespoons unsalted butter
1 tablespoon olive oil
One bunch torpedo onions, thinly sliced, using the red part only
1 tablespoon sugar
2 teaspoons dried thyme
1 1/2 teaspoons salt
1/2 teaspoon freshly ground black pepper
3 cloves garlic, mashed
1/2 to 3/4 pound sliced mushrooms
5 large eggs
2 cups heavy cream
5 shakes of Tabasco sauce
1 teaspoon Worcestershire sauce
6 cups white bread cubes with crusts removed
1 cup chopped Gruyere or imported Swiss cheese (about 1/4 pound)
1/4 cup chopped fresh parsley
1/2 cup freshly grated Parmesan cheese
1. Coat a 13 x 9-inch baking dish with nonstick cooking spray.
2. In a large skillet, heat the butter with the oil over medium heat until the butter melts and the foam subsides. Add the onions, stir to coat with the butter, and cook until they begin to turn translucent. Sprinkle with the sugar, thyme, salt, pepper, garlic and mushrooms, stirring, until the onions and mushrooms become golden and the liquid in the bottom of the pan has evaporated. Remove from the skillet and cool.
3. Do-Ahead: At this point, you can let cool, cover, and refrigerate for up to 2 days or freeze for up to 2 weeks.
4. In a large bowl, whisk together the eggs, cream, Tabasco, and Worcestershire. Stir in the bread, chopped Gruyere, onion-mushroom mixture, and parsley. Pour into the prepared dish and sprinkle the top evenly with the cheese.
5. Do-Ahead: At this point, cover and refrigerate for at least 4 hours and up to 24 hours. Bring to room temperature before continuing.
6. Preheat the oven to 350°F. Bake the pudding until golden brown and bubbling, 45 to 55 minutes. Let rest for 5 minutes before serving.
7. Do-Ahead: At this point, you can let cool, cover, and freeze for up to 1 month. Defrost overnight in the refrigerator, and then bake in a 325°F oven, covered with aluminum foil, for 30 minutes.
Meyer lemon Cupcakes with Lemon Cream Frosting
Makes 24 to 36
These delicious cupcakes would be the perfect ending for an Easter Brunch, or spring party.
2 3/4 cup all-purpose flour
1/2 teaspoon baking soda
3/4 teaspoon salt
1 cup unsalted butter, softened to room temperature
2 1/2 cups sugar
1 teaspoon vanilla extract or paste
1 tablespoon grated lemon zest
5 large eggs, at room temperature
1 cup sour cream
1/2 cup fresh Meyer lemon juice (about 4 lemons)
1. Preheat the oven to 350 degrees, and line 24 to 36 muffin tins with muffin papers, or coat the inside with non-stick cooking spray.
2. In the bowl of an electric mixer, cream the butter and sugar until they are light and fluffy. Add the vanilla, and lemon zest.
3. Add the eggs one at a time, mixing well after each addition, scraping down the sides of the bowl.
4. Mix the sour cream and lemon juice together, add with the flour, baking soda, and salt, and beat until the mixture comes together and is smooth.
5. Using a large portion scoop, transfer the batter into the prepared muffin tins. Bake for 25 to 30 minutes, or until a skewer inserted in to the center comes out clean.
6. Transfer the muffin tins to a rack and allow to cool completely.
7. When the cupcakes are cooled completely, frost with lemon cream frosting.

Lemon Cream Frosting
One 8-ounce package cream cheese, softened
1/2 cup unsalted butter
4 1/2 to 5 cups confectioner's sugar
1 teaspoon grated lemon zest
2 to 4 tablespoons Meyer lemon juice
Milk to thin the frosting, if necessary
1. In the bowl of an electric mixer, beat together the cream cheese and butter until smooth.
2. Add the sugar, lemon zest and 2 tablespoons of lemon juice.
3. Beat the frosting until it is smooth; taste the frosting and add more lemon juice if needed to taste, and thin the frosting with milk or water to obtain a spreadable frosting.
4. Spread the frosting onto the cupcakes. The frosted cupcakes can be stored in the refrigerator for up to 3 days, or frozen for up to 2 months.
Happy Easter Everyone! Don't forget the Peeps!
Post your photos on Twitter with the hashtag #spFMB or share them with the FMB community on our facebook page http://facebook.com/specialtyproduce!
If you haven't joined yet, you can order a bag for next week on our FMB page!