Farmers' Market Box 4-3-13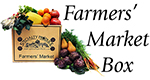 Rainbow Chard – Be Wise Ranch
Wild Arugula – Coleman Family Farms
Leeks – Rutiz Farms
Valencia Oranges – Polito Farms
Baby Parsnips – McGrath Family Farms
Shunkyo Radish OR Easter Egg Radish – Coleman Farms
Red Forno Beets – McGrath Family Farms
Lamb's Quarter Spinach – Coastal Organics
Garlic – Earthbound Farms
Strawberries – Be Wise Ranch
Organic Juicing Bag:
Celery – Jaime Farms
Italian Parsley – Rutiz Farms
Dino Kale – McGrath Family Farms
Red Beets – Coastal Organics
Fuji Apples – Earthbound Farms
Table Carrots – McGrath Family Farms

Click here to Watch Video on YouTube
Catalina Offshore catch of the week: Halibut

click the links above & search for products on our website with recipes attached
Below are some great recipes courtesy of Diane Phillips (Cucina Divina) & Mischa's Cafe & Juice Bar (located just down the street from us!) for you to try out with the produce from your bag. Let us know on our Facebook Page or through twitter if you tried any of them!
FMB JUICE RECIPES
Juice #1
3 each Apples
1 bunch Black Kale
Juice #2
1 bunch Beets
3 each Carrots
1 each Apples
2 stalks Celery
Juice #3
1 each Apples
4 each Carrots
1/2 bunch Parsley
Specialty Produce Recipe Suggestions
courtesy of Diane Phillips (Cucina Divina)
Creamy Lambs Quarter and Leek Soup
Serves 6
2 tablespoons unsalted butter
2 tablespoon extra virgin olive oil
2 leeks, washed and thinly sliced
One bunch Lamb's Quarter spinach
Salt and pepper
3 cups chicken or vegetable broth
1 cup heavy cream
Tabasco to taste
4 strips bacon, cooked crisp and crumbled
1. In a 5-quart Dutch oven, melt the butter with the oil over medium high heat. Stir in the leeks, and sauté for 3 minutes.
2. Add the Lamb's quarter, salt and pepper and sauté another 3 to 4 minutes. Stir in the broth, and bring the mixture to a boil.
3. Puree the soup with an immersion blender. Add the cream, and taste for seasoning, adding Tabasco to taste. Serve the soup garnished with bacon.
Orange Upside Down Cake
Serves 10
1/2 cup unsalted butter
3/4 cups firmly packed light brown sugar
2 Valencia oranges, peel and pith removed, and sliced 1/4-inch thick
1. Coat the interior of a 10-inch cake pan with non-stick cooking spray and set aside.
2. Melt the butter in a small saucepan on medium heat, then add the brown sugar and stir for a few minutes until the brown sugar is completely combined and melted.
3. Pour the butter/brown sugar mixture over the bottom of the cake pan, and arrange the orange slices on the sugar syrup. Set aside while making the cake batter.
1 1/2 cups all-purpose flour
1/4 teaspoon baking soda
1/4 teaspoon salt
1/2 cup unsalted butter, softened to room temperature
1 1/3 cups sugar
1/2 teaspoon vanilla paste or vanilla extract
1 1/2 teaspoons grated orange zest
1/2 teaspoon orange oil (optional)
2 large eggs, at room temperature
2/3 cup sour cream
1/4 cup fresh orange juice
2 cups heavy cream, whipped stiffly for garnish
1. Preheat the oven to 350 degrees.
2. In the bowl of an electric mixer, cream the butter and sugar until they are light and fluffy. Add the vanilla, orange zest and oil, if using.
3. Add the eggs one at a time, mixing well after each addition, scraping down the sides of the bowl.
4. Mix the sour cream and orange juice together, add with the flour, baking soda and salt, and beat until the mixture comes together and is smooth.
5. Transfer the batter into the prepared pan. Bake for 45 to 55 minutes until a skewer inserted in to the center comes out clean.
6. Transfer the cake pan to a rack and allow to cool for EXACTLY 10 minutes.
7. Turn the cake out onto a serving platter, and serve at room temperature.
8. Refrigerate any leftover cake, and re-warm before serving, garnish with whipped cream, crème fraiche or vanilla ice cream.
April Fool's Chocolate Beet Cake
Makes 2 9-inch layers, or 24 cupcakes
Beet cakes were popular in the 40's and 50's adding sweetness, a deep rich red color and additional vitamins and minerals to the cake. This version was adapted from two different recipes and the result works perfectly each time.
2 medium beets, trimmed
3/4 cup (1 1/2 sticks) unsalted butter, softened
2 cups unbleached all-purpose flour
1/2 cup cocoa powder
1 tsp. baking soda
1 tsp. salt
1-3/4 cups granulated sugar
2 large eggs, at room temperature
1 teaspoon vanilla paste or vanilla extract
1 1/4 cup hot water
1 teaspoon espresso powder
2 cups unbleached all-purpose flour
1/2 cup cocoa powder
1 tsp. baking soda
1 tsp. kosher salt
1. Preheat the oven to 375°F. Place the beets on a baking sheet and cover with aluminum foil. Roast the beets for 45 to 60 minutes, until the sharp tip of a paring knife inserted into the beets goes in easily. When the beets are cool enough to handle, peel them and puree in a food processor or blender. You will need 3/4 cup of beets.
2. Reduce the oven temperature to 350°F. Coat the inside of two 9-inch round cake pans with non-stick cooking spray, or line muffin tins with paper liners.
3. In a bowl, whisk together the flour, cocoa powder, baking soda, and salt. Set aside.
4. In an electric mixer, cream together the butter and sugar until fluffy.
5. Beat in the eggs, one at a time. Mix in the grated beets and the vanilla.
6. Dissolve the espresso powder in the water.
7. Slowly add half of the flour mixture, add the water and the remaining flour mixture and mix until smooth, about 2 minutes. Divide the batter evenly between the prepared pans, smoothing the tops.
8. Bake the cakes, rotating halfway through baking, until a toothpick inserted in the center of the cakes comes out clean, about 25 minutes, or 15 to 20 minutes for cupcakes.
9. Cool the cakes in their pans on a rack for 10 minutes and then turn them out onto racks. Let the cakes cool completely.
For the Frosting
1/2 cup unsalted butter, softened
One 8-ounce package cream cheese, softened
1/4 cup cocoa powder
4 to 5 cups confectioners' sugar
1 teaspoon espresso powder
1 teaspoon vanilla paste or vanilla extract
Milk or water to thin the frosting
1. In the bowl of an electric mixer, cream together the butter and cream cheese until smooth. Add the cocoa powder, sugar and espresso powder. Beat until smooth.
2. Beat in the vanilla and some of the milk or water to thin to a spreading consistency.
3. Place one of the cakes on a cake plate and spread frosting evenly over the top. Top with the second cake and spread a generous 1/2 cup frosting over it. Frost the sides with the remaining frosting.
4. If you are frosting cupcakes, using a large star tip and a pastry bag to pipe a nice star onto the top of the cupcakes.
Grilled Portobello Mushroom Sliders with Arugula and Basil Garlic Aioli
Serves 6
For the Aioli
1 cup mayonnaise
1/2 cup packed basil leaves
4 garlic cloves
1 teaspoon lemon zest
1 teaspoon lemon juice
Salt and Tabasco
In a food processor or blender, put the mayonnaise, basil, garlic, lemon zest and juice. Process until smooth. Season with salt and Tabasco. Refrigerate for up to 5 days. This is a great dressing for pasta or potato salads.
For the Mushrooms
6 portobello mushrooms, stems removed and cleaned
1 1/2 cups olive oil
1/4 cup red wine vinegar
4 cloves garlic, minced
1 tablespoon dried oregano
1 1/2 teaspoons salt
1/2 teaspoon freshly ground black pepper
1. Place the mushrooms caps up on a baking sheet lined with aluminum foil.
2. In a medium-size bowl, whisk together the olive oil, vinegar, garlic, oregano, salt, and pepper. Pour over the mushrooms and turn them in the marinade once.
3. Cover with plastic wrap and let stand at room temperature for 1 hour, turning the mushrooms several more times.
4. Do-Ahead: At this point, you can drain the mushrooms, reserving the marinade, place them in a zipper-top plastic bags, and refrigerate for 2 days.
5. Build a hot charcoal fire or preheat the a gas grill or the broiler for 10 minutes, then grill the mushrooms, or broil them, brushing them with the reserved marinade, until tender, turning once.
6. Remove the mushrooms from the grill or broiler.
7. Do-Ahead: At this point, you can keep them at room temperature for 4 hours or cover and refrigerate overnight. If chilled, rewarm in a low oven before serving. Slice the mushrooms into 1/2-inch thick slices
Assembly
6 Kaiser or Ciabatta rolls
Basil Garlic Aioli (see recipe above)
Grilled Portobello Mushrooms (see recipe above)
Shaved Parmigiano Reggiano Cheese
One bunch wild arugula, washed and spun dry
1. Spit the rolls, and brush the inside generously with the aioli.
2. Arrange the sliced mushrooms over the aioli, top with some shaved Parmigano and arugula.
3. Cut the sandwich in half and serve.
Post your photos on Twitter with the hashtag #spFMB or share them with the FMB community on our facebook page http://facebook.com/specialtyproduce!
If you haven't joined yet, you can order a bag for next week on our FMB page!