Farmers' Market Box 7-31-13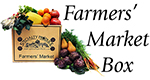 Blue Lake Beans – Rutiz Farm
Broccoli Spigarello – Coleman Family Farms
Baby Bunch Carrots – Jaime Farms
Persian Cucumbers – Wynola Flats
Hydro Bloomsdale Spinach – Go Green Agriculture
Dancing Demon Pluots – Fitzgerald Farms
Avocado – Henry Avocado
Ogen OR Galia OR Honeyloupe OR Creme de la Creme Melon – Crow's Pass
Organic Juicing Bag:
Mint – Rutiz Farm
Valencia Oranges – Polito Farms
Fuji Apples – Fairhill Orchard
Carrots – Be Wise Ranch
Green Kale – Be Wise Ranch

Click here to Watch Video on YouTube
Catalina Offshore catch of the week: Wild Shrimp

Post your photos on Instagram with the hashtag #specialtyproduceFMB or share them with the FMB community on our facebook page http://facebook.com/specialtyproduce!
click the links above & search for products on our website with recipes attached
Below are some great recipes courtesy of Diane Phillips (Cucina Divina) & Mischa's Cafe & Juice Bar (located just down the street from us!) for you to try out with the produce from your bag. Let us know on our Facebook Page or through twitter if you tried any of them!
FMB JUICE RECIPES
Fresh and Green
3-4 stalks Kale
2 each Apples
A handful of Mint
OJ Carrot
2 each Oranges
5-6 each Carrots
The Green Carrot
3 stalks Kale
1 each Apple
4 each Carrots
Specialty Produce Recipe Suggestions
courtesy of Diane Phillips (Cucina Divina)
Spigarello Broccoli Crostini with Shaved Parmigiano
A nice little nibble to have with an apperitivo.
Serves 4 to 6
For the Crostini
One baguette, sliced 1/2-inch thick
Olive oil
1. Line baking sheets with silicone, aluminum foil, or parchment, and preheat the oven to 400 degrees.
2. Arrange the baguette slices on the baking sheets, and brush with some olive oil. Bake for 5 to 7 minutes, until the slices are toasted.
3. Do-Ahead: The finished crostini can be stored in zip lock bags for up to 2 days.
For the Broccoli
2 tablespoons extra virgin olive oil
2 garlic cloves, sliced
One bunch spigarello broccoli, washed, spun dry, and coarsely chopped, removing any tough stems
Salt and pepper
1. In a large skillet, heat the oil over medium high heat, and add the garlic, sautéing for 45 seconds, until fragrant.
2. Add the broccoli, and toss with the garlic oil, until the broccoli is wilted, and the stems are tender, about 3 to 5 minutes.
3. Season with salt and pepper and set aside. Re-warm the broccoli before serving.
To serve
1/4 pound Parmigiano Reggiano, shaved with a swivel peeler (see note)
1. Arrange some of the warm broccoli onto the crostini, and garnish with some shaved Parmigiano.
2. Cook's Note: You can substitute your favorite cheese for garnish here; sliced, fresh mozzarella is a good option as well, as crispy prosciutto in place of the cheese.
Savory Pluot and Mascarpone Tart
Makes one 11-inch tart to serve 12
Just a little bit of work will get you rave reviews here; if you want to try this with purple plums, it is delicious!
One 10 or 11-inch tart shell, blind baked, and cooled (see note)
1 tablespoon extra-virgin olive oil
1/2 onion thinly sliced
Salt and freshly ground black pepper
1 tablespoon unsalted butter
2 firm pluots, thinly sliced
1 teaspoon sugar
1 cooked tart shell (see preceding recipe)
2 to 3 tablespoons mascarpone cheese
1 to 2 teaspoons honey
1 to 2 teaspoons aged balsamic vinegar
1 tablespoon thinly sliced fresh basil
1. To make the filling, heat the olive oil in a large skillet set over medium heat. Add the sliced onions and cook stirring often until soft and caramelized, about 15 to 18 minutes. Remove the onions from the pan.
2. Melt the butter in the pan then add the pluots. Cook stirring often until the pluots begin to render some juice, about 5 minutes. Stir in the sugar and cook 2 minutes longer, then remove from the pan and cool to room temperature.
3. To assemble the tart, remove the tart from the pan, and set on a serving dish. Spread the mascarpone cheese in a thin layer over the shell. Top with a layer of caramelized onions then arrange the pluot slices in a fan shape. Drizzle the honey and balsamic vinegar over the top and garnish with thinly sliced basil. Serve at room temperature.
4. For the tart crust: you can make your own, or you can use a ready-made pie crust and shape it into the tart pan. Prick holes into the bottom and place buttered foil on top of the crust. Weight the foil with beans, or pie weights and bake for 10 minutes, remove the pie weights and foil, and bake another 15 to 20 minutes until the tart shell is golden brown. You can actually use puff pastry for this, as well—using the same method.
Carrots with Herbed Buttermilk Dip
Serves 8 to 10
One bunch carrots, peeled if necessary, and cut into strips for dipping
For the Dip
Makes about 2 cups
Great to serve over baked potatoes, as a dressing for pasta or potato salads, as well as a dip.
1 1/2 cups sour cream
1/2 cup buttermilk
3 tablespoons chopped fresh parsley
2 tablespoons snipped fresh chives
1 tablespoon chopped fresh oregano
1 1/2 teaspoons chopped fresh tarragon
2 cloves garlic, mashed
1 teaspoon salt
1/2 teaspoon freshly ground black pepper
2 tablespoons grated lemon zest
Drops of Tabasco or hot sauce to taste
1. In a mixing bowl, combine all the ingredients and whisk together until well combined.
2. Taste for seasoning, and add salt and/or hot sauce to taste.
3. Cover and refrigerate for at least 4 hours, or up to 5 days.
Green Beans with Roasted Mushrooms and Shallots
Serves 4 to 6
A great side dish with grilled meats and poultry or with your Thanksgiving turkey.
1 pound green beans, ends trimmed, and cut in half
1 teaspoon salt
1/2 teaspoon freshly ground black pepper
4 to 5 medium-size shallots cut in half
3/4 pound mushrooms, such as cremini (very nice), shiitake, white, or a mixture, quartered
1/4 cup olive oil
2 teaspoons chopped fresh thyme
1. Fill a pan with water to about 1/2 inch below the steamer insert. Place the insert in the pot, cover, and bring the water to a boil.
2. Spread out the beans evenly in the steamer with a long-handled spoon, cover, and cook until the beans are crisp-tender, about 5 minutes.
3. Remove the steamer with oven mitts or pot holders, and shake the beans dry in the basket. (If you are steaming the beans ahead of time, plunge them into cold water and drain immediately so they retain their color).
4. Sprinkle with salt and pepper.
5. Do-Ahead: At this point, you can place in a zipper-top plastic bag and refrigerate overnight.
6. Preheat the oven to 400°F. Line a baking sheet with a silicone liner or aluminum foil.
7. In a large bowl, toss together the shallots, mushrooms, olive oil, remaining 1 1/2 teaspoons of salt and 1 teaspoon of pepper, and the thyme.
8. Spread the mushroom mixture over the baking sheet and roast for 20 minutes, turning once.
9. Do-Ahead: At this point, you can let cool, transfer to a zipper-top plastic bag, and refrigerate overnight.
10. When you are ready to serve the beans, reheat the beans in a skillet, and arrange in a large serving bowl.
11. While the beans are warming, heat the mushrooms in a 10-inch skillet over high heat, tossing them, until heated through.
12. Pour the mushrooms over the beans and serve warm or at room temperature.
@Diane Phillips
www.dianephillips.com
Blog: www.cucinadivina.blogspot.com
Follow me on Pinterest, Facebook, and Twitter
Post your photos on Instagram with the hashtag #specialtyprodueFMB or share them with the FMB community on our facebook page http://facebook.com/specialtyproduce!
If you haven't joined yet, you can order a bag for next week on our FMB page!