Farmers' Market Box 11-6-13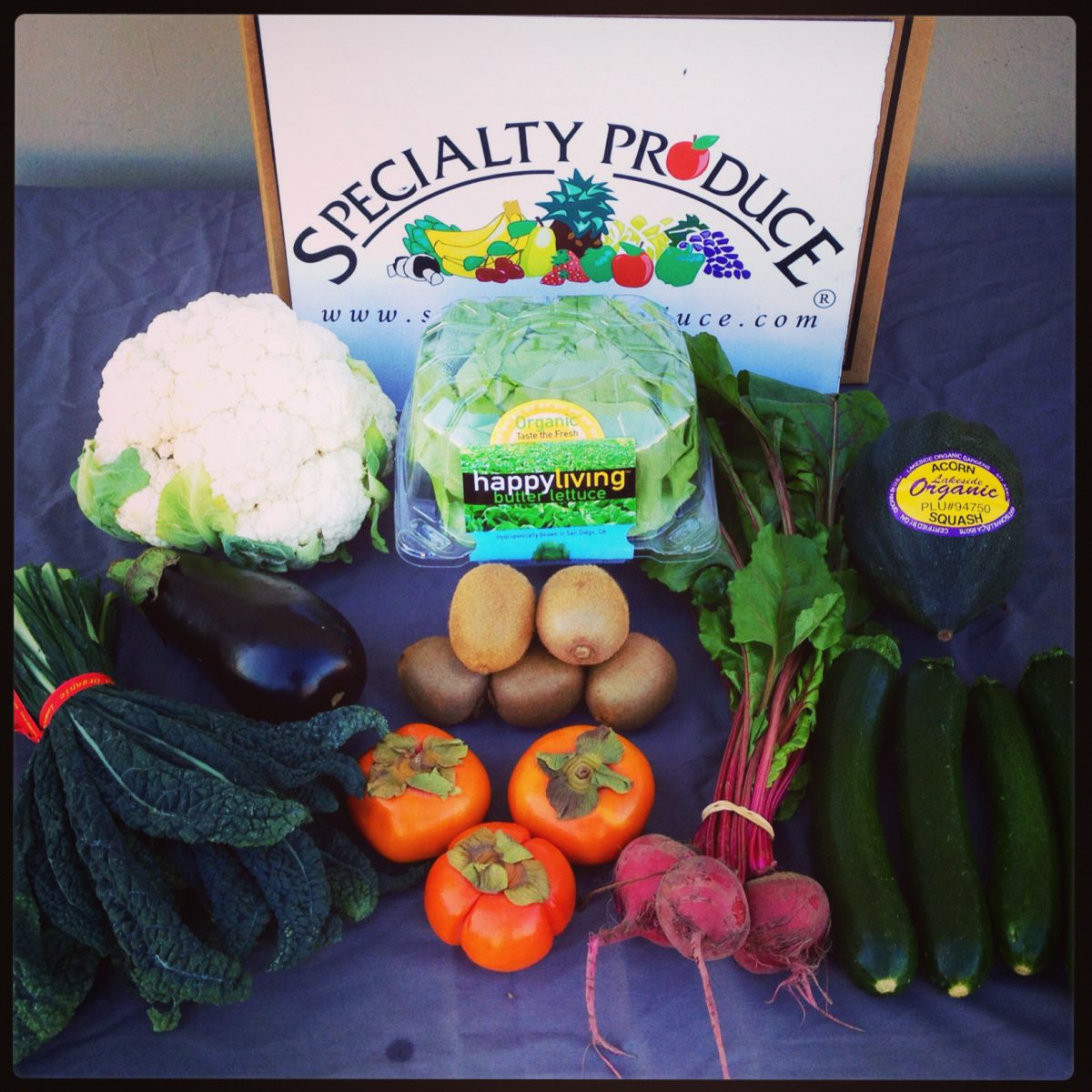 Cauliflower – Life's a Choke
Eggplant – Be Wise Ranch
Black Kale – Tutti Frutti Farms
Hydro Green Butter Lettuce – Go Green Agriculture
Fuyu Persimmons – Fuyu Farm
Baby Chiogga Beets – Black Sheep Farm
Zucchini – Be Wise Organics
Kiwi – Earthbound Farms
Acorn Squash – Lakeside Organics
Organic Juicing Bag:
Albian Strawberries – Jaime Farms
Italian Parsley – Rutiz Farm
Kiwi – Earthbound Farms
Fuji Apples – Fair Hill Farms
Carrots – Earthbound Farms

Click here to Watch Video on YouTube
Catalina Offshore catch of the week: Pink Grouper

Post your photos on Instagram with the hashtag #specialtyproduceFMB or share them with the FMB community on our facebook page http://facebook.com/specialtyproduce!
click the links above & search for products on our website with recipes attached
Below are some great recipes courtesy of Diane Phillips (Cucina Divina) & Mischa's Cafe & Juice Bar (located just down the street from us!) for you to try out with the produce from your bag. Let us know on our Facebook Page or through twitter if you tried any of them!
FMB JUICE RECIPES
Kiwi Berry
3ea kiwi fruits
1/4lb strawberries (remove stem)
2ea fuji apples
Capple Kiwi
3ea carrots
1ea fuji apple
2a kiwi fruit
Breath Refresher
4ea carrots
½ bu Italian parsley
Specialty Produce Recipe Suggestions
courtesy of Diane Phillips (Cucina Divina)
Farfalle with Candy Beets and Beet Greens
Serves 6 to 8
The sweet beets, contrasted with the salty prosciutto and the savory beet greens make this pasta a winner.
1 bunch candy beets with healthy green tops
6 Tbs. extra-virgin olive oil
1 medium yellow onion, quartered lengthwise and thinly sliced
4 oz. 1/4-inch-diced prosciutto
4 medium cloves garlic, minced
1/2 cup lower-salt chicken broth
1/4 cup dry white wine
1 tsp. minced fresh rosemary
1 lb. farfalle cooked about 3 minutes short of al dente, reserving some of the pasta water
2/3 to 3/4 cup freshly grated Parmigiano-Reggiano; more for serving
Coarsely ground black pepper
1. Preheat the oven to 400 degrees and line a baking sheet with a silicone baking liner, parchment, or aluminum foil. Trim the beets, saving the tops, and arrange on the baking sheet. Cover the baking sheet with foil, and roast for 45 to 50 minutes, until the beets are tender. When the beets are cool enough to handle, peel, and slice 1/2-inch thick.
2. While the beets are roasting, wash the greens, spin them dry, and slice into 1-inch strips.
3. Heat 2 Tbs. olive oil in a 6-quart Dutch oven over medium heat. Add the onions and prosciutto and cook, stirring often, until the onion is tender and browned, about 10 minutes. Add the garlic and stir for 2 minutes.
4. Add the remaining oil, and add the greens, sautéing until the greens begin to wilt.
5. Stir in the broth, wine, sliced beets, and rosemary and simmer until the liquid evaporates about 10 minutes.
6. Stir in the pasta and half of the Parmigiano-Reggiano.
7. If needed, add enough of the pasta cooking liquid to moisten.
8. Season to taste with salt and pepper. Serve with more Parmigiano.
Tuscan Bean Soup with Black Kale
Serves 6
A great warm up in colder weather, this stick-to-your ribs soup is terrific with warm French bread.
3 Tbs. extra-virgin olive oil
3/4 pound sweet Italian sausage, removed from its casing
1 medium yellow onion, finely chopped
2 large cloves garlic, minced
1 medium carrot, peeled and finely chopped
1 medium celery stalk, finely chopped
1-1/2 tsp. minced fresh rosemary
One 14.5-ounce can chopped tomatoes and their juice
5 cups chicken or vegetable broth
Two 15-oz. cans cannellini beans, rinsed and drained
One bunch black kale, center ribs removed, leaves chopped
1 Parmigiano-Reggiano rind (1×3 inches; optional)
salt and freshly ground black pepper
Freshly grated Parmigiano Reggiano cheese for garnish if desired
1. Heat 1 Tbs. of the oil in a 4- to 5-quart pot over medium heat. Add the sausage, and sauté, breaking up any large pieces.
2. When the sausage has lost its pink color, add the onion, garlic, carrot, celery, and rosemary and cook, stirring occasionally, until the vegetables begin to soften, about 4 minutes.
3. Add the tomatoes and cook until some of the liquid has evaporated.
4. Add the broth, beans, kale, and Parmigiano rind (if using).
5. Bring to a boil, reduce the heat to medium low, and simmer gently until the vegetables are tender, about 15 minutes. Serve the soup garnished with grated Parmigiano Reggiano cheese.
Zucchini Parmesan Rice
Serves 8
A great side dish to serve with poultry, seafood or meats, you can also make this in 4or 6-ounce ramekins, and turn them out onto dinner plates to serve.
3 tablespoons unsalted butter
1/2 cup finely chopped onion
2 cloves garlic, minced
3 to 4 cups shredded zucchini
1 1/2 teaspoons salt
4 shakes of Tabasco sauce
2 tablespoons all-purpose flour
1 cup chicken broth
1 1/2 cups heavy cream
3/4 cup long-grain rice
3/4 cup freshly grated Parmesan cheese
1. In a large skillet over medium heat, melt the butter, then add the onion and garlic and cook, stirring, until softened, 2 to 3 minutes. Add the zucchini and cook until it is no longer giving off moisture, 4 to 6 minutes. Season with the salt, pepper, and Tabasco. Sprinkle with the flour and cook, stirring, for 2 minutes. Gradually stir in the broth and heavy cream, stirring until the mixture is smooth and the mixture comes to a boil.
2. Do-Ahead: At this point, you can let cool, cover, and refrigerate for 2 days. Let come to room temperature before continuing.
3. Preheat the oven to 400°F F. Coat a 13 x 9-inch baking dish with nonstick cooking spray.
4. Stir the rice into the zucchini mixture, pour into the prepared dish, and sprinkle with the cheese. Bake until the rice is tender and the cheese is golden, 25 to 35 minutes. Let rest for 5 to 10 minutes before serving.
Marinated Eggplant with Basil and Feta Cheese
Serves 6
For the Marinade
2 Tbs. fresh lemon juice
2 Tbs. red wine vinegar
1 garlic clove, minced
1 small shallot, very finely chopped
1/2 cup extra-virgin olive oil
2 tablespoons finely chopped Italian parsley
Salt and pepper
1. In a small bowl, whisk together the lemon juice, vinegar, olive oil and parsley.
2. Taste for seasoning and adjust using salt and pepper to taste. Set aside while grilling the eggplant.
For the eggplant
1 large eggplant trimmed and cut into 1/2-inch-thick rounds
1/4 cup extra-virgin olive oil; more as needed
salt
1/2 cup crumbled feta
2 Tbs. coarsely chopped fresh mint
2 Tbs. coarsely chopped fresh Basil
1. Prepare a medium-high charcoal or gas grill fire. Brush both sides of the eggplant slices with olive oil and season with salt. Grill (covered on a gas grill; uncovered on a charcoal grill) until golden-brown grill marks form, 3 to 4 minutes.
2. Turn the eggplant and grill until tender and well-marked on the second sides, 3 to 4 minutes more. The interior should be grayish and soft rather than white and hard.
3. Arrange the eggplant slices on a serving platter, and drizzle with the vinaigrette.
4. Sprinkle the feta, mint, and basil over the top of the eggplant slices, and drizzle with a bit more vinaigrette. Serve the eggplant at room temperature.
Chocolate Zucchini Cake
Makes 1 9-inch Bundt
1/2 cup unsalted butter, softened
1/2 cup canola oil
1 3/4 cup sugar
2 large eggs
1 teaspoon vanilla paste
1/2 cup sour cream
3/4 cup unsweetened cocoa
2 1/2 cup all-purpose flour
1/2 teaspoon baking powder
1 teaspoon baking soda
2 teaspoon espresso powder
1 teaspoon salt
2 cups grated zucchini (about 4 medium)
1/2 cup chocolate chips
1. Preheat the oven to 350 degrees and coat the inside of a 9-inch Bundt pan with non-stick cooking spray.
2. In the large bowl of an electric mixer cream together the butter, oil, and sugar, until the mixture is blended—it may look curdled.
3. Add the eggs, vanilla and sour cream, and stir until combined. Add the remaining ingredients, and beat on low speed until blended. Transfer the batter to the prepared pan; bake for 45 to 55 minutes, until a skewer inserted into the center comes out clean.
4. Remove the pan from the oven, transfer to a cooling rack and time for 10 minutes.
5. At the end of the 10 minutes, remove the cake from the pan, and allow to cool completely. Serve the cake garnished with sifted powdered sugar.
Strawberry Kiwi Smoothie
Serves 4
2 Kiwi fruit, peeled, and cut into small pieces
1 cup hulled strawberries
1/2 cup orange juice
2 tablespoons lime juice
2 tablespoons super fine sugar or honey
1/2 cup plain non-fat yogurt
1/2 cup ice cubes
Whole strawberries for garnish
1. Put the kiwi, strawberries, orange juice, lime juice, sugar, and yogurt into a blender, and puree.
2. Taste and adjust by adding more lime juice, or sugar.
3. Add the ice cubes, and blend again. Serve garnished with whole strawberries.
Fuyu Persimmon Rice Salad
Serves 6
A great way to use up leftover rice or orzo pasta, try this salad for a change of pace.
1/4 cup rice vinegar
2 teaspoons sugar
2 tablespoons orange juice
1/2 cup vegetable or grape seed oil
Salt and pepper
1/4 cup chopped red onion
1 rib celery, finely chopped
1 whole Fuyu persimmon peeled and cut into 1/2-inch dice
1 tablespoon finely chopped fresh mint
2 cups cold cooked rice, or orzo pasta
1 Tbsp. finely chopped Italian parsley
1/2 cup chopped roasted cashews
1. In a small bowl, whisk together the vinegar, sugar, orange juice and oil. Taste for seasoning and adjust using salt or pepper.
2. In a serving bowl, combine the onion, celery, persimmon, mint, rice, and parsley. Toss with some of the dressing. Serve the salad garnish with cashews.
@Diane Phillips
www.dianephillips.com
Blog: www.cucinadivina.blogspot.com
Follow me on Pinterest, Facebook, and Twitter
Post your photos on Instagram with the hashtag #specialtyproduceFMB or share them with the FMB community on our facebook page http://facebook.com/specialtyproduce!
If you haven't joined yet, you can order a bag for next week on our FMB page!