Farmers' Market Report November 8, 2013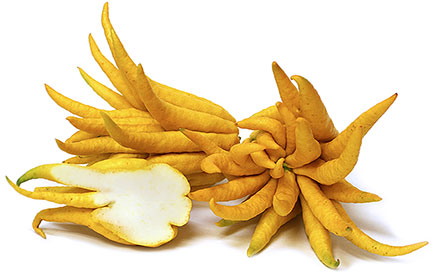 Buddha's Hand
Grower: Rancho Del Sol
Description: Buddha's hand citron, AKA bushukan (Japanese) or fingered citron, produces deep lemon yellow fruits that vary in shape and size. The fruit splits at the opposite end of the tree's stem forming segments that have a wild finger-like appearance, hence its given name. Its flesh is void of juice, pulp and seeds, rendering it inedible. The culinary virtues lie within its oily rind which is powerfully fragrant and aromatic and utilized for its zesting properties.
 THE FARMS:
Crows Pass – Temecula, CA
Spaghetti Squash
Sunshine Kabocha
Calcotta Onion and Tahitian Squash starting very soon!!!!!!!!!
Frog Hollow Farms
Warren Pears
Golden Russet Bosc Pears
Taylor Gold Pears
Gloria Tamai
Blue lake Beans
Strawberries
Orange cauliflower
Purple Cauliflower
Rutiz – Arroyo Grande, CA
Blue lake beans
Romano beans
arugula
baby broccoli
sierra gold potatoes
Orange kabocha squash
Red Kuri
Delicata
Sugar Pie Pumpkins
Cranberry beans
Rainbow chard
Eggplant
Tuscan kale
Rancho Del Sol – Fallbrook, CA
Lemon verbena
Pomegranates
Late season gold nugget
Meyer Lemons
Yuzu Limes
Garcia Organic Farm – Fallbrook, CA
Avocados
Silver (green) meyer lemons
Oro blanco
Valencia
Fallbrook Free Range Duck Farm – Fallbrook, CA
Beylik Family Farms – Fillmore, CA
Japanese Tomatoes
Yellow Tomatoes
Persian Cucumbers
Coleman Family Farm – Carpinteria, CA
Herbs
Black Kale
Sunchokes
Mini Mix Peppers
Sapote
Mike and Son Egg Ranch – Ontario, CA
Pudwill Farm – Nipomo, CA
Blackberries
Blueberries
Raspberries
Tutti Frutti – Santa Barbara County and Carpenteria
Heirloom Tomatoes
Butternut
Acorn Squash
Delicata Squash
Spaghetti Squash
Weiser Family Farm – Bakersfield, CA
Purple potatoes
Russian Banana Potatoes
Peewee Mix Potatoes
Red Thumb Potatoes
Sunchokes
Yasutomi Farm – Pico Rivera, CA
Baby Bok Choy
Baby Celery
McGrath Farms – Oxnard, CA
Pea Tendrils
Green Okami spinach
Baby Corn
Red, Orange, and Yellow baby carrots

Jaime Farms – CA
Okra
Blue Hubbard squash
Cauliflower
Purple scallions
Arugula
Bok Choy
Radish-fb radish, easter radish
Windrose – Santa Barbara, CA
White pearmain apples
sierra beauty apples
braeburn apples
gala apples
granny smith apples
mutsu apples
windrose gold apples
mints
chards
barbs mixed greens
Be Wise Ranch
green leaf
red leaf
romaine
dandelion greens
spring mix
cucumbers
Polito
Valencia oranges
Oro Blanco
Life's a Choke
Baby Green Artichokes
Baby Purple Artichokes
Cauliflower
Asparagus
Lyon Artichokes
Jimenez
Hot cherry pepper
nante carrots
rainbow chard
garbanzo
little watermelon flowers
2 Peas in a Pod
Mauve runner beans
Cannelini beans
Penryn Orchard
Maru persimmons
Tsuro Noko persimmons
Fairhills