Farmers' Market Box 11-13-13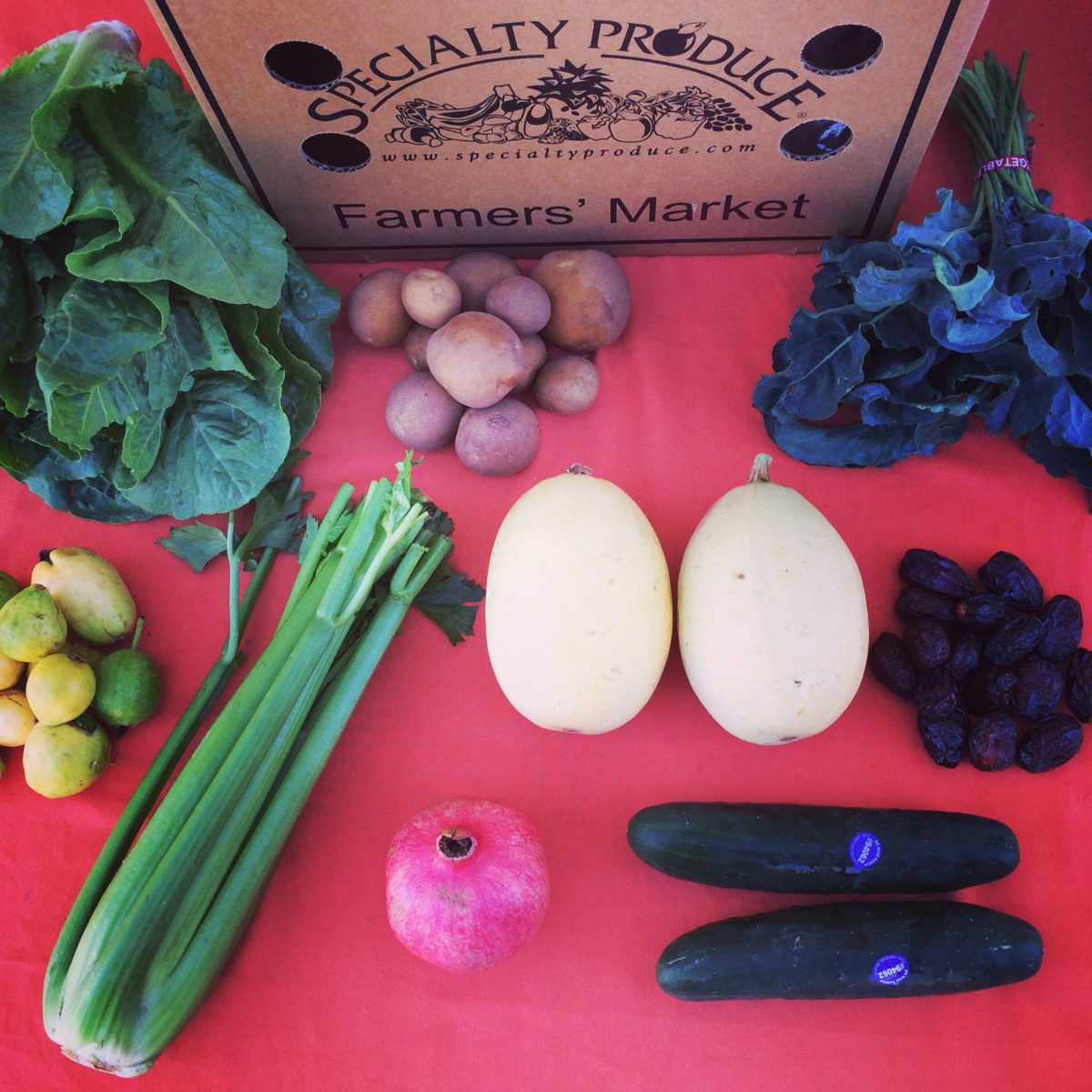 Celery – Black Sheep Produce
Mexican Guavas – Koral's Tropical Fruit
Romaine – Be Wise Ranch
Sierra Gold Potatoes – Rutiz Farms
Spaghetti Squash – Crows Pass Farm
Pomegranate – Moon Shadow Ranch
Cucumber – Be Wise Ranch
Medjool Dates – Wynola Flats
Broccoli Spigarello – Weiser Family Farms
Organic Juicing Bag:
Fuji Apple – Fair Hills Farms
Celery – Black Sheep Produce
Kiwi – Earthbound Farms
Mexican Guavas – Koral's Tropical Fruit
Valencia Oranges – Sundance Natural Foods

Click here to Watch Video on YouTube
Catalina Offshore catch of the week: Thresher Shark

Post your photos on Instagram with the hashtag #specialtyproduceFMB or share them with the FMB community on our facebook page http://facebook.com/specialtyproduce!
click the links above & search for products on our website with recipes attached
Below are some great recipes courtesy of Diane Phillips (Cucina Divina) & Mischa's Cafe & Juice Bar (located just down the street from us!) for you to try out with the produce from your bag. Let us know on our Facebook Page or through twitter if you tried any of them!
FMB JUICE RECIPES
Apple of Eden
4ea fuji apples
2 stalks celery
1 ea orange
Island Bliss
2 ea guava peeled
3 ea oranges juiced
Kiwi Delight
1 ea guava peeled
1 stalk celery
3 ea kiwi peeled
Specialty Produce Recipe Suggestions
courtesy of Diane Phillips (Cucina Divina)
Spaghetti Squash Carbonara
Serves 6
Taking poetic license with this Roman classic, make sure to turn down the heat on the skillet, when adding the eggs.
1 large spaghetti squash (about 2 pounds), halved and seeded
1/2 pound bacon or pancetta, finely diced
1 tablespoon minced shallot
2 garlic cloves, minced
2 egg yolks plus 1 whole egg
1 cup freshly grated Parmigiano-Reggiano
2 tablespoons chopped Italian parsley
1. Preheat the oven to 400 degrees, and line a baking sheet with aluminum foil, parchment or a silicone baking liner.
2. Arrange the squash on the baking sheet and cover tightly with aluminum foil. Bake for 45 minute to 1 hour, until the squash is tender. Cool slightly, and shred the squash with a fork (it should pull right out) and arrange in a bowl, cover and set aside.
3. In a large saute pan, over medium heat, cook the bacon or pancetta until it becomes a light brown but is not yet crispy.
4. Pour off most of the fat and then add the shallots and garlic. Saute for 1 minute until the garlic and shallots are fragrant and begin to caramelize. Lower to the heat to warm.
5. In a medium bowl, whisk the eggs together with the cheese and the parsley. Season with salt and pepper.
6. Combine the eggs with the bacon mixture, warming the eggs in the pan. (Do not let the eggs cook through.)
7. Add the spaghetti squash and toss to thoroughly combine and until squash is heated through. Adjust seasoning, if necessary and serve immediately.
Date Nut and Brie Bruschetta
Serves 10
This would make a terrific nibble before Thanksgiving dinner.
1 medium baguette sliced into 1/2-inch rounds (about 24 slices)
2 Tbs. olive oil
1/2 cup coarsely chopped toasted walnuts
1/2 cup Medjool dates (about 6 to 8), pitted and coarsely chopped
1 Tbs. honey
1 Tbs. good quality balsamic vinegar
6 oz. brie, rind trimmed and softened to room temperature
2 Tbs. finely chopped chives
1. Preheat the oven to 425°F. Set the bread slices on a large baking sheet; brush with the oil and bake until the bread starts to brown and crisp, about 8 minutes.
2. Meanwhile, in a medium bowl, toss the walnuts with the dates, honey, and vinegar.
3. While the bread is still warm, spread with brie and then top with the date and nut mixture. Sprinkle with the chives and serve.
Fall Romaine Salad with Pomegranates, Celery and Pecorino cheese
Serves 8
For the Vinaigrette
1/4 cup rice vinegar
1/4 cup pomegranate juice (or sub in cranberry juice cocktail)
2 tablespoons chopped shallot or onion
2 tablespoons Dijon mustard
2 teaspoons sugar
3/4 cup vegetable or grape seed oil
Salt and pepper to taste
1. In a mixing bowl, whisk together the ingredients, taste for seasoning, and adjust with salt or pepper.
2. Refrigerated for up to 3 days.
Assembly
One head romaine, washed and spun dry, and sliced into ribbons
1 bunch celery, outer stalks removed, washed, and finely chopped
1 Pomegranate, separated into arils
2 ounces Pecorino Romano cheese, cut into 1/2-inch dice
Pomegranate Vinaigrette
Toasted chopped walnuts or pecans
1. Arrange the romaine, celery, pomegranates, and cheese in a large salad bowl.
2. Pour some of the dressing over the salad, and toss to coat. Serve the salad garnished with the toasted nuts.
Chopped Chicken Salad with Herbed Dressing
Reprinted from Café Tecumseh Magazine 2012 @Diane Phillips
If you have leftover rotisserie chicken, fish, lamb, or beef, substitute it for the grilled chicken in the recipe.
Serves 4 to 6
For the Herbed Dressing and Marinade
1 1/3 cups extra virgin olive oil
1/3 cup red wine vinegar
2 tablespoons fresh lemon juice
3 cloves garlic, minced
1 teaspoon dried Greek oregano
1/2 teaspoon dried basil
1 1/2 teaspoons salt
1 teaspoon freshly ground black pepper
1. In a mixing bowl, whisk together the oil, vinegar, lemon juice, garlic, oregano, basil, salt and pepper.
2. Measure out 1 cup for the marinade; refrigerate the remaining dressing for up to 3 days.
For the Chicken
4 chicken breasts, skin and bones removed
1 cup Herbed dressing (see preceding recipe)
1. In a 1 gallon zipper top plastic bag, combine the chicken with the marinade, seal the bag, and refrigerate for at least 2 hours, or up to 6 hours.
2. Preheat the grill or a grill pan for 10 minutes, drain the chicken from the marinade, and discard the marinade.
3. Grill the chicken for 3 to 4 minutes on each side, until cooked through. Remove from the grill and allow to rest for 10 minutes, before cutting the chicken into bite sized pieces. The cooked chicken can be refrigerated for up to 3 days.
To Assemble the Salad
Everything in this salad should be bite size so that no one has to cut anything on their plate. Romaine is best in this salad, since it can stand up to the other ingredients; field greens will get lost.
Two heads romaine lettuce, washed, spun dry and cut into bite sized pieces
One European cucumber, washed and finely diced
1/2 cup finely chopped red onion
1 cup cherry or pear tomatoes, washed and cut in half if large
1/2 cup pitted Kalamata olives
1 1/2 cups shredded Parmigiano Reggiano cheese
Herbed dressing (see preceding recipe)
Grilled chopped chicken (see preceding recipe)
1. In a large salad bowl, arrange the lettuce, cucumber, onion, tomatoes, one cup of the cheese and the chicken.
2. Toss the salad with the dressing.
3. Plate the salad, drizzle each serving with a bit more dressing if needed and garnish individual portions with the remaining cheese.
4. Variations: Feel free to substitute your favorite Mediterranean cheese here, Feta works nicely, as well as Italian Fontina and Asiago.
Skillet Smashed Sierra Gold Potatoes
Serves 6 to 8
Sierra golds would also be perfect for mashing at Thanksgiving time!
2 lb. Sierra Gold Potatoes
1 sprig fresh rosemary
2 cups chicken broth
2 Tbs. good-quality extra-virgin olive oil
3 Tbs. unsalted butter
1 teaspoon salt
1 to 2 Tbs. finely chopped fresh chives
Fleur de Sel or other sea salt for serving (optional)
1. Trim the potatoes of any eyes or damaged areas and wash well in cold water. Arrange as many potatoes as will fit in one layer in a 10-inch nonstick skillet (there should be a little room to spare; save any extra potatoes for another use).
2. Add the rosemary, broth, oil, 1 Tbs. butter, and salt. Bring to a boil over high heat. Reduce the heat to medium, cover the pan but leave the lid a bit ajar, and boil until the potatoes are tender when pierced with a fork, about 20 min. The liquid should still halfway surround the potatoes; if it doesn't, add more broth or water until it does.
3. Remove the pan from the heat and press on each potato with a 1/4-cup measure just until it cracks open.
4. Set the pan over medium-high heat and cook, uncovered, until all the liquid has evaporated and the potatoes have browned on one side, about 10 min.
5. Gently turn the potatoes and brown the other side, another 4 to 5 min.
6. Press firmly on the potatoes to crack them; this helps them absorb more broth and ensures a creamy, moist interior. Then continue boiling, but now uncovered.
7. After the broth has completely reduced, let the potatoes sizzle in the skillet until their bottoms are browned. Turn to brown the other side and then serve while hot.
8. Remove the pan from the heat and add the remaining butter to the skillet, let the potatoes rest for 5 min. before transferring them to a serving platter. Sprinkle with the chives and fleur de Sel, serve immediately.
Spigarello Broccoli Crostini with Shaved Parmigiano
A nice little nibble to have with an apperitivo.
Serves 4 to 6
For the Crostini
One baguette, sliced 1/2-inch thick
Olive oil
1. Line baking sheets with silicone, aluminum foil, or parchment, and preheat the oven to 400 degrees.
2. Arrange the baguette slices on the baking sheets, and brush with some olive oil. Bake for 5 to 7 minutes, until the slices are toasted.
3. Do-Ahead: The finished crostini can be stored in zip lock bags for up to 2 days.
For the Broccoli
2 tablespoons extra virgin olive oil
2 garlic cloves, sliced
One bunch spigarello broccoli, washed, spun dry, and coarsely chopped, removing any tough stems
Salt and pepper
1. In a large skillet, heat the oil over medium high heat, and add the garlic, sautéing for 45 seconds, until fragrant.
2. Add the broccoli, and toss with the garlic oil, until the broccoli is wilted, and the stems are tender, about 3 to 5 minutes.
3. Season with salt and pepper and set aside. Re-warm the broccoli before serving.
To serve
1/4 pound Parmigiano Reggiano, shaved with a swivel peeler (see note)
1. Arrange some of the warm broccoli onto the crostini, and garnish with some shaved Parmigiano.
2. Cook's Note: You can substitute your favorite cheese for garnish here; sliced, fresh mozzarella is a good option as well, as crispy prosciutto in place of the cheese.
@Diane Phillips
www.dianephillips.com
Blog: www.cucinadivina.blogspot.com
Follow me on Pinterest, Facebook, and Twitter
Post your photos on Instagram with the hashtag #specialtyproduceFMB or share them with the FMB community on our facebook page http://facebook.com/specialtyproduce!
If you haven't joined yet, you can order a bag for next week on our FMB page!