Farmers' Market Box 12-4-13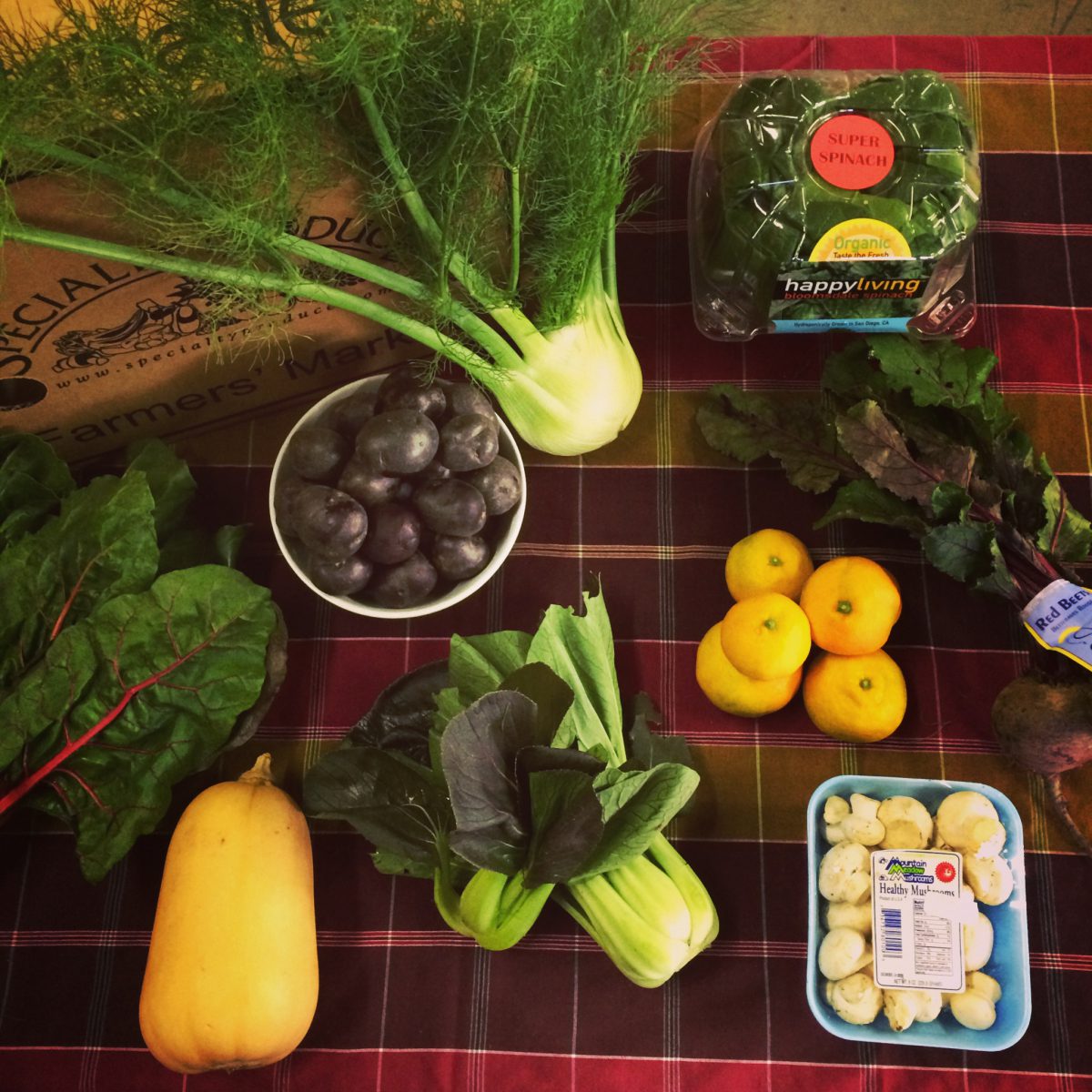 Baby Red Bok Choy – Jaime Farms
Red Swiss Chard – Black Sheep Farm
White Mushrooms – Mountain Meadow Farms
Purple Peruvian Fingerling Potatoes – Weiser Family Farms
Baby Red Beets – Be Wise Ranch
Hydro Bloomsdale Spinach – Go Green Agriculture
Clementine Tangerines – Koral's Tropical Fruit
Butternut Squash – Rutiz Farms
Fennel – Be Wise Ranch
Organic Juicing Bag:
Fuji Apples – Fair Hills Farm
Pink Lady Apples – Fair Hills Farm
Key Limes – Koral's Tropical Fruit
Valencia Oranges – Polito Farms
Hydro Bloomsdale Spinach – Go Green Agriculture
Clementine Tangerines – Koral's Tropical Fruit

Click here to Watch Video on YouTube
Catalina Offshore catch of the week: California Swordfish
Post your photos on Instagram with the hashtag #specialtyproduceFMB or share them with the FMB community on our facebook page http://facebook.com/specialtyproduce!
click the links above & search for products on our website with recipes attached
Below are some great recipes courtesy of Diane Phillips (Cucina Divina) & Mischa's Cafe & Juice Bar (located just down the street from us!) for you to try out with the produce from your bag. Let us know on our Facebook Page or through twitter if you tried any of them!
FMB JUICE RECIPES
Citrus Apple
3ea apples
2ea tangerines
1ea lime
Emerald Orange
1 bunch spinach
2ea tangerines
2ea oranges
Apple Pie
4ea apples
1/2tsp cinnamon
Specialty Produce Recipe Suggestions
courtesy of Diane Phillips (Cucina Divina)
Roasted Butternut Squash Soup with Candied Bacon Garnish
Serves 8
1/4 cup extra virgin olive oil
1 cup finely chopped sweet yellow onion
1 cup finely chopped peeled and cored firm red pears, about 2 cups
2 teaspoon dried thyme
1/4 teaspoon dried ginger
3 pounds peeled butternut squash cut into 1-inch pieces—should be about 6 to 7 cups
4 cups chicken broth
1 1/2 teaspoon salt
1/2 teaspoon freshly ground black pepper
1 cup heavy cream
1/4 cup finely chopped Italian parsley
1. Preheat the oven to 400 degrees and line 2 baking sheets with silicone baking liners or aluminum foil. In a large bowl, combine the oil, onion, pears, thyme, ginger and the butternut squash, tossing to coat with the oil and spices.
2. Spread the mixture onto the two prepared pans, and roast for 20 to 30 minutes until the squash is softened.
3. Transfer the squash mixture to a Dutch oven, and stir in the broth, salt and pepper, and simmer for 15 to 20 minutes, until the squash begins to fall apart.
4. Using an immersion blender, puree the soup, or cool the soup and puree in a blender or food processor.
5. Do-Ahead: At this point the soup can be refrigerated for 3 days or frozen for up to 2 months, defrost before proceeding.
6. Add the cream, and parsley, and heat to serving temperature.
7. When ready to serve, reheat the soup and serve with crumbled candied bacon (see recipe below)
8. Serving suggestion: If you would like to serve this as an appetizer, serve it in "shooter" glasses, with a half slice of candied bacon as garnish.
Candied Bacon
8 slices thick cut bacon
1/3 cup firmly packed dark brown sugar
1/8 teaspoon finely ground black pepper
1. Preheat the oven to 400 degrees.
2. Line a baking sheet with aluminum foil or a silicone baking liner, and place a rack into the baking sheet.
3. Lay the bacon across the baking sheet, but do not overlap the slices.
4. In a small bowl, combine the sugar and pepper, and sprinkle evenly over the bacon.
5. Bake for 8 to 10 minutes, until the bacon is crispy. Remove from the oven and allow to cool.
6. Do-Ahead: The crisp bacon can be stored in zip-lock bags in the freezer for up to 1 month, or refrigerated for up to 3 days.
7. Crumble the bacon, or if you are using it as a garnish for "shooters" cut each slice in half crosswise to use as a stirrer in the soup.
Cold Sesame Noodle Salad with Purple Bok Choy
Serves 6 to 8
2 tablespoons toasted sesame oil
2 tablespoons vegetable oil
2 cloves garlic, minced
2 teaspoons peeled and grated fresh ginger
1/4 cup Tamari (or soy sauce)
1/4 cup creamy peanut butter (don't use natural)
1/4 cup rice vinegar
1 to 2 tablespoons brown sugar
1 cup snow peas, strings removed
One head Purple bok choy, cleaned, tough stems removed and cut into 1/2-inch ribbons
1 pound linguine, cooked in boiling salted water until al dente and drained
3 scallions (white and tender green parts), thinly sliced on the diagonal
2 medium-size carrots, cut into matchsticks (about 1cup)
2 cups cooked pork loin or cooked chicken, cut into julienne
2 tablespoons sesame seeds
1. In a blender or food processor, process together the remaining sesame oil, the vegetable oil, garlic, ginger, Tamari, peanut butter, vinegar, and brown sugar until smooth. Taste for salt and sugar and adjust if needed.
2. Do-Ahead: At this point, you can cover and refrigerate for up to 3 days. Let come to room temperature and re-whisk to blend before continuing.
3. Microwave the snow peas on High or plunge into boiling water for 1 minute. Shock in ice water, pat dry, and cut in half on the diagonal.
4. Add the snow peas, bok choy, scallions, carrots, pork, and 1 tablespoon of the sesame seeds to the linguine. Pour half of the dressing over the salad and toss to coat.
5. Do-Ahead: At this point, cover and refrigerate the salad and remaining dressing for at least 6 hours and up to 24 hours.
6. One hour before serving, remove the salad from the refrigerator and toss with more dressing if needed. Garnish with the remaining 1 tablespoon of sesame seeds.
Cook's Note: you can sub in your favorite green here for the bok choy, spinach works well, as well as Savoy cabbage, and Napa cabbage.
Asian Velvet Chicken with Bloomsdale Spinach
Serves 6
1 pound boneless, skinless chicken breasts, cut crosswise into 1/4-inch-thick bite-size slices
1 egg white, lightly beaten
1 tablespoon plus 1/2 teaspoon cornstarch, divided
2 teaspoons plus 2 tablespoons Mirin rice wine
3 tablespoons peanut oil or canola oil, divided
1/3 cup chicken broth
2 teaspoons Soy sauce
2/3 cup chopped scallions, divided
1 tablespoon finely julienned or minced fresh ginger
pinch crushed red pepper
One bunch Bloomsdale Spinach, washed, tough stems removed
Toasted Sesame oil for garnish
Toasted sesame seeds for garnish
1. Combine chicken, egg white, 1 tablespoon cornstarch, 2 teaspoons rice wine (or sherry) and 1/4 teaspoon salt in a medium bowl.
2. Stir until the cornstarch is totally dissolved and no clumps are visible. Add 1 tablespoon oil and stir to combine. Marinate in the refrigerator, uncovered, for 30 minutes.
3. Meanwhile, combine broth, and soy sauce, and the remaining 1/2 teaspoon cornstarch and 2 tablespoons rice wine in a small bowl.
4. Heat a 14-inch flat-bottomed wok or large skillet over high heat until a bead of water vaporizes within 1 to 2 seconds of contact.
5. Swirl in the oil. Add 1/3 cup scallions, ginger and crushed red pepper; using a metal spatula, stir-fry until fragrant, about 10 seconds.
6. Add the chicken and the remaining 1/4 teaspoon salt. Stir-fry until the chicken turns white on all sides.
7. Add the spinach, and cook another minute or so, until it is almost crisp-tender, 1 to 2 minutes.
8. Stir the broth mixture and, swirl it into the wok and stir-fry until the chicken is just cooked through and lightly coated with sauce, 2 to 3 minutes. Serve sprinkled with the remaining 1/3 cup scallions, drizzle with sesame oil and sprinkle with the sesame seeds if desired..
Braised Fennel Gratin
Serves 4
2 fennel bulbs, trimmed of their stalks and sliced 1/2 inch thick
2 thin slices Black Forest ham, cut into matchsticks
1/2 cup heavy cream
1/2 teaspoons salt
2 to 3 drops Tabasco
1 1/2 cups shredded Gruyère cheese
1. Coat a 13 x 9-inch baking dish with nonstick cooking spray.
2. Arrange the fennel slices in the prepared dish. Scatter the ham over the fennel.
3. In a small bowl, whisk together the cream, salt, and pepper and pour over the fennel. Sprinkle the cheese over the top.
4. Do-Ahead: At this point, you can cover and refrigerate overnight. Bring to room temperature before continuing.
5. Preheat the oven to 400°F. Bake until golden brown and tender when pierced with a knife, about 20 minutes. Remove from the oven and let rest for 5 minutes before serving.
April Fool's Chocolate Beet Cake
Makes 2 9-inch layers, or 24 to 36 cupcakes
2 medium beets, trimmed
3/4 cup (1 1/2 sticks) unsalted butter, softened
2 cups unbleached all-purpose flour
1/2 cup cocoa powder
1 tsp. baking soda
1 tsp. kosher salt
1-3/4 cups granulated sugar
2 large eggs, at room temperature
1 teaspoon vanilla paste or vanilla extract
1 1/4 cup hot water
1 teaspoon espresso powder
1. Preheat the oven to 375°F. Place the beets on a baking sheet and cover with aluminum foil. Roast the beets for 45 to 60 minutes, until the sharp tip of a paring knife inserted into the beets goes in easily. When the beets are cool enough to handle, peel them and puree in a food processor or blender. You will need 3/4 cup of beets.
2. Reduce the oven temperature to 350°F. Coat the inside of two 9-inch round cake pans with non-stick cooking spray, or line muffin tins with paper liners.
3. In a bowl, whisk together the flour, cocoa powder, baking soda, and salt. Set aside.
4. In an electric mixer, cream together the butter and sugar until fluffy.
5. Beat in the eggs, one at a time. Mix in the grated beets and the vanilla.
6. Dissolve the espresso powder in the water.
7. Slowly add half of the flour mixture, add the water and the remaining flour mixture and mix until smooth, about 2 minutes. Divide the batter evenly between the prepared pans, smoothing the tops.
8. Bake the cakes, rotating halfway through baking, until a toothpick inserted in the center of the cakes comes out clean, about 25 minutes, or 15 to 20 minutes for cupcakes. Cool the cakes in their pans on a rack for 10 minutes and then turn them out onto racks. Let the cakes cool completely.
For the Frosting
1/2 cup unsalted butter, softened
One 8-ounce package cream cheese, softened
1/4 cup cocoa powder
4 to 5 cups confectioners' sugar
1 teaspoon espresso powder
1 teaspoon vanilla paste or vanilla extract
Milk or water to thin the frosting
1. In the bowl of an electric mixer, cream together the butter and cream cheese until smooth. Add the cocoa powder, sugar and espresso powder. Beat until smooth.
2. Beat in the vanilla and some of the milk or water to thin to a spreading consistency.
3. Place one of the cakes on a cake plate and spread frosting evenly over the top. Top with the second cake and spread a generous 1/2 cup frosting over it. Frost the sides with the remaining frosting.
4. If you are frosting cupcakes, using a large star tip and a pastry bag to pipe a nice star onto the top of the cupcakes.
@Diane Phillips
www.dianephillips.com
Blog: www.cucinadivina.blogspot.com
Follow me on Pinterest, Facebook, and Twitter
Post your photos on Instagram with the hashtag #specialtyproduceFMB or share them with the FMB community on our facebook page http://facebook.com/specialtyproduce!
If you haven't joined yet, you can order a bag for next week on our FMB page!