Farmers' Market Box 11-26-13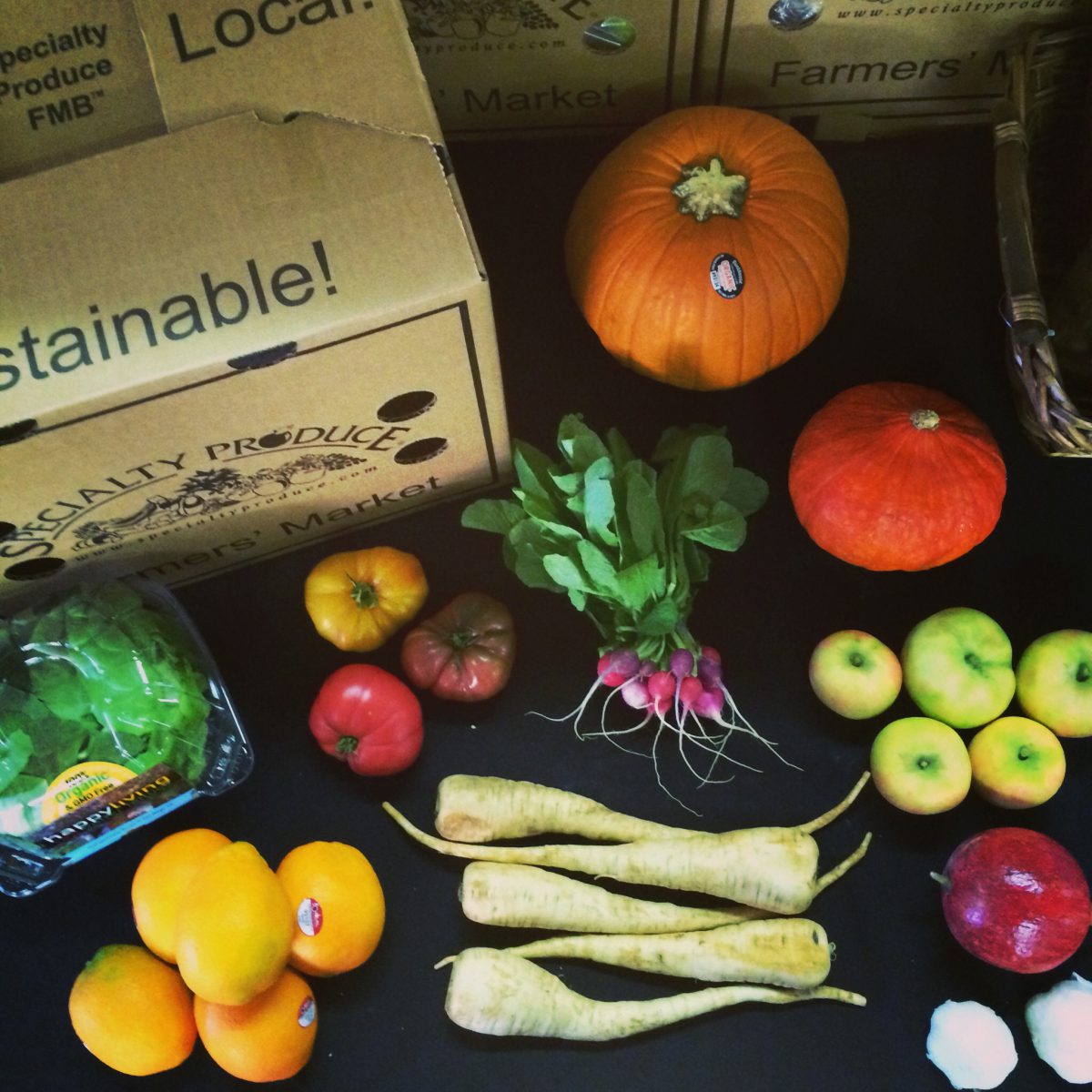 HAPPY THANKSGIVING!!!
Sugar Pie Pumpkin – Bob Swanson Ranch
Pink Lady Apple – Fair Hills Farm
Hydroponic Red Butter Lettuce – Go Green Agriculture
Pomegranate – Tom King Farm
Easter Egg Radish – Black Sheep Farms
Sunshine Kabocha Squash – Crows Pass Farm
Garlic – Earthbound Farms
Navel Oranges – Sundance Natural Foods
Parsnips – Lakeside Organics
Heirloom Tomatoes – Valdivia Farms
Organic Juicing Bag:
Sugar Pie Pumpkin – Bob Swanson Ranch
Fuji Apples – Seagate Produce
Carrots – Kern Ridge
Green Kale – Lakeside Organics
Valencia Oranges – Sundance Farms
Ginger – A&A Organics

Click here to Watch Video on YouTube
Catalina Offshore catch of the week: Black Cod Filet
Post your photos on Instagram with the hashtag #specialtyproduceFMB or share them with the FMB community on our facebook page http://facebook.com/specialtyproduce!
click the links above & search for products on our website with recipes attached
Below are some great recipes courtesy of Diane Phillips (Cucina Divina) & Mischa's Cafe & Juice Bar (located just down the street from us!) for you to try out with the produce from your bag. Let us know on our Facebook Page or through twitter if you tried any of them!
FMB JUICE RECIPES
Sweet Kale Juice
1bu kale
5ea carrots
2ea apples
Pumpkin Juice
4 cups sugar pie pumpkin chunks
1ea apple
3ea carrots
small piece of ginger
sprinkle of cinnamon and/or nutmeg
Fall Juice
1bu kale
3ea carrots
2ea oranges
Specialty Produce Recipe Suggestions
courtesy of Diane Phillips (Cucina Divina)
Creamy Parsnip Soup with Candied Pink Lady Apple Garnish
Serves 8
Parsnips are often overlooked in favor of their cousin the carrot; but they are deliciously sweet when roasted—this soup can be made ahead and then reheated before serving.
2 Tbs. olive oil
1 cup chopped leeks, white and light green parts only (from 2 to 3 large leeks), rinsed and drained
1 lb. parsnips, peeled, quartered, and cut into 1-inch pieces
4 cups chicken or vegetable broth
3 sprigs fresh thyme
1 small bay leaf,
Few drops of Tabasco
1/2 cup heavy cream
2 tablespoons cream sherry
Salt to taste
1. In a large stock pot, heat the oil and sauté the leeks and parsnips for 3 to 4 minutes, until the leeks begin to soften.
2. Add the broth, thyme, and bay leaf, and simmer for 10 to 15 minutes until the parsnips are tender.
3. Remove the bay leaf, puree the soup with an immersion blender, or cool the soup and puree in a blender or food processor.
4. Return the soup to the pan, and add the Tabasco, cream and sherry. Taste for seasoning and adjust with salt if needed. Serve warm garnished with Pink Lady Apple Garnish.
Candied Pink Lady Apple Garnish
2 Pink Lady apples, cored and cut into 1/2-inch slices
1/2 cup raw sugar
1. Preheat the oven to 400 degrees and line a baking sheet with silicone baking liners, aluminum foil or parchment paper.
2. Arrange the apples one layer and sprinkle with the raw sugar. Bake for 10 to 15 minutes until the apples are tender and golden brown.
3. The apples can be made ahead and stored in the refrigerator for 2 days. Rewarm before serving over the soup or over salads
Easter Egg Radishes with Olive Oil Fleur de Sel and Cracked Pepper
Serves 4
One bunch Easter Egg Radishes, cleaned, ends trimmed, and cut in half
1/2 cup extra virgin olive oil
2 teaspoons fleur de Sel
1/4 teaspoon freshly ground black pepper
1. Arrange the radishes on a plate, cover, and chill. When ready to serve, in a small bowl to hold dip pour the oil into the bowl, and then add the fleur de Sel and pepper.
2. Dip the radishes and other raw vegetables into the olive oil mixture.
Red Butter Lettuce Salad with navel Oranges and Pomegranate
Serves 4 to 6
Pomegranates are easy to peel; score the outside into quarters, fill a bowl with warm water, and remove the arils under the water.
For the Dressing
1/4 cup Navel orange juice
1/4 cup rice vinegar
2 teaspoons chopped shallot
1 teaspoon sugar
2 teaspoons Dijon mustard
2/3 cup vegetable or grape seed oil
Salt and pepper to taste
In a mixing bowl, whisk together the orange juice, vinegar, shallot, sugar, mustard, and slowly add the oil, until the dressing is emulsified. Season with salt and pepper to taste. The dressing will keep refrigerated for up to 3 days. Re-blend before using.
To assemble the salad
One head red butter lettuce, washed, spun dry and torn into bite sized pieces
1/4 to 1/3 cup Navel orange juice dressing (see preceding recipe)
1 Navel orange, cut into segments
1/2 cup pomegranate arils
1. In a salad bowl, toss the lettuce with some of the dressing.
2. Plate the salad and garnish with navel orange segments and pomegranate arils.
Cook's Note: Pomegranate arils will keep covered, in the refrigerator for up to 1 week.
Pink Lady Tart Tatin
Serves 4 to 6
No one thinks of this as a do-ahead dessert, but it truly is, and it's a showstopper. Roll out the dough, keep it in the fridge. Cook the apples through step #5 and reheat just before baking.
1 sheet puff pastry, defrosted and kept cold
Flour for rolling the puff pastry
1/2 cup (1 stick) unsalted butter
3/4 cup sugar
4 to 6 pink lady apples, peeled, cored and cut into 8th
1. Preheat the oven to 375 degrees. Line a baking sheet with a silicone liner or parchment paper and set aside.
2. On a floured board, roll out the dough until it is 1/8-inch thick. Cut the dough into a circle 1-inch larger than the diameter of your baking pan. Prick the dough all over with the tines of a fork and transfer it to the baking sheet. Refrigerate the dough while you work on the apples.
3. In a 10-inch ovenproof skillet, cast iron skillet, or tart Tatin pan, melt the butter, tilting the pan so the sides have a thin coating of butter.
4. Sprinkle the sugar over the butter, and fit a layer of apples, into the skillet, with the rounded side down and making concentric circles. Make sure to pack in the apples because they will shrink as they cook—-you want them snug in the pan.
5. When you have a snug layer, slice the remaining apples thinly; sprinkle them over the first layer. Put the pan over medium heat and cook, until the sugar begins to turn a deep caramel color—you will see it bubbling up the side of the pan—this will take at least 15 minutes and up to 30 depending on your pan.
6. Cover the apples with the pastry, loosely tucking in any overhang.
7. Transfer the skillet to the baking dish to the baking sheet.
8. Bake for 30 to 40 minutes, until the pastry is baked through and puffed.
9. Cover the skillet with a large rimmed serving plate, and turn the tart out onto the platter and remove the pan. If any of the apples have stuck to the pan, gently lift them off the pan with an off-set spatula and press them onto the tart. Cool 10 minutes before serving with unsweetened crème fraiche or vanilla ice cream.
Heirloom Tomato Pesto Frittata
Serves 6
8 large eggs
1/2 cup milk
1 1/2 cups shredded mozzarella cheese
1/2 cup pesto of your choice, homemade or store-bought plus 2 tablespoons
2 tablespoons extra virgin olive oil
Heirloom tomatoes, cut 1/4-inch thick to cover the dish (probably 2 that are 2-inches in diameter)
1/2 cup freshly grated Parmesan cheese
1. Coat a 10-inch round baking dish with nonstick cooking spray.
2. In a large bowl, whisk together the eggs and milk until blended. Stir in 1 cup of the mozzarella, and the 1/2 cup pesto. Combine the remaining pesto with the oil, and set aside.
3. Pour the eggs into the prepared dish and top with the tomatoes, floating them on top of the eggs.
4. Drizzle the pesto oil over the tomatoes, and top with the remaining 1/2 cup of mozzarella and the Parmesan.
5. Preheat the oven to 350°F. Bake the frittata until puffed, golden, and set in the center, 35 to 40 minutes.
6. Do-Ahead: At this point, you can let cool, cover, and refrigerate overnight. Serve cold or at room temperature, or reheat, covered with aluminum foil, in a 350°F oven for 15 minutes.
Cook's Note: The recipe can be doubled, and made in a 13-by-9-inch baking dish, baking for 45 to 55 minutes.
Heirloom Tomato and Goat Cheese Tart
Serves 6 to 8
1 sheet frozen puff pastry, defrosted
3 eggs
1/2 cup heavy cream
3 tablespoons Dijon mustard
6 ounces goat cheese, crumbled
Salt and freshly ground pepper
2 to 3 tablespoons each chopped fresh parsley, basil, and thyme
1 pound heirloom tomatoes
1 tablespoon extra-virgin olive oil
1. Preheat the oven to 425 degrees. Coat the inside of a 10-inch tart pan with a removable bottom with non-stick cooking spray. Roll out the puff pastry to fit the tart pan, and fit the pastry into the pan, cutting the edges. Refrigerate while you prepare the filling.
2. In a mixing bowl, whisk together the eggs, cream, mustard, and cheese. Add salt, pepper, and herbs.
3. Pour the mixture into the prepared tart pan, and arrange the tomatoes over egg mixture overlapping them slightly.
4. Drizzle on the olive oil. Place in the oven and bake 12 minutes, lower the heat and bake an additional 20 to 30 minutes, until the top is nicely browned.
5. Remove from the oven and allow to cool for 10 minutes before serving. Allow the tart to rest for 10 minutes, and warm or at room temperature.
Pumpkin Streusel Pie
Serves 8
One unbaked 10-inch pie crust, either store bought, or homemade
Streusel
¾ cup all-purpose flour
½ cup firmly packed light brown sugar
2 tablespoons granulated sugar
½ teaspoon ground cinnamon
½ teaspoon table salt
½ cup (1 stick) chilled unsalted butter, cut into small cubes
¾ cup pecan halves
1. In a food processor fitted with the steel blade, combine the flour, sugars, cinnamon, and salt, processing for about 35 seconds, to blend.
2. Add the butter, distributing it evenly over the dry ingredients. Process on and off in short bursts, until the mixture is crumbly. Add the pecans, process 4 to 5 times in short burst, until the pecans are chopped and incorporated into the streusel. (At the point the streusel can be refrigerated for up to 5 days, or frozen for 2 months) Defrost and bring to room temperature before proceeding.
Filling
2 cups sugar pie pumpkin puree
¼ cup granulated sugar
½ cup light brown sugar
3 large eggs
2 tablespoons all-purpose flour
½ teaspoon ground ginger
1 teaspoon ground cinnamon
¼ teaspoon ground cloves
¼ teaspoon salt
¾ cup heavy cream
2 tablespoons maple syrup
1. Preheat the oven to 375 degrees. In a mixing bowl, whisk together all the ingredients, until smooth. Pour into the prepared pie crust and top with the streusel.
2. Bake the pie for 15 minutes, lower the oven temperature to 350 degrees for another 45 minutes, until a knife inserted into the center comes out with just a bit of the filling on it. (It should not be sloshy at all) Allow to cool for 2 hours. Refrigerate for up to 24 hours. Serve at room temperature with sweetened whipped cream.
To bake a sugar pie pumpkin:
Preheat the oven to 375 degrees. Cut the stem off the pumpkin, and then cut the pumpkin in half. Scoop out the seeds, and brush the inside with a bit of vegetable or grape seed oil. Place on a baking sheet cut side down, and bake 45 to 50 minutes, until the pumpkin is tender. Remove from the oven, and allow to cool slightly. Scoop out the flesh from the pumpkin, and puree in a blender or food processor. You will need 2 cups of puree for the pie; any remaining puree can be frozen for up to 2 months.
Yukon gold and Kabocha Sunshine Squash Gratin
Serves 8
A delicious pairing of potatoes and squash, bubbling under a cloak of melting cheese.
1lb Yukon gold potatoes, peeled and sliced into 1/8-inch thick rounds
2 cups Sunshine squash, peeled, seeded and sliced 1/8 inch thick
1 medium onion, sliced 1/8-inch thick
2 to 3 tsp. chopped fresh thyme
2-1/2 to 3 cups heavy cream
Salt and Freshly ground black pepper
1 cup finely shredded Italian Fontina cheese
1 cup finely shredded Gruyere
2 teaspoons chopped fresh parsley
1/2 cup fresh breadcrumbs
2 Tbs. melted unsalted butter
1. Preheat the oven to 350 degrees F. Coat the inside of a 13-by-9inch baking dish with non-stick cooking spray and set aside.
2. Put the potatoes, squash, onions, thyme and cream, 1/2 tsp. salt, and a few grinds of pepper in a 12-inch skillet.
3. Simmer, partially covered, over medium to medium-low heat, stirring occasionally and gently with a rubber spatula until the potatoes are barely tender when pierced with a fork or skewer, 8 to 12 minutes.
4. Using a slotted spoon, transfer half the potato mixture to the prepared gratin dish, spreading it evenly. Sprinkle with 1/2 of the Fontina, and Gruyere. Top with the remaining potato mixture spreading it evenly, and pour over any liquid remaining in the pan.
5. In a small bowl, combine the parsley, bread crumbs, and butter, and scatter the topping mixture over the potatoes.
6. Bake the gratin until it's bubbly, the top is brown, and the potatoes are completely tender when tested with the sharp point of a knife, 25 to 30 minutes until the cheese is bubbling and golden brown.
7. Let the gratin sit for at least 10 minutes before serving so the liquid is fully absorbed and the gratin is easy to serve.
8. Do-Ahead: The uncooked gratin will keep covered in the refrigerator for 24 hours before baking. Remove from the refrigerator for 30 minutes to come to room temperature.
@Diane Phillips
www.dianephillips.com
Blog: www.cucinadivina.blogspot.com
Follow me on Pinterest, Facebook, and Twitter
Post your photos on Instagram with the hashtag #specialtyproduceFMB or share them with the FMB community on our facebook page http://facebook.com/specialtyproduce!
If you haven't joined yet, you can order a bag for next week on our FMB page!