Farmers' Market Box 4-24-14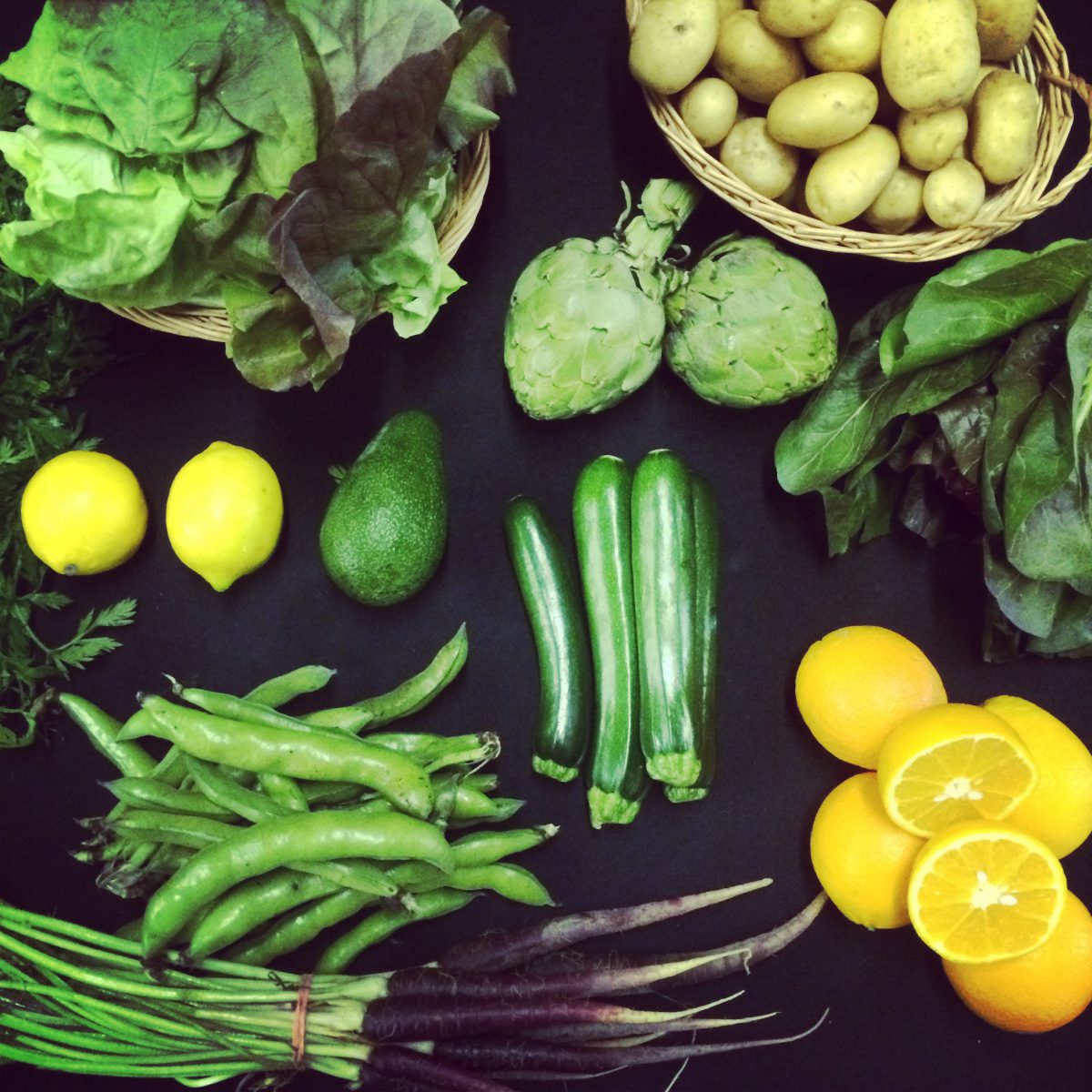 Artichokes – Coke Farms
Fuerte Avocado – Koral's Tropical Fruit
Fava Beans – Rutiz Farms
Baby Purple Carrots – Black Sheep Produce
Treviso – Coleman Farms
Red Butter Lettuce – Go Green Agriculture
Zucchini – Be Wise Ranch
Lemons – Sundance
Valencia Oranges – Sundance
Yukon Gold Potatoes – Oasis Produce
Organic Juicing Bag:
Fuji Apples – Fair Hills Farm
Baby Purple Carrots – Black Sheep Produce
Fennel – Rutiz Farms
Valencia Oranges – Polito Farms
Straweberries – Be Wise Ranch

Click here to Watch Video on YouTube
Catalina Offshore catch of the week: Yellowtail



Post your photos on Instagram with the hashtag #specialtyproduceFMB or share them with the FMB community on our facebook page http://facebook.com/specialtyproduce!
click the links above & search for products on our website with recipes attached
Below are some great recipes courtesy of Diane Phillips (Cucina Divina) & Mischa's Cafe & Juice Bar (located just down the street from us!) for you to try out with the produce from your bag. Let us know on our Facebook Page or through twitter if you tried any of them!
FMB JUICE RECIPES
Juice #1
2ea apples
2ea oranges
½ bskt strawberries
Juice #2
1ea purple carrot
½ bulb fennel
2ea oranges
Juice #3
2ea apples
½ bskt strawberries
2ea purple carrots
Specialty Produce Recipe Suggestions
courtesy of Diane Phillips (Cucina Divina)
Fava bean Spread for Crostini
Serves 4
Fava beans are a sure sign of spring, and this delicious spread is perfect to serve with a nice crisp white wine, like an Orvieto classic. In Umbria, they make a salad that is similar to this, using the beans, chunks of Pecorino and good quality olive oil. Either way, don't mess too much with perfection, since these beans aren't available very long.
Salt
1-pound fava beans (you should have 2 to 3 cups)
1/4 cup good quality extra-virgin olive oil
Salt and freshly ground black pepper
1⁄2 to 2 tsp. fresh lemon juice
One baguette, sliced 1/2 inch thick, and slices brushed with oil and toasted until crisp (350 degrees for 10 minutes)
8–10 leaves fresh mint, sliced into thin ribbons
4 ounces shaved pecorino Romano
1. Bring a medium pot of salted water to a boil over high heat. Add favas and cook until bright green, 1–2 minutes. Drain favas, rinse under cold running water, and drain again. Peel favas and discard the thin membrane over the green beans.
2. In a large skillet, heat the oil over medium-low heat. Add favas and season with salt and pepper. Cook, stirring often and adding a little water to keep beans moist, if necessary, until favas are tender, about 5 minutes.
3. Purée favas in a food processor until smooth. Transfer to a bowl and season to taste with lemon juice, salt, and pepper.
4. Spread the fava puree onto the baguette slices, and garnish with mint and shaved Pecorino Romano, drizzle with a bit of olive oil if desired.
Zucchini Pancakes
Serves 4 to 6
These are simple, and keep in a low oven if you don't serve them immediately
2 medium zucchini, coarsely grated (you will need about 2 cups)
2 tablespoon finely chopped onion
1 garlic clove, minced
2 large eggs, beaten
3 drops Tabasco
1/2 to 2/3 cup dry breadcrumbs or panko
1/2 teaspoon dried oregano
1/2 teaspoon dried basil
1/3 cup freshly grated Parmigiano Reggiano cheese
Vegetable or olive oil for frying
1. Place the zucchini in a colander, and squeeze out the moisture. Put the zucchini into a bowl and add the onion, garlic, eggs, Tabasco, breadcrumbs, oregano, basil and 3 tablespoons cheese. Blend together. If the mixture is too loose, add more panko.
2. In a large skillet, heat 1/4-inch of oil over medium high heat. When the oil is hot, using a portion scoop, scoop out about 1/4 cup of the zucchini mixture, and add to the skillet, pressing down to make a flat pancake.
3. When one side is nicely browned, turn the pancakes, and cook another 2 to 3 minutes, until nicely browned on all sides.
4. Remove from the skillet, and continue to cook the pancakes until you have used all the batter.
5. Drain the pancakes on paper toweling, and serve garnished with a sprinkle of the remaining cheese.
Sweet Corn, Avocado Salsa Dip
Makes 1 1/2 cups
There are as many recipes for Avocado dips as there are cooks in San Diego, this one has a nice balance of sweet and spicy.
1 avocado, mashed
1 teaspoon lime juice
1/2 cup white corn, either fresh cut from the cob, or frozen and defrosted
1 tablespoon finely chopped onion
1/4 cup finely chopped tomato
1 tablespoon chopped fresh cilantro
Pinch chipotle chili powder
Pinch ground cumin
3 tablespoons sour cream or Greek Style yogurt
Tortilla chips for serving
1. In a large bowl, combine all the ingredients.
2. Season the dip with salt or pepper, if necessary. Serve with tortilla chips
Lemon Curd Coconut Layer Cake
Serves 10 to 12
This cake is definitely a celebration cake, whether you make the simple yellow cake, or the lemon curd, these are great recipes to keep in your repertoire.
Simple Yellow Cake
Makes two 9-inch rounds, or one 13-by-9-inch cake
2 cups cake flour
1 teaspoon baking powder
1/2 teaspoon salt
1/2 teaspoon baking soda
1 3/4 cups sugar
3/4 cup (1 1/2 sticks) unsalted butter, softened, and cut into 1/2-inch bits
1 cup buttermilk
4 large eggs
1 tablespoon vanilla extract
1. Preheat the oven to 375°F. Coat two 9-inch round baking pans with nonstick cooking spray.
2. In the food processor, combine the flour, baking powder, salt, baking soda, and sugar and pulse 2 to 3 times. Distribute the butter over the flour mixture and pulse until the flour resembles small peas.
3. Pour the buttermilk into a 2-cup measuring cup, add the eggs and vanilla, and beat with a fork to break the eggs up. With the food processor running, add this through the feed tube and process for about 45 seconds. Scrape down the sides, then process again for another 30 to 45 seconds, until blended.
4. Divide the batter equally between the 2 prepared pans. Smooth the tops, without pressing down on the batter. Bake until golden and a skewer inserted in the center comes out clean, 25 to 30 minutes. Transfer the pans to a rack and let cool for 10 minutes, then remove from the pans to the rack and cool completely.
5. Do-Ahead: At this point, you can cover with plastic wrap or put in zipper-top plastic bags and refrigerate for 2 days or freeze for up to 2 months. Defrost before continuing.
Lemon Curd
Makes about 3 cups
This curd mixture can be made with any citrus; lemon, lime, orange, grapefruit all make delicious curd to spread on toast/scones, cakes, and cookies.
1 cup sugar
6 large eggs
1/2 to 2/3 cup fresh lemon juice
1/2 cup (1 stick) chilled unsalted butter, cut into 1/2-inch cubes
1. In a 2-quart saucepan, combine the sugar, eggs, and 1/2 cup of the lemon juice and whisk until smooth.
2. Set over medium heat and continue to whisk until the mixture begins to thicken; this may take about 5 minutes.
3. Stir in the butter cubes, a bit at a time, and continue to cook, stirring constantly, until the curd is thickened. Taste and add the remaining lemon juice if you would like it more tart.
4. Remove from the heat, press a piece of plastic wrap directly against the surface to keep a skin from forming, and let cool to room temperature.
5. Do-Ahead: At this point, you can refrigerate for up to 1 week or freeze for up to 2 months. Defrost before continuing.
Mascarpone Frosting
Makes about 5 cups
3 cups heavy cream
1/3 cup sugar
2 cups mascarpone cheese
1. In the bowl of an electric mixer, whip the cream and sugar until stiff.
2. Add the mascarpone and whip another minute, until blended.
3. The frosting can be refrigerated for up to 3 days, or frozen for 2 months. Whisk to re-blend before using.
Assembly
Two 9-inch yellow cake layers
Lemon curd
Mascarpone frosting
2 1/2 cups Angel flake coconut
1. Split each cake layer in half, horizontally.
2. On a cake plate, arrange strips of waxed paper then top with a cake layer. Spread with some of the lemon curd, and mascarpone frosting and sprinkle with a bit of coconut.
3. Continue to layer until the last layer is placed on top of the cake. Spread the remaining frosting over the cake, and sprinkle the top with the coconut. Press the remaining coconut into the sides of the cake, cover and refrigerate for up to 36 hours before serving.
Yukon Creamer Potato Salad
Serves 4 to 6
2 pounds medium-size Yukon creamers, unpeeled
2 ribs celery, finely chopped
1 scallions (white and tender green parts), finely chopped
1 teaspoon fresh lemon juice
1 tablespoon olive oil
1 teaspoon salt
1/2 teaspoon freshly ground black pepper
1 cup mayonnaise
1/4 cup sour cream
Milk to thin the dressing
Finely grated zest of 1 lemon
1/4 to 1/3 cup finely chopped fresh dill, to your taste
Salt and pepper to taste
1/2 teaspoon sweet paprika for garnish (optional)
1. Cook the potatoes in a large pot of boiling salted water to cover until just tender, about 25 minutes. Drain the potatoes, let cool completely.
2. Peel the potatoes, cut into bite-size pieces, and transfer them to a large salad bowl. Add the celery and scallions, sprinkle with the lemon juice, oil, salt, and pepper, and toss to coat the potatoes.
3. Do-Ahead: At this point, you can cover and refrigerate overnight.
4. In a medium-size bowl, whisk together the mayonnaise, sour cream, lemon zest, and dill. Thin the dressing with a bit of milk. Taste for seasoning and add salt or pepper if needed.
5. Toss the potatoes with half the dressing, stirring gently to coat.
6. Do-Ahead: At this point, cover and refrigerate for at least 2 hours and up to 12 hours before serving.
7. Thirty minutes before serving, toss the salad again, adding more dressing if needed. Sprinkle with the paprika if using and serve.
8. Cook's Note: Potatoes, and other starches, like pasta, and rice, absorb dressings while they are refrigerated; it's a good idea to make a bit more dressing to have on hand to re-toss the salad before serving, so it doesn't seem too dry.
Treviso and Valencia Orange Salad
Serves 4
One head Treviso, washed, spun dry and coarsely chopped
2 tablespoons red wine vinegar
2 tablespoons Valencia orange juice
1/3 cup extra virgin olive oil
1 teaspoon sugar
Salt and pepper to taste
2 Valencia oranges, peel and pith removed, and segmented
1. Put the Treviso into a salad bowl. In a small bowl, whisk together the vinegar, orange juice, oil, sugar and season with salt and pepper.
2. Pour a bit over the Treviso, and toss to coat the leaves.
3. Plate the salad, and arrange the orange segments over the Treviso. Drizzle with a bit more dressing if desired.
Steamed Artichokes with Eureka Lemon Aioli
Serves 2 or 4
Artichokes make a great starter, and can be served hot, cold or at room temperature. Steam the artichokes ahead, and serve al fresco on the patio with a chilled white wine.
2 cups water
3 garlic cloves, sliced
3 peppercorns
1 teaspoon salt
2 teaspoons dried thyme
1 lemon, cut in half
2 artichokes
1. In a large pan, combine the water, garlic, peppercorns, salt, and thyme. Squeeze the lemon into the water and add the lemon rinds to the water. Arrange a steamer basket in the pan.
2. Cut off the stem, and remove the tough outer leaves of the artichokes. Cut off 1/2 to 3/4-inch from the top, and wash the artichoke in cold water.
3. Arrange in the steamer basket, and bring to the water to a boil.
4. Steam the artichokes for 25 to 35 minutes or until the tip of a sharp knife inserted into the center goes in easily. (the timing will depending on the size of the artichoke—if they are huge, it may take up to 50 minutes)
5. Remove the artichokes from the steamer, and either serve immediately, or cool completely, and refrigerate for up to 2 days.
For the Aioli
1 1/2 cups mayonnaise
3 garlic cloves, minced
1 scallion, finely chopped using the white part only
1 teaspoon grated lemon zest
2 teaspoons fresh lemon juice
Few drops Tabasco
In a small mixing bowl, whisk together the ingredients, taste for seasoning and adjust using lemon juice, salt or more Tabasco. Refrigerate for up to 4 days.
Spicy Shrimp in Red Leaf Lettuce
Serves 4
A quick weeknight meal, you can substitute ground chicken or turkey for the shrimp if you would like.
3 tablespoons vegetable oil
2 teaspoons finely grated ginger
2 garlic cloves, minced
1/8 teaspoon dried pepper flakes
1 shallot finely chopped
1/2 cup finely chopped water chestnuts
1 purple carrot, coarsely grated
1 pound medium shrimp, peeled and deveined, and coarsely chopped (leave whole if you would like to serve this over rice)
3 tablespoons soy sauce mixed with 1/2 teaspoon cornstarch
1 tablespoon Mirin sweet rice wine
1 teaspoon Hoisin sauce
One head red leaf lettuce, washed spun dry and separated into individual leaves
Chopped green onions for garnish
1. Heat the oil in a large sauté pan, heat the oil over medium high heat, and sauté the ginger, garlic, and pepper flakes for 30 seconds, until fragrant.
2. Add the shallot, water chestnuts, and carrot, and strip fry until softened, about 2 minutes. Add the shrimp and stir fry the shrimp, until they are pink, and cooked through. Combine the soy sauce, cornstarch, mirin and Hoisin, and pour into the pan. Stir until the mixture comes to a boil and thickens.
3. Serve the shrimp in lettuce leaves, like tacos, and garnish with chopped green onions.
@Diane Phillips
www.dianephillips.com
Blog: www.cucinadivina.blogspot.com
Follow me on Pinterest, Facebook, and Twitter
Post your photos on Instagram with the hashtag #specialtyproduceFMB or share them with the FMB community on our facebook page http://facebook.com/specialtyproduce!
If you haven't joined yet, you can order a bag for next week on our FMB page!