Farmers' Market Box 8-7-14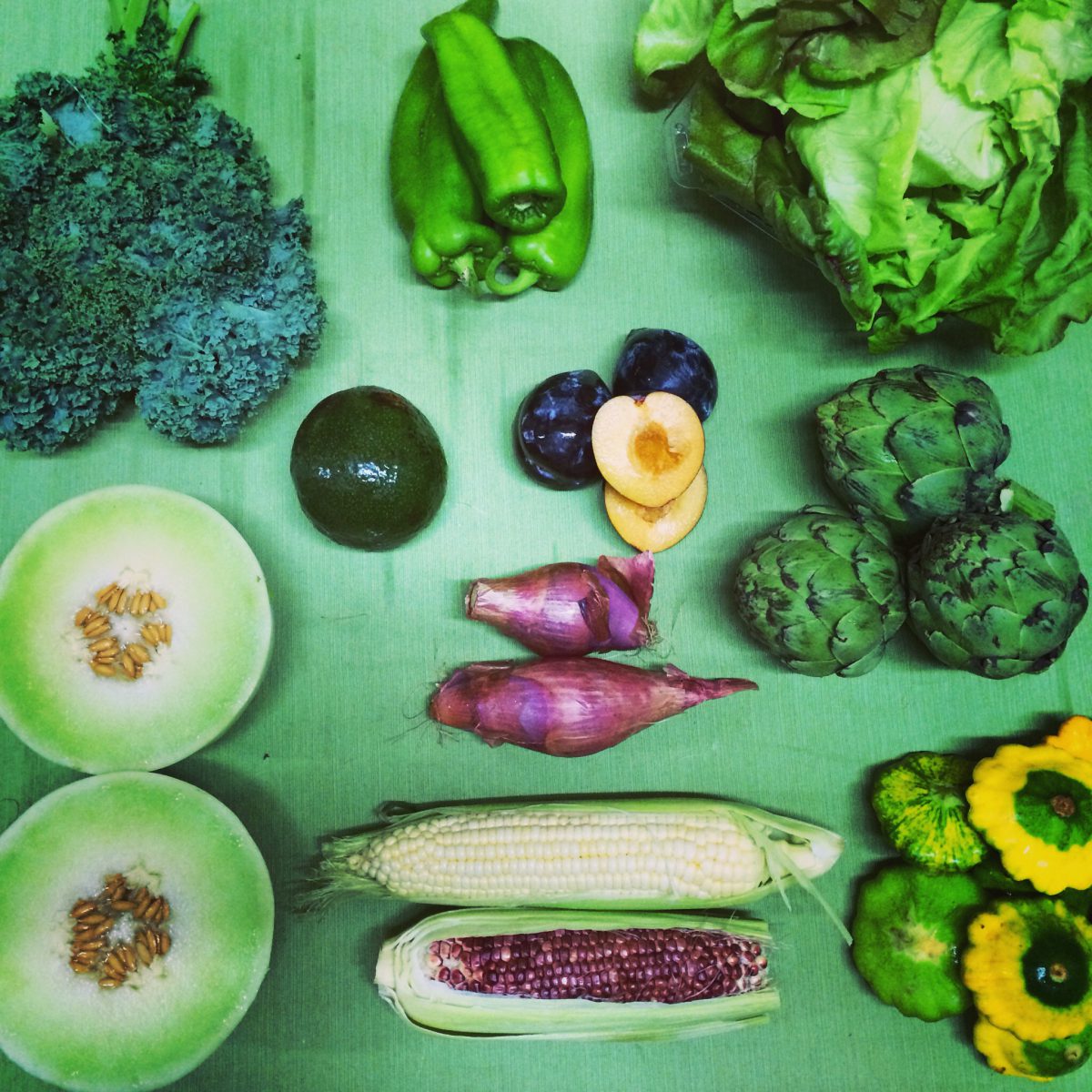 Artichokes – Coke Farms
Reed Avocado – Koral's Tropical Fruit
Red Corn – Black Sheep Produce
White Corn – Black Sheep Produce
Green Kale – Black Sheep Produce
Hydro Butter Lettuce – Go Green Agriculture
Red Torpedo Onions – Crows Pass
Anaheim Chile Peppers – Tutti Frutti Farm
Patty Pan Squash – Suzie's Farm
Flavor Heart Pluots – Frog Hollow Farm
Honeydew Melon – Coke Farm
Organic Juicing Bag:
Celery – Rutiz Farm
Persian Cucumbers – Suzie's Farm
Princess Grapes – Lee Farms
Green Kale – Black Sheep Produce
White Carrots – Tutti Frutti Farm
Farmer's Choice:
Dragonfruit – Tony Do's Farm
Indigo Rose Cherry Tomatoes – Suzie's Farm
Frog Hollow Fruit:
Yellow Peaches – Frog Hollow Farms

Click here to Watch Video on YouTube
Catalina Offshore catch of the week: Flounder
Post your photos on Instagram with the hashtag #specialtyproduceFMB or share them with the FMB community on our facebook page http://facebook.com/specialtyproduce!
click the links above & search for products on our website with recipes attached
Below are some great recipes courtesy of Diane Phillips (Cucina Divina) & Mischa's Cafe & Juice Bar (located just down the street from us!) for you to try out with the produce from your bag. Let us know on our Facebook Page or through twitter if you tried any of them!
FMB JUICE RECIPES
Juice #1
1# grapes
2 stalks celery
2 stalks green kale
Juice #2
2ea carrots
1 stalk celery
1ea cucumber
1 stalk green kale
Juice #3
1# grapes
2ea cucumber
1 stalk celery
Specialty Produce Recipe Suggestions
courtesy of Diane Phillips (Cucina Divina)
South of the Border Breakfast Strata with Reed Avocado Slices
Serves 6 to 8
Reed Avocados are called the most flavorful of the avocados, so try this delicious brunch dish and slice the avocados over the top just before serving. I've incorporated a few of the ingredients from your Farmer's Market Box into the strata.
4 tablespoons unsalted butter
1 torpedo onion, finely chopped
One ear of red corn, scraped from the cob
One Anaheim pepper, cored, seeded and finely chopped
One medium red bell pepper, cored, seeded and finely chopped
¼ pound boiled imported ham, finely chopped
4 cups torn bread sturdy white bread cubes, tough crusts removed
6 large eggs
1 cup heavy cream
2 tablespoons all-purpose flour
1 ½ teaspoons salt
2 drops Tabasco sauce
1 Reed avocado, peeled, seeded and sliced into thin wedges
1. Preheat the oven to 350 degrees and coat the inside of a 13-by-9-inch baking dish with non-stick cooking spray.
2. In a large skillet, melt the butter, and sauté the onion, corn and peppers until they are softened, about 5 minutes. Add the ham, and continue to sauté until the onion is translucent. Transfer the mixture to a bowl and cool, adding the bread cubes and stirring until blended.
3. In a mixing bowl, whisk together the eggs, cream, flour, salt and Tabasco, until blended.
4. Pour over the ham mixture, stirring to blend. Transfer the entire contents of the bowl to the prepared pan.
5. Do-Ahead: At this point, cover and refrigerate for at least 6 hours, or up to 2 days, bring to room temperature before proceeding)
6. Bake for 35 to 45 minutes, until the strata is puffed and golden brown and set in the center. Remove from the oven and allow to rest for 15 minutes before cutting into wedges, garnishing each wedge with a few slices of avocado.
7. Do-Ahead: If you would like to bake this ahead of time, bake the strata until the middle registers 140 degrees (about 25 minutes); it will not be set, but the eggs will be cooked. Remove from the oven, and allow to cool—it will continue to cook while it's cooling. Cool, cover and refrigerate for up to 3 days, or freeze for 6 weeks. Allow to come to room temperature before reheating, loosely tented with foil in a 350 degree oven for 15 minutes, or until the center of the quiche is heated through. (Poke the end of a sharp knife into the center and if the knife is warm, so is the strata—or it should register 170 on an instant read meat thermometer)
8. Cheesy South of the Border Strata: Add 1 cup of shredded cheese to the egg mixture after adding the ham, onions and peppers. Good choices: mild cheddar, white sharp cheddar, Monterey Jack, Pepper Jack, Fontina or Provolone.
Fried Artichokes, with Lemon Aioli
Serves 4
This is worth the work, and worth the calories. It makes a stunning starter, or can be served as part of an antipasto.
3 artichokes
1/2 lemon
1/4 cup extra virgin olive oil
1 egg, beaten
1 cup dry bread crumbs
1. To prepare the artichokes, peel all the leaves off the choke. Peel the stalk (if it is attached) and with a paring knife neatly trim the bottom where you removed the leaves.
2. Cut the trimmed artichokes in half vertically and with a spoon remove the hairy choke. Be careful when cutting in half cut the stem, too.
3. Rub immediately with lemon juice so the artichoke doesn't discolor.
4. Steam the hearts until tender. Time will vary depending on the size of the hearts (about 10 minutes).
5. Dip each artichoke half into the egg and then into the bread crumbs.
6. Fry in the olive oil over medium heat until golden.
7. Set on paper towels to absorb the oil.
Lemon Aioli
Makes about 1 1/4 cups
1 cup mayonnaise
Grated zest of 1 lemon
1/4 cup fresh lemon juice
3 garlic cloves, minced
Salt and Tabasco to taste
1. In a small bowl, combine all the ingredients until blended.
2. Cover and refrigerate for at least 30 minutes or up to 3 days.
Flavor Heart Pluot Upside Down Cake
Makes one 9-inch round/square cake
With pluots, plums and other stone fruits being so perfect, right now is the time to serve your family a lovely summer treat. Serve with unsweetened whipped cream, or vanilla ice cream.
1/4 cup unsalted butter, melted
1/4 cup firmly packed brown sugar
3 Flavor Heart Pluots, pitted, and thinly sliced
1/2 cup unsalted butter, softened, plus more for pan
2/3 cups granulated sugar
2 large eggs, at room temperature
3/4 cups sour cream, at room temperature
1/2 teaspoon pure vanilla extract
1 1/2 cup unbleached all-purpose flour, plus more for pan
1 teaspoon baking powder
1/2 teaspoon salt
1/4 teaspoon baking soda
1/2 teaspoon grated lemon zest
1. Preheat the oven to 350 degrees, and coat the inside of a 9-inch baking dish with non-stick cooking spray.
2. Combine the butter and sugar and spread in the bottom of the pan. Arrange the pluots in the pan in a decorative pattern.
3. In the bowl of an electric mixer, cream the butter and sugar until smooth.
4. Add the eggs, one at time, and beat until blended.
5. Add the sour cream, and vanilla, at this point, the mixture may look curdled.
6. Add the remaining ingredients, and beat until the mixture is smooth. Pour into the prepared pan, and smooth the top. Bake for 50 to 55 minutes, until a cake tester inserted into the center comes out clean. Allow the cake to rest, then invert onto a serving platter. Serve the cake warm or at room temperature.
Mixed Squash and Kale Pasta
Serves 6
Sweet patty pan squash and good-for-you kale combine in this delicious dish for a great summer time pasta dish to serve by itself, or with grilled entrees (think seafood and chicken)
1/4 cup extra virgin olive oil
3 garlic cloves, minced
1 torpedo onion, finely chopped
Pinch red pepper flakes
Grated zest of 1 lemon
1 bunch kale, tough stems discarded and cut into 1/2-inch ribbons
1/4 to 1/3 cup chicken or vegetable broth
2 cups mixed patty pan squash, stems removed and cut into 1/2-inch dice
1/4 cup finely chopped basil
Salt and pepper to taste
1 pound farfalle, or other shaped pasta, cooked 3 minutes short of al dente and saving some of the pasta water
1 cup freshly grated Asiago cheese
1. In a large skillet, over medium high heat, heat the oil, and add the garlic, onion, red pepper and lemon zest, swirling in the pan for 30 seconds.
2. Add the kale, and sauté for 2 to 3 minutes, until the kale begins to wilt. Add the broth, cover and simmer for 4 to 5 minutes, stirring occasionally.
3. Add the squash, and simmer for 2 to 3 minutes more, the squash should still be crisp/tender. Add the basil, and taste the mixture for salt and pepper and adjust.
4. When the pasta is ready, add it to the pan, and toss to coat. Add 1/2 of the cheese, and some of the pasta water, to make a creamy sauce. Continue to toss the pasta, until the sauce is creamy, and the pasta is coated.
5. Serve the pasta in bowls, and garnish with the remaining cheese.
Honey Mint Granita
Serves 4
Granita is an Italian ice; it makes an awesome add in to drinks (think Mojito), but is equally delicious and refreshing served in small cups after dinner.
1 cup granulated sugar
1 cup water
2 Tbs. finely chopped fresh mint, plus more for garnish
1 Tbs. fresh lime juice
1 honey dew melon
1. Arrange a 9 x 13-inch baking dish or 9 1/2-cup rectangular plastic container in the freezer, making sure it's level and secure. Put the sugar, water and mint into a medium saucepan. Cook, stirring, over medium heat until the sugar is dissolved, about 3 minutes. Set aside to cool completely or refrigerate for up to 1 day.
2. Cut the melon in half, scoop out the seeds, and cut the flesh into 1- to 2-inch chunks. Add the melon into a food processor or blender and process until smooth, about 1 minute (you'll have about 2-1/2 cups). Strain the sugar syrup into the blender; add the lime juice and blend till combined.
3. Refrigerate until chilled or for up to 1 day. For faster cooling, set the bowl over a bowl filled with ice and stir occasionally until well chilled.
4. Pour the chilled mixture into the baking dish and freeze for about 2 hours. After that, every 30 minutes, stir, smash and scrape the mixture with a table fork until the ice crystals are loose and frozen. Serve garnished with mint sprigs.
5. Cook's note: If you have an ice cream machine, you can pour the cooked mixture into the machine, and process as directed by the manufacturer for a melon sorbet.
Farmer's Choice:
BLT Salad with Indigo Rose Tomatoes
Serves 4 to 6
For the dressing
1 cup mayonnaise
1/4 cup sour cream
1 tablespoon sugar
2 teaspoons fresh Meyer lemon juice
Grated zest of 1 Meyer lemon
2 tablespoons chopped fresh Italian parsley
2 tablespoons chopped fresh basil
2 tablespoons chopped fresh dill
1. In a medium-size bowl, whisk together the dressing ingredients until well blended.
2. Cover and refrigerate at least 2 hours or for up to 4 days.
3. This is a delicious dressing for pasta and potato salads, makes a great dip for veggies, and is a nice sauce to serve with grilled poultry or seafood.
For the Croutons
1/2 to 3/4 cup extra virgin olive oil
1 teaspoon garlic salt
1 teaspoon freshly ground black pepper
2 teaspoons dried herbs, such as oregano, rosemary, basil, marjoram, thyme, sage, or a combination
4 cups cubed leftover French or Italian bread (1/2-inch cubes)
1. Preheat the oven to 350°F and line a baking sheet with a silicone liner, aluminum foil, or parchment paper.
2. In a large bowl, whisk together the oil, garlic salt, pepper and optional herbs. Add the bread cubes and toss.
3. Spread the bread over the prepared baking sheet and bake for 5 minutes. Turn the cubes, bake for another 5 minutes, and turn the cubes again. Cook until the cubes are dry and begin to turn golden another 5 minutes.
4. Remove the croutons from the oven and let cool completely.
5. Do-Ahead: At this point, you can store in an airtight container or zipper-top plastic bags at room temperature for up to 3 days or freeze for up to 6 months.
For the Salad
One head red butter lettuce, washed, spun dry and torn into pieces
1 cup Indigo Rose tomatoes cut in half
Fresh Herb dressing (see recipe above)
6 strips thick cut bacon, cooked crisp and crumbled (vegetarian option, omit, and sub in 1/2 avocado finely diced)
Garlic Croutons (see recipe above)
1. For each salad, arrange some of the lettuce on a salad plate, top with some of the cherry tomatoes, drizzle with dressing, sprinkle with the bacon and croutons, and serve.
Dragon Fruit Dressing for Salads
Makes 2 cups
Similar to papaya seed dressing, this is delicious over fruit salads, cold shrimp or crab, or served over greens.
1 dragon fruit cut in half
2 teaspoons fresh lime juice
1 teaspoon Dijon mustard
1/4 cup rice vinegar
1 cup vegetable oil (non-GMO canola)
Salt and pepper
1. Scoop out the flesh of the dragon fruit and place in a blender. Add the lime juice mustard, and rice vinegar.
2. Turn on the blender, slowly pour in the oil through the top, and blend until the dressing is emulsified, and thick. Season with salt and pepper and adjust.
3. Dragon fruit can be sweet, and if you like a more acidic taste, add a few drops of vinegar, or lime juice to balance.
@Diane Phillips
www.dianephillips.com
Blog: www.cucinadivina.blogspot.com
Follow me on Pinterest, Facebook, and Twitter
Post your photos on Instagram with the hashtag #specialtyproduceFMB or share them with the FMB community on our facebook page http://facebook.com/specialtyproduce!
If you haven't joined yet, you can order a bag for next week on our FMB page!