Farmers' Market Box 8-21-14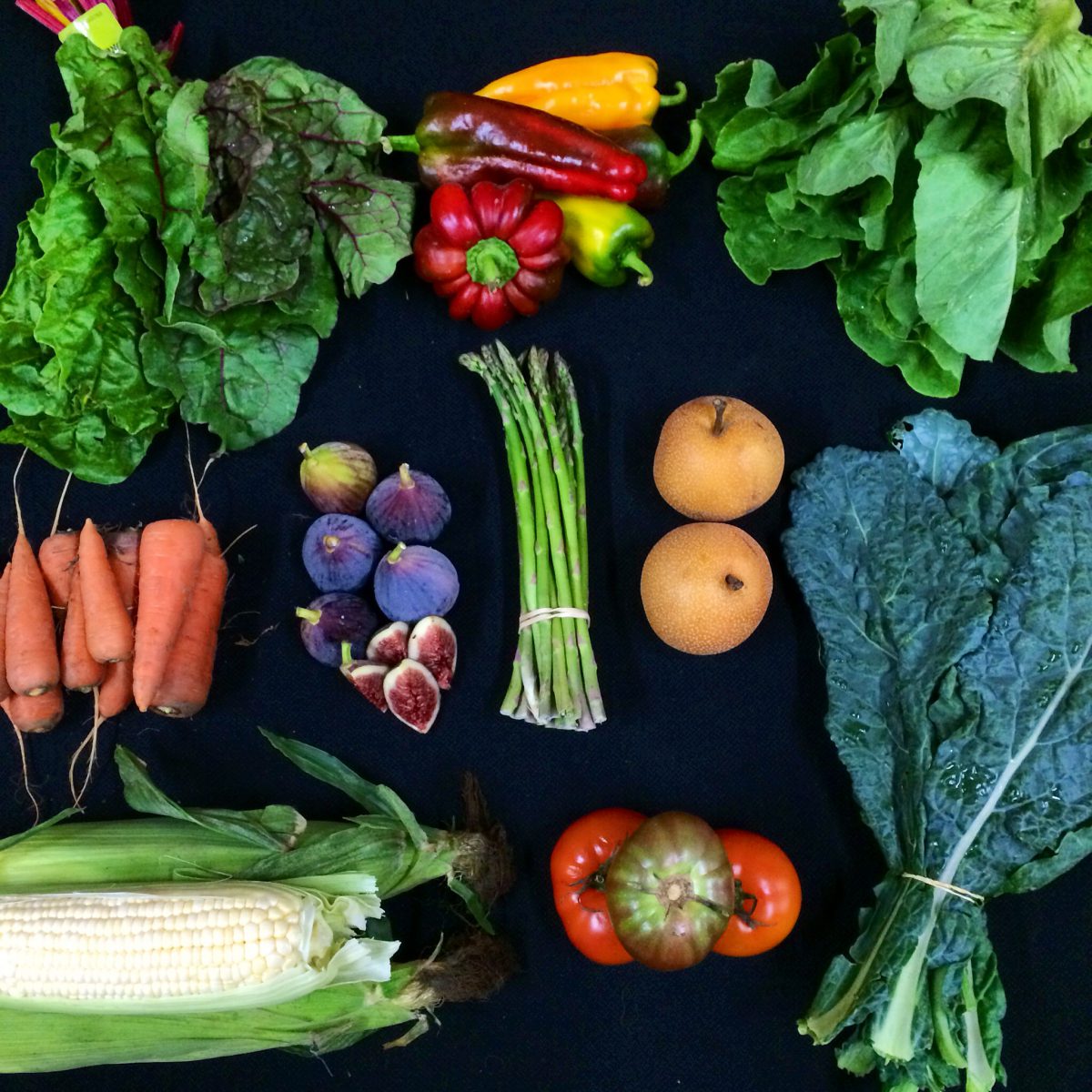 Pencil Asparagus – Life's a Choke
Chantenay Carrots – Weiser Farms
Rainbow Chard – Suzie's Farm
Bi Color Corn – Black Sheep Farm
Brown Turkey Figs – People Plus Organics
Black Kale – Black Sheep Produce
Romaine Lettuce – Be Wise Ranch
Asian Hosui Pears – Frog Hollow Farm
Sweet Mixed Peppers – Suzie's Farm
Mixed Heirloom Tomatoes – Stehly Farms
Organic Juicing Bag:
Fuji Apples – Fair Hills Farm
Chantenay Carrots – Weiser Farms
Rainbow Chard – Suzie's Farm
Dapple Dandy Pluots – Frog Hollow Farm
Flavor Grenade Pluots – Lee Farm
Green Kale – Lakeside Organic Garden
Farmer's Choice:
Lyon Artichoke – Life's a Choke
Valencia Oranges – Polito Farms
Passionfruit – Koral's Tropical Fruit
Frog Hollow Fruit:
Flavor Heart Pluots – Frog Hollow Farm

Click here to Watch Video on YouTube
Catalina Offshore catch of the week: Black Cod

Post your photos on Instagram with the hashtag #specialtyproduceFMB or share them with the FMB community on our facebook page http://facebook.com/specialtyproduce!
click the links above & search for products on our website with recipes attached
Below are some great recipes courtesy of Diane Phillips (Cucina Divina) & Mischa's Cafe & Juice Bar (located just down the street from us!) for you to try out with the produce from your bag. Let us know on our Facebook Page or through twitter if you tried any of them!
FMB JUICE RECIPES
Juice #1
1/3 bu chard
1ea apple
2 ea carrot
Juice #2
2 ea pluots
1 ea apple
1ea carrots
1/3 bu chard
Juice #3
4ea pluots
2ea apple
1ea carrots
Specialty Produce Recipe Suggestions
courtesy of Diane Phillips (Cucina Divina)
Shrimp and Sweet Corn Soup
Serves 6
4 tablespoons (1/2 stick) unsalted butter
1/4 cup finely chopped shallot
1/4 cup finely diced celery
1 teaspoon Creole Seasoning or Old Bay Seasoning
3 tablespoons all-purpose flour
2 cups seafood stock
4 cups corn, fresh cut from the cob
1/2 pound medium shrimp, peeled and deveined
1 cup heavy cream
1/4 cup snipped chives
1. Melt the butter in a 4-quart saucepan and add the shallot, celery, and Creole Seasoning, sautéing for 3 minutes, until the shallot is softened.
2. Add the flour, and stir until the flour begins to bubble in the bottom of the pan.
3. Slowly add the stock, and whisk until the mixture is smooth. Add the corn, and bring to a boil.
4. Simmer the soup for 3 to 4 minutes, add the cream and shrimp, and simmer gently until the shrimp begin to turn pink.
5. Bring to serving temperature and serve garnished with chopped chives.
Chantenay Carrots, with Buttermilk Ranch Dip
One bunch Chantenay Carrots, peeled if necessary, and cut into strips for dipping
For the Dip
Makes about 2 cups
Great to serve over baked potatoes, as a dressing for pasta or potato salads, as well as a dip.
1 1/2 cups sour cream
1/2 cup buttermilk
3 tablespoons chopped fresh parsley
2 tablespoons snipped fresh chives
1 tablespoon chopped fresh oregano
1 1/2 teaspoons chopped fresh tarragon
2 cloves garlic, mashed
1 teaspoon salt
1/2 teaspoon freshly ground black pepper
2 tablespoons grated lemon zest
Drops of Tabasco or hot sauce to taste
1. In a mixing bowl, combine all the ingredients and whisk together until well combined.
2. Taste for seasoning, and add salt and/or hot sauce to taste.
3. Cover and refrigerate for at least 4 hours, or up to 5 days.
Asparagus and Goat Cheese Frittata
Serves 8
2 tablespoons unsalted butter
2 thin slices imported Prosciutto di Parma, julienned
1 bunch pencil thin asparagus, tough stems trimmed, cut into 1-inch pieces
2 scallions, finely chopped
4 large eggs
1/2 cup heavy cream
6 ounces crumbled goat cheese
1/2 cup shredded Parmigiano Reggiano
1. Preheat the oven to 375 degrees.
2. In a 10-inch skillet, heat the butter, and sauté the prosciutto, asparagus, and scallions, until the asparagus begins to soften—this will take about 3 to 4 minutes.
3. Do-Ahead: At this point, the asparagus mixture can be, held at room temperature for 4 hours, or refrigerated for 2 days. (Re-warm the refrigerated mixture in a skillet before proceeding)
4. In another bowl, whisk together the eggs, cream, and goat cheese. Pour over the asparagus mixture, sprinkle with the Parmigiano cheese, and bake for 15 to 20 minutes, until the eggs are set.
5. Remove from the oven; allow to rest for 5 minutes before cutting into wedges and serving.
Melting Greens, Italian Style
Serves 6
1/3 cup extra virgin olive oil
4 garlic cloves, sliced
Pinch red pepper flakes
One bunch rainbow chard, tough stems removed, and cut into 1-inch pieces
One bunch black kale, tough stems removed, and cut into 1-inch pieces
1/2 cup chicken or vegetable broth
Salt and pepper
1. Heat the oil over medium high heat in a large skillet, and add the garlic and red pepper flakes, swirling in the pan for 30 seconds, until fragrant.
2. Add the greens, and toss in the mixture to coat.
3. Add the broth, cover, and simmer for 10 to 15 minutes until the greens are tender.
4. Season with salt and pepper, uncover and continue to cook another 5 to 7 minutes until the liquid in the pan begins to evaporate. The greens make a terrific bed for grilled meats, or seafood.
Heirloom Tomato Salad with Parmesan Crisps
Serves 8
For the parmesan crisps
2-1/2 cups grated Parmigiano-Reggiano
1. Preheat the oven to 375°F. Line a baking sheet with a nonstick baking liner or parchment.
2. Spread the grated cheese over the entire surface of the liner. Bake until the cheese is amber brown, about 18 minutes.
3. Remove from the oven and cool. Break into irregular pieces (each about 3 inches across).
4. You'll need 12 pieces for the Napoleons, but this batch makes extra to cover the inevitable breaking (and snacking).
For the vinaigrette
1 small shallot, minced
4 tsp. Champagne or white wine vinegar
1 tsp. Dijon mustard
Kosher or sea salt and freshly ground black pepper
2 Tbs. extra-virgin olive oil
2 Tbs. grape seed oil or canola oil
1. Put the shallot, vinegar, mustard, and a pinch each of salt and pepper in a small bowl or dressing cruet.
2. Allow the shallots to sit in the vinegar for at least 20 minutes and up to 1 hour.
3. Whisk or shake in both oils. Season to taste with more salt and pepper.
For the Salad and Assembly
1 head romaine, washed and spun dry, cut into 1-inch pieces
1 cup fresh flat-leaf parsley leaves, washed and spun dry
1 cup fresh basil leaves, torn into bite-size pieces if large
1/2 cup fresh tarragon leaves
1/4 cup finely chopped chives
salt and freshly ground black pepper
Sixteen 1/2-inch-thick heirloom tomato slices, preferably of different colors, sizes
1. In a large bowl, mix the romaine, parsley, basil, tarragon, and chives.
2. Lightly dress with some of the vinaigrette. Season to taste with salt and pepper.
3. Divide the salad evenly among 4 salad plates.
4. Arrange a large tomato slice on each salad, sprinkle lightly with salt, and top with a piece of parmesan crisp.
5. Continue to alternate the lightly salted tomatoes and cheese pieces until you have used 3 pieces of the parmesan crisp in each Napoleon.
6. Finish off the top of each Napoleon with an unsalted tomato slice.
7. Arrange the cherry tomatoes around the Napoleons and drizzle any remaining vinaigrette around the plates.
8. Sprinkle everything with salt and pepper. Serve immediately.
Pizza Bianca with Prosciutto and Fig
Serves 4 to 6
For the pizza dough
4 tsp. active dry yeast
2 tsp. sugar
2 cups warm water
4 1/2 cups bread flour
4 tsp. salt
2 Tbs. olive oil
1. To make the pizza dough, in the bowl of an electric mixer fitted with the dough hook, combine the yeast, sugar and warm water and let stand for 5 minutes. Add the flour and salt and start the mixer on low speed. Slowly drizzle in the olive oil and knead the dough for 5 minutes. The dough should come together into a large ball and pull away from the sides of the bowl; it should be moist but not sticky.
2. Stop the mixer, remove the dough hook and cover the bowl with plastic wrap. Let stand at room temperature until the dough is doubled in size, about 1 hour.
3. Transfer the dough to a lightly floured work surface. Divide the dough into 3 equal pieces and 6
For the Pizza
6 tablespoons aged balsamic vinegar
3 Tbs. extra-virgin olive oil
3 cups shredded mozzarella cheese
9 oz. thinly sliced prosciutto
3/4 cup arugula
2 turkey figs cut into thin wedges
4 1/2 oz. Parmigiano-Reggiano cheese, shaved
1. Place a granite pizza stone in a cold oven and preheat to 450°F. Place a ball of dough on a floured work surface. Roll out the dough into a 9-by-14-inch rectangle and transfer to a floured pizza peel.
2. Brush the dough with 1 Tbs. of the olive oil. Top evenly with one-third each of the mozzarella, and prosciutto.
3. Carefully slide the pizza onto the preheated pizza stone. Bake until the crust is browned and the cheese is melted, 15 to 18 minutes.
4. Using the pizza peel, transfer the pizza to a cutting board. Toss the arugula with the balsamic vinegar and scatter one-third each of the arugula fig mixture and Parmigiano-Reggiano on top of the pizza. Cut into slices and serve immediately. Repeat with the remaining dough and toppings to make 2 more pizzas.
Poached Asian Pears in Muscat Wine
Serves 6
2 cups Muscat wine
1/2 cup honey
Three 3-in cinnamon sticks
2 whole cloves
4 large, firm Asian pears, cored and halved
1. Pour the wine and honey into a Dutch oven.
2. Whisk to blend the honey into the wine. Add the cinnamon sticks and cloves; add the pears to the Dutch oven, wedging them to fit. You may have to stack them.
3. Spoon some of the wine mixture over the pears. Cover and simmer gently for 30 to 45 minutes, until the pears are tender, but still firm.
4. Using a slotted spoon, transfer the pears to a serving platter.
5. Strain the sauce into a saucepan, bring to a boil, and continue to boil until reduced by half.
6. It should be quite syrupy and coat the back of a spoon.
7. Serve the pears either warm, cold or at room temperature, with a dollop of Greek Style yogurt, crème fraiche, or mascarpone cheese, and drizzle the sauce over the pears.
8. Cook's Note: The sauce can be frozen and used for Bellini's, martinis, and as a sauce for desserts such as ice cream, or pound cake.
9. For a non-alcoholic version use white grape juice
Creamy Artichoke Soup
Serves 6 to 8
Even though this has a few steps, the result is a creamy essence of artichoke soup that you will dream about! Serve in teacups, and think about garnishing it with crispy leeks, prosciutto, crostini, or crumbles of goat cheese.
4 cups water with 1/4 cup Meyer lemon juice
One large artichoke
1 teaspoon dried thyme
2 bay leaves
1 clove garlic, minced
1/4 cup unsalted butter
One torpedo onion, finely chopped
1/4 cup all-purpose flour
5 cups chicken broth
1/2 cup heavy cream
1 tablespoon lemon juice
Salt and Tabasco to taste
1. Pour the water and lemon juice into a large saucepan.
2. Cut the stalk from the artichoke, and cut the stalk into 1-inch pieces, and drop into the water.
3. Trim the artichoke by removing the tough outer leaves, and cut 1-inch from the top.
4. Cut the artichoke into quarters, and drop into the water.
5. Stir in the thyme, bay leaves, and garlic. Bring the mixture to a boil, and simmer until the artichoke is tender when pierced with the sharp point of a paring knife, about 20 minutes.
6. Drain the liquid, and remove the artichoke pieces from the saucepan.
7. On a cutting board, peel the stalk pieces, and save the meat from the inside.
8. Remove the hairy choke from the artichoke quarters, and remove the tough outer leaves to expose the heart. Chop the artichoke heart and set aside with the stem meat.
9. In another large saucepan, melt the butter over medium high heat and sauté the onion for 2 minutes.
10. Add the flour, and whisk for 2 minutes, until the flour is cooked. Gradually add the broth, whisking until smooth.
11. Bring to a boil, add the artichoke pieces, cream, and lemon juice.
12. Using an immersion blender, puree the soup (or cool the soup and puree in a blender) taste for seasoning and adjust using salt and Tabasco. Serve hot.
Do-Ahead:
· The artichokes can be cooked 2 to 3 days ahead.
· The soup will keep in the refrigerator for up to 3 days.
· If you would like to freeze it, freeze without the cream, then add the cream after defrosting.
Valencia Orange Upside Down Cake
Serves 6 to 8
For the Orange
1/3 cup butter or margarine
½ cup packed brown sugar
1 to 2 Valencia oranges, pith and peel removed and sliced into 1/2-inch slices
1. Melt butter in 9-inch square baking pan while oven is preheating to 325 degrees.
2. Remove baking pan from oven, sprinkle brown sugar evenly over melted butter. Arrange oranges over sugar.
For the Cake
1 1/2 cups all-purpose flour
1/4 teaspoon baking soda
1/4 teaspoon salt
1/2 cup unsalted butter, softened to room temperature
1 1/3 cups sugar
1/2 teaspoon vanilla paste or vanilla extract
1 1/2 teaspoons grated orange zest
2 large eggs, at room temperature
2/3 cup sour cream
1/4 cup fresh orange juice
2 cups heavy cream, whipped stiffly for garnish
1. Preheat the oven to 350 degrees.
2. In the bowl of an electric mixer, cream the butter and sugar until they are light and fluffy. Add the vanilla, and zest.
3. Add the eggs one at a time, mixing well after each addition, scraping down the sides of the bowl.
4. Mix the sour cream and juice together, add with the flour, baking soda, and salt, and beat until the mixture comes together and is smooth.
5. Transfer the batter into the prepared pan. Bake for 45 to 55 minutes until a skewer inserted in to the center comes out clean.
6. Transfer the cake pan to a rack and allow to cool for EXACTLY 10 minutes.
7. Turn the cake out onto a serving platter, and serve at room temperature.
8. Refrigerate any leftover cake, and re-warm before serving, garnish with whipped cream, crème fraiche, or vanilla ice cream.
@Diane Phillips
www.dianephillips.com
Blog: www.cucinadivina.blogspot.com
Follow me on Pinterest, Facebook, and Twitter
Post your photos on Instagram with the hashtag #specialtyproduceFMB or share them with the FMB community on our facebook page http://facebook.com/specialtyproduce!
If you haven't joined yet, you can order a bag for next week on our FMB page!