Farmers' Market Box 8-28-14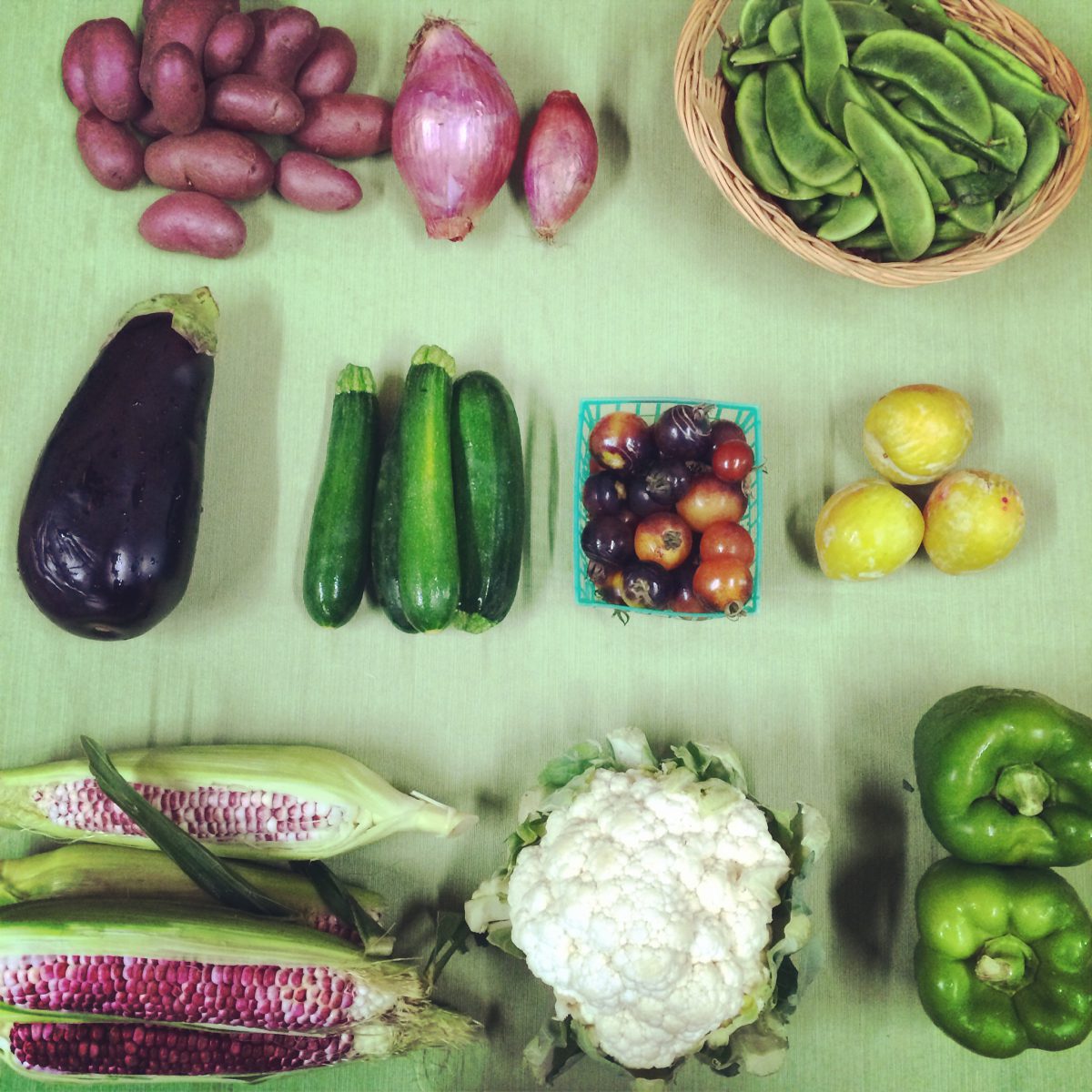 Red Corn – Colorful Harvest
Lima Shelling Beans – McGrath Family Farm
Black Beauty Eggplant – Black Sheep Produce
Red Torpedo Onions – Crows Pass Farm
Amarosa Fingerling Potatoes – Weiser Family Farms
Emerald Beauty Pluots – Frog Hollow Farm
Indigo Rose Cherry Tomatoes – Suzie's Farm
Green Bell Peppers – Lakeside
Cauliflower – Lakeside
Zucchini – Be Wise Ranch
Organic Juicing Bag:
Gala Apples – Fair Hills Farm
Limes – Koral's Tropical Fruit
Gold Nugget Tangerines – Rancho Del Sol
Cucumbers – Suzie's Farm
Green Kale – Lakeside Organic Garden
Farmer's Choice:
Green Romano Beans – Rutiz Farm
Cantaloupe – Suzie's Farm
Warren Pears – Frog Hollow Farm
Frog Hollow Fruit:
Hosui Asian Pears – Frog Hollow Farm

Click here to Watch Video on YouTube
Catalina Offshore catch of the week: Thresher Shark

Post your photos on Instagram with the hashtag #specialtyproduceFMB or share them with the FMB community on our facebook page http://facebook.com/specialtyproduce!
click the links above & search for products on our website with recipes attached
Below are some great recipes courtesy of Diane Phillips (Cucina Divina) & Mischa's Cafe & Juice Bar (located just down the street from us!) for you to try out with the produce from your bag. Let us know on our Facebook Page or through twitter if you tried any of them!
FMB JUICE RECIPES
Juice #1
2ea tangerines
1/3 bu kale
3ea apples
Juice #2
3ea limes
3ea cucumbers
Juice #3
3ea apples
1/3 bu kale
2ea cucumbers
Specialty Produce Recipe Suggestions
courtesy of Diane Phillips (Cucina Divina)
Chipotle Red Corn Dip
Serves 6 to 8
2 tablespoons unsalted butter
1/4 cup finely chopped red onion
1 clove garlic, minced
1/2 teaspoon ground cumin
1 chipotle chili in adobo, finely chopped
1/2 cup diced fresh tomato
2 cups red corn kernels cut from the cob
1 cup sour cream
1/2 cup mayonnaise
1 cup finely shredded mild cheddar cheese
1/2 cup finely shredded Monterey Jack cheese
1/4 cup chopped fresh cilantro
1. Melt the butter in a 10-inch skillet over medium-high heat and cook the onion, garlic, cumin, and chipotle, stirring, until you can smell the spices and the onion begins to soften, 2 to 3 minutes.
2. Add the tomato and corn and toss once or twice to coat with the onion mixture. Transfer to a medium-size bowl and allow to cool.
3. Stir in the sour cream, mayonnaise, and cheeses.
4. Do-Ahead: At this point, cover and refrigerate for at least 4 hours to let the flavors develop or overnight.
Roasted Ratatouille Pasta Sauce
Makes about 4 cups
2 torpedo red onions, sliced 1/2-inch thick
One green bell pepper, cored and cut into 1/2-inch slices
1 medium eggplant, cut into 1/2-inch chunks
2 medium zucchini trimmed and cut into 1/4-inch-thick rounds
2 Roma tomatoes, cored, and cut into 1/2-inch chunks
6 garlic cloves, minced
1/2 cup extra-virgin olive oil
2 tablespoons good quality balsamic vinegar
2 teaspoons dried herbs de Provence
Salt and freshly ground black pepper
1/4 cup finely chopped Italian parsley
1/4 cup finely chopped basil
One pound pasta, cooked 3 minutes al dente (saving some of the pasta water to thin the sauce)
Freshly grated Parmigiano Reggiano cheese for garnish
1. Preheat the oven to 400°F. Line two baking sheet with aluminum foil, or silicone baking liners.
2. In a large bowl, toss the onions, pepper, eggplant, zucchini, garlic, olive oil, rosemary, and season with salt and freshly ground black pepper. Spread the vegetables evenly over both sheets.
3. Roast, for 20 minutes, stir the vegetables, and roast for another 15 to 20 minutes, until the vegetables begin to color and are tender.
4. Scrape all the vegetables and any juices into a blender or food processor, and process until smooth. Stir in the parsley and basil, taste for salt and pepper and adjust. Keep the sauce warm while the pasta cooks.
5. Drain the pasta, reserving some of the pasta water. Toss the pasta with the sauce, adding some of the pasta water if the sauce is too thick. Serve the pasta garnished freshly grated Parmigiano cheese.
6. Variation: If you have meat lovers in your house, sauté 1 pound of ground beef, turkey or chicken, drain off any excess water/fat, and add to the pasta sauce.
7. Another Variation: The ratatouille can also be made into a delicious soup, adding 2 cups of chicken or vegetable broth after pureeing the ratatouille. Heat the soup until it is serving temperature and serve.
Penne with Cauliflower and Toasted Bread Crumbs
Serves 6
1 1/2 pounds cauliflower, cut into florets
1 pound of penne (if unavailable use orecchiette, conchiglie or cavatelli)
1/3 cup extra virgin olive oil
One 1-inch thick piece of pancetta, cut into small dice
2 garlic cloves, minced
Grated zest of 1 lemon
1 cup dry bread crumbs or panko
1/2 cup grated pecorino cheese
1/2 cup chopped parsley
2 tablespoons fresh lemon juice
1. Bring 8 quarts of salted water to boil. When it gets to a boil, drop the cauliflower in and blanch for about 3 to 4 minutes. Remove and set aside.
2. Drop the pasta into the water to cook until 2 minutes short of al dente.
3. While the pasta is cooking, heat 4 tablespoons of the oil in a large skillet over medium high heat and sauté the pancetta until crispy.
4. Add the cauliflower and garlic to the skillet and sauté for 2 minutes, until the cauliflower begins to color. Set aside.
5. In another skillet, heat the remaining oil, and add the bread crumbs, cheese and parsley, and toast the bread crumbs, in the skillet. Set aside.
6. Drain pasta (reserving a quarter cup of the pasta water).
7. Add the pasta to the skillet with the cauliflower, and toss with the bacon and oil.
8. Add some of the pasta water to make a sauce, and sprinkle with the lemon juice, tossing to coat. Add the bread crumb mixture, and serve.
Emerald Beauty Pluots Poached in Riesling with Vanilla Ice Cream
Serves 6
1 1/2 cups Riesling
1 cup sugar
Zest of one orange
3 Emerald Beauty Pluots, halved, and pitted
1. In a Dutch oven, combine the Riesling, sugar and zest stirring to dissolve the sugar.
2. Arrange the pluots in the pot cover and bring to a boil.
3. Simmer the pluots, covered for 5 to 10 minutes, until softened.
4. Remove the pluots to a plate, and boil the syrup for 10 to 15 minutes until the syrup is reduced by 1/3, and thickened. Strain out the zest before using.
5. The pluots can either be served warm with vanilla ice cream, and drizzled with the warm syrup, or they can be refrigerated and served cold with the cold syrup. Any leftover syrup can be frozen for up to 6 months—use it over ice cream, cake, or in martinis, or other drinks.
Christmas in August Succotash
Serves 4
Fresh shelling lima beans are a treat to savor during their season. Toss them into soups, or try this great side dish.
2 tablespoons unsalted butter
2 teaspoons chopped fresh thyme
1 red torpedo onion, finely chopped
2 ears red corn, kernels removed
2 cups fresh lima beans
1/4 cup chicken or vegetable broth
4 strips bacon, cooked crisp, and crumbled
2 tablespoons finely chopped Italian parsley
1. In a skillet, heat the butter, and sauté the thyme, and onion for 2 to 3 minutes until the onion is softened.
2. Add the corn, lima beans, and broth.
3. Cover the skillet, and simmer for 5 minutes, remove the lid and simmer another 5 to 7 minutes, until the lima beans are tender and the liquid is absorbed.
4. Add the bacon, the parsley, and serve.
@Diane Phillips
www.dianephillips.com
Blog: www.cucinadivina.blogspot.com
Follow me on Pinterest, Facebook, and Twitter
Post your photos on Instagram with the hashtag #specialtyproduceFMB or share them with the FMB community on our facebook page http://facebook.com/specialtyproduce!
If you haven't joined yet, you can order a bag for next week on our FMB page!