Farmers' Market Box 9-4-14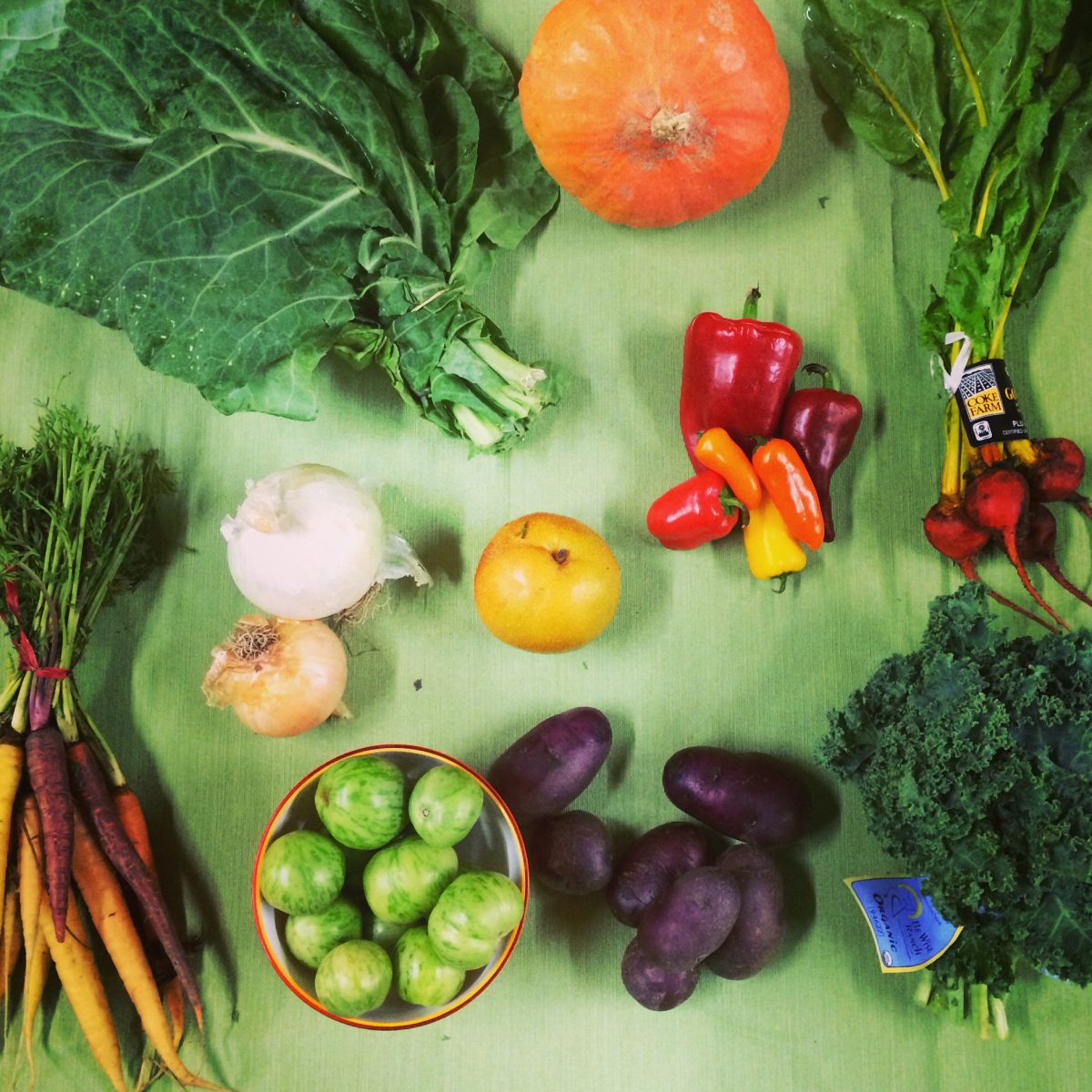 Rainbow Carrots – Rutiz Farm
Collard Greens – Black Sheep Produce
Green Kale – Be Wise Ranch
Yellow Onions – Tutti Frutti Farm
Asian Shinko Pears – Lee Farm
Lipstick Peppers – Weiser Family Farm
Yum Yum Chile Peppers – Weiser Family Farm
Purple Potatoes – Weiser Family Farm
Gold Beets – Coke Farms
Red Kuri Squash – Suzie's Farm
Green Zebra Tomatoes – Be Wise Ranch
White Onions – Tutti Frutti Farm
Organic Juicing Bag:
Mixed Carrots – Weiser Family Farm
Asian Shinko Pears – Lee Farm
Hydro Bloomsdale Spinach – Go Green Agriculture
Gala Apples – Coke Farms
Gold Beets – Coke Farms
Farmer's Choice:
Brussels Sprouts – Coke Farm
Meyer Lemons – Rancho Del Sol
Pomegranate – Koral's Tropical Fruit
Frog Hollow Fruit:
Warren Pears – Frog Hollow Farm

Click here to Watch Video on YouTube
Catalina Offshore catch of the week: Opah
Post your photos on Instagram with the hashtag #specialtyproduceFMB or share them with the FMB community on our facebook page http://facebook.com/specialtyproduce!
click the links above & search for products on our website with recipes attached
Below are some great recipes courtesy of Diane Phillips (Cucina Divina) & Mischa's Cafe & Juice Bar (located just down the street from us!) for you to try out with the produce from your bag. Let us know on our Facebook Page or through twitter if you tried any of them!
FMB JUICE RECIPES
Juice #1
2ea gold beets
2ea apples
1ea Asian pear
Juice #2
2ea carrots
Handful Bloomsdale spinach
1ea gold beets
Juice #3
1ea Asian pear
1ea apple
2ea carrots
Handful Bloomsdale spinach
Specialty Produce Recipe Suggestions
courtesy of Diane Phillips (Cucina Divina)
Farro and Beet Salad with Feta Cheese
Serves 6 to 8
A great dish to take to a pot luck, or to serve as a side dish this summer at a picnic on the bay.
One bunch beets, scrubbed tops removed and saved (see below)
1 cup pearlized farro
1/4 cup extra virgin olive oil
2 cloves garlic, minced
Beet tops, washed, stems removed, and leaves finely sliced
Salt and pepper to taste
1/2 cup extra virgin olive oil
1/4 cup fresh orange juice
1/4 cup rice vinegar
1/4 cup finely chopped basil—plus more for garnishing the salad
Salt and pepper to taste
1 cup crumbled feta or goat cheese
1. Preheat the oven to 400 degrees and roast the beets for 45 to 50 minutes until tender. Peel the beets, and dice into 1/2-inch pieces, place in a large bowl.
2. While the beets are roasted bring 2 quarts of salted water to a boil, and cook the farro for 15 to 20 minutes until it is tender. Drain thoroughly and place in the bowl with the beets.
3. In a large skillet, heat the oil, and add the garlic, sautéing for 1 minute. Add the beet greens and sauté until they wilt, and are tender, about 5 minutes.
4. Season with salt and pepper and add to the farro.
5. In a small mixing bowl, whisk together the oil, juice, rice vinegar, basil, season with salt and pepper to taste.
6. Pour the dressing over the salad, and toss. (it will absorb all the dressing over time) Fold the feta into the salad just before serving and garnish with additional basil if desired.
7. Note about farro: farro is really a lovely grain to use in this salad, with a lower gluten index than some other grains, but you can substitute barley, small white beans, or orzo pasta if desired. Farro comes either pearlized, meaning pre-cooked, so it needs just 15 minutes of cooking, or non-pearlized which will need about 30 minutes of cooking time.
Fried Green Tomatoes
Serves 4
4 green tomatoes, cored and cut into 1/4-inch slices
Salt and pepper
2 large eggs, beaten
1/2 cup yellow cornmeal
1/2 cup panko crumbs
1/2 cup grated Parmigiano Reggiano cheese, plus more for garnish
1/4 cup extra virgin olive oil
2 tablespoons unsalted butter
1. Place the sliced tomatoes on paper toweling and season generously with salt and pepper. Place the eggs in a shallow dish, like a pie plate.
2. In another shallow dish combine the cornmeal, panko, and cheese.
3. Pat the tomato slices dry, add to the eggs, and then dredge in the crumbs.
4. Add the oil and butter to a large non-stick skillet over medium high heat, and when the butter is melted, and the foam subsides, add the tomatoes a few at a time, frying until one side is golden brown.
5. Carefully turn and cook the other side until golden brown.
6. Transfer to paper toweling to drain. Serve warm with additional cheese sprinkled over the top if desired.
Red Kuri Squash Gratin
Serves 6 to 8
1lb potatoes, peeled and sliced into 1/8-inch thick rounds (may use purple pots or whichever your favorite potato is)
2 cups red kuri squash, peeled, seeded and sliced 1/8 inch thick
1 medium shallot, or red onion, sliced 1/8-inch thick using only the red part
2 to 3 tsp. chopped fresh thyme
2-1/2 to 3 cups heavy cream
Salt and Freshly ground black pepper
1 cup finely shredded Italian Fontina cheese
1 cup finely shredded Gruyere
2 teaspoons chopped fresh parsley
1/2 cup fresh breadcrumbs
2 Tbs. melted unsalted butter
1. Preheat the oven to 350 degrees F. Coat the inside of a 13-by-9inch baking dish with non-stick cooking spray and set aside.
2. Put the potatoes, squash, onions, thyme and cream, 1/2 tsp. salt, and a few grinds of pepper in a 12-inch skillet. Simmer, partially covered, over medium to medium-low heat, stirring occasionally and gently with a rubber spatula until the potatoes are barely tender when pierced with a fork or skewer, 8 to 12 minutes.
3. Using a slotted spoon, transfer half the potato mixture to the prepared gratin dish, spreading it evenly. Sprinkle with 1/2 of the Fontina, and Gruyere. Top with the remaining potato mixture spreading it evenly, and pour over any liquid remaining in the pan.
In a small bowl, combine the parsley, bread crumbs and butter, and scatter the topping mixture over the potatoes. Bake the gratin until it's bubbly, the top is brown, and the potatoes are completely tender when tested with the sharp point of a knife, 25 to 30 minutes. Let the gratin sit for at least 10 minutes before serving so the liquid is fully absorbed and the gratin is easy to serve
Rainbow Carrot Cupcakes
Makes 24
1 1/2 cups canola oil
2 cups sugar
3 large eggs
2 teaspoons vanilla extract
3 cups finely shredded rainbow carrots
One 8-ounce can crushed pineapple (do not drain)
1/2 cup chopped nuts of your choice
3 cups unbleached all-purpose flour
2 teaspoons baking soda
2 teaspoons ground cinnamon
1 recipe Cream Cheese Frosting (recipe follows)
1. Preheat the oven to 350°F. Coat muffin tins with nonstick cooking spray or line with cupcake liners.
2. In a large bowl, beat together the oil, sugar, eggs, and vanilla. Add the carrots, pineapple and juice, and nuts, stirring until blended. Add the flour, baking soda, and cinnamon and stir to combine. Pour the batter into the prepared muffin tins and bake until a skewer inserted in the center comes out clean, 20 to 25 minutes.
3. Place the pan on a rack and let cool completely. Spread the top of the cake with the cream cheese frosting.
Orange Cream Cheese Frosting
Enough for one 13-by-9-inch baking dish or 24 cupcakes
One 8-ounce package cream cheese, softened
1/2 cup (1 stick) unsalted butter
5 cups confectioners' sugar
1 teaspoon orange extract
1 teaspoon vanilla paste or extract
Milk, as needed
7. Using an electric mixer beat together the cream cheese and butter in a medium-size bowl.
8. Add the confectioners' sugar and extracts and beat until the mixture is of spreadable consistency.
9. If the frosting is too thick, beat in some milk, 1/2 teaspoon at a time, until desired consistency is reached.
10. Do-Ahead: At this point, you can cover and refrigerate for up to 5 days or freeze for up to 6 months. I recommend you soften it at room temperature after it's been refrigerated, so it's easy to spread.
Farmer's Choice Recipe:
Roasted Brussels Sprouts with Pomegranates
Serves 6
1 lb. Brussels sprouts
2 Tbsp. extra-virgin olive oil (for roasting)
1/2 tsp. salt; more to taste
Freshly ground black pepper
1ea pomegranate, seeded
Juice of 2 lemons
1 Tbsp Extra virgin olive oil
Toasted walnuts (optional)
1. Preheat the oven to 400° F. Line a heavy-duty rimmed baking sheet with parchment. Trim the Brussels sprouts, and then halve them lengthwise. In a medium bowl, toss the sprouts with enough of the olive oil to coat generously, the salt, and a few grinds of pepper.
2. Turn the Brussels sprouts out onto the baking sheet and arrange the pieces so that they are evenly spaced and lying on a cut side.
3. If the pieces cover the baking sheet sparsely, arrange them toward the edges of the baking sheet for the best browning. Arrange cut side down on baking sheet. Roast until the sprouts are tender and browned, about 15-20 minutes (no need to turn them).
4. Meanwhile mix together remaining olive oil, lemon juice and pomegranate seeds. If using walnuts, add those as well.
5. Combine the Brussels sprouts with the remaining ingredients. If they seem a bit dry, drizzle them with a bit more oil. Adjust seasoning if needed.
@Diane Phillips
www.dianephillips.com
Blog: www.cucinadivina.blogspot.com
Follow me on Pinterest, Facebook, and Twitter
Post your photos on Instagram with the hashtag #specialtyproduceFMB or share them with the FMB community on our facebook page http://facebook.com/specialtyproduce!
If you haven't joined yet, you can order a bag for next week on our FMB page!