Farmers' Market Box 9-25-14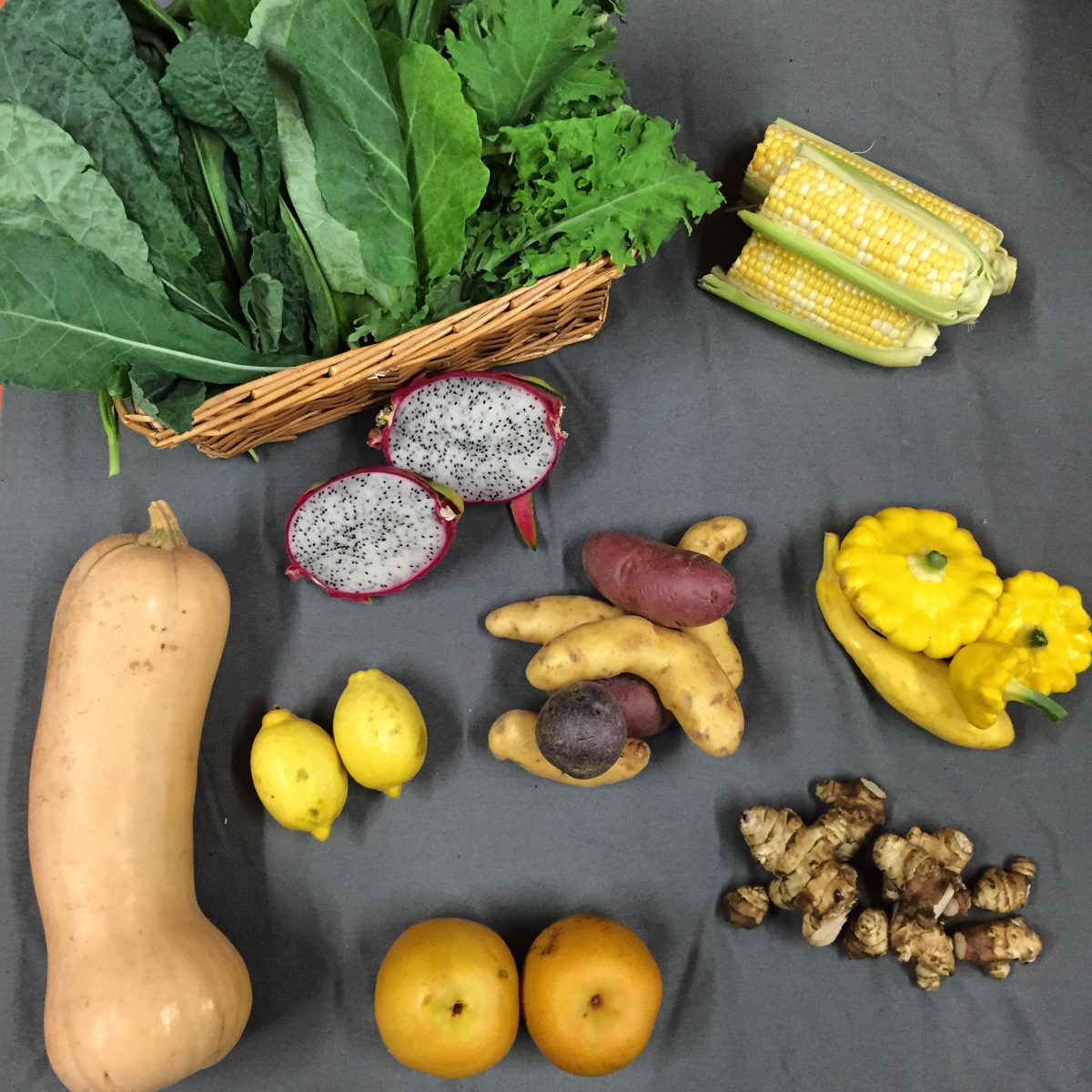 Bi Colored Corn – Rutiz Farms
Dragon Fruit – Tony Do's Farm
Braising Mix – Sundail Farm
Asian Shinko Pears – Lee Farm
Fingerling Bakers Mix Potatoes – Weiser Farms
Sunchokes – Coleman Farms
Crookneck Dutch Squash – Suzie's Farm
Yellow Squash Mix – Tutti Frutti Farm
Eureka Lemons – Sundance
Organic Juicing Bag:
Concord Grapes – Lee Farms
Dandelion Greens – Be Wise Ranch
Valencia Oranges – Polito Farms
Table Carrots – Kern Ridge
Celery – Lakeside Organic Gardens
Farmer's Choice:
Reed Avocado – Koral's Tropical Fruit
Cranberry Shelling Beans – Suzie's Farm
Brown Turkey Figs – People Plus Organics
Fruit Add on:
Concord Grapes – Ken's Top Notch Produce (Lee Farms)

Click here to Watch Video on YouTube
Catalina Offshore catch of the week: Wild Silver Salmon
Post your photos on Instagram with the hashtag #specialtyproduceFMB or share them with the FMB community on our facebook page http://facebook.com/specialtyproduce!
click the links above & search for products on our website with recipes attached
Below are some great recipes for you to try out with the produce from your box/bag. Let us know on our Facebook Page or through twitter if you tried any of them with the hastag #SpecialtyProduceFMB!
FMB JUICE RECIPES
Courtesty of Drew Canole of Fitlife.tv
Grapes of Deliciousness
Handful of concord grapes
1 orange
2 pieces of celery
(option to add handful of spinach)
Beta Booster
4 carrots
1 orange
Green and Clean
Handful Dandelion greens
4 carrots
3 stalk celery
Specialty Produce Recipe Suggestions
courtesy of Diane Phillips (Cucina Divina)
Dutch Crook Neck Squash Risotto
Serves 4 to 6
4 tablespoons unsalted butter
1/2 cup finely chopped sweet onion, such as Vidalia
2 cups chopped Dutch Crook Neck squash (1/2-inch pieces)
1 1/2 cups Arborio rice
1/2 cup dry white wine, such as Sauvignon Blanc or Pinot Grigio, or dry vermouth
4 1/2 cups chicken broth
2 tablespoons extra-virgin olive oil
1/4 cup packed sage leaves, thinly sliced
1/4 cup freshly grated Parmigiano-Reggiano cheese
6 slices thick cut bacon, cooked crisp, and crumbled
1. Heat the oil in a small skillet over medium-high heat. Fry the sage until crispy, about 5 minutes.
2. Remove the sage from the oil and drain on paper towels.
3. Melt 2 tablespoons of the butter in a large saucepan over medium-high heat; add the onion and squash, and sauté for 2 to 3 minutes, until the onion begins to soften.
4. Add the rice and stir to coat the grains. Add the wine and bring to a boil. Ladle in the broth and stir to combine. Keep the broth at a boil on the stovetop, and add a ladle of broth when the liquid begins to absorb. Continue to add the broth, until the risotto is cooked, it should be al dente and there should still be some liquid in the pan.
5. Stir in the remaining 2 tablespoons of butter and the Parmigiano. Spoon the risotto onto plates and sprinkle with the bacon and fried sage leaves.
Pasta Carbonara with Patty Pan Squash
Serves 4
One pound penne, rigatoni or shell pasta cooked 3 minutes short of al dente, saving some of the pasta water
6 strips bacon, cooked crisp and crumbled
3 tablespoons extra virgin olive oil
1 tablespoon unsalted butter
2 garlic cloves
1 shallot, finely chopped
2 cups finely diced patty pan squash
6 leaves fresh basil finely chopped
3 egg yolks, beaten
1/2 cup freshly grated Parmigiano Reggiano cheese
In a large skillet, heat the oil and butter, when the butter has melted, add the garlic, shallot, and sauté until the shallot is softened. Add the squash, basil, and sauté another 3 to 4 minutes, until the squash is tender. Add the hot pasta to the skillet, with 1/2 cup of the pasta water, add the eggs and 1/2 of the cheese, and toss until well combined, and a creamy sauce coats the pasta. Serve garnished with additional chees and sprinkle each serving with a bit of bacon.
Creamy Sunchoke and Leek Soup
Serves 6
For the Crispy Leeks
1/3 to 1/2 cup extra virgin olive oil
1 leek, split lengthwise, rinsed, and cut into 1/2-inch pieces, patted dry
Fleur de Sel
1. In a large skillet, heat the oil, and fry the leeks until they are crispy. Drain on paper toweling, and sprinkle with fleur de sel.
2. The leeks can be cooled, and covered, and kept at room temperature for up to 6 hours.
For the Soup
3 tablespoons unsalted butter
1 tablespoon extra-virgin olive oil
1 leek split lengthwise, rinsed, and cut into 1/4-inch pieces
1 garlic clove, minced
1 pound sunchokes, peeled, and cut into 1/2-inch pieces
2 medium baker potatoes, peeled and cut into 1-inch pieces
4 cups chicken or vegetable broth
Salt and pepper
1/4 cup finely chopped chives
1/2 cup heavy cream
1. In a large soup pot, melt the butter with the oil, and sauté the leek and garlic for 2 minutes.
2. Add the sunchokes, and potatoes, and toss in the mixture.
3. Add the broth, and simmer the soup for 15 to 20 minutes, until the potatoes and sunchokes are tender.
4. Using an immersion blender, puree the soup, taste for salt and pepper, add the chives, and cream.
5. Serve garnished with the crispy leeks.
Cook's Note: with all creamy soups like this, if you do not want to add the cream (or dairy) to it, use a bit more broth, and puree the soup as directed. It will still be creamy, just not as luxurious.
Braised Pork with Asian Pears
Serves 6
1/4 cup extra virgin olive oil plus 2 tablespoons
2 teaspoons salt
1 teaspoon freshly ground black pepper
1 tablespoons chopped fresh rosemary
One 3 pound pork loin roast, tied at 1-inch intervals
2 large sweet yellow onions, like Vidalia
2 Asian Pears, cored, and cut into 8 wedges
1 cup chicken broth (plus more if needed)
1 cup dry white wine (sauvignon blanc, Pinot Grigio)
Braising Mix
2 tablespoons cornstarch mixed with 1/3 cup water
1/4 cup chopped fresh Italian parsley
1. Preheat the oven to 325 degrees.
2. In a small bowl, combine the 1/4 cup oil, salt, pepper, and rosemary, into a paste and rub all over the pork. (At this point you can refrigerate the pork overnight, or proceed)
3. Heat a large Dutch oven over medium high heat add the pork to the pan and brown the pork on all sides (no oil needed in the pan), being careful to turn it frequently.
4. Remove the pork from the pan, and add the remaining oil. Sauté the onions and pears, until the onions are softened.
5. Add the pork back into the pan, add the chicken broth and wine, and stir up any browned bits in the bottom of the pan.
6. Transfer the pork to the oven, and roast, covered for 30 minutes. If the liquid in the pan is evaporating too quickly, add more chicken broth. Add the braising mix, and roast another 30 minutes, until the vegetables are tender and the pork cooked through (165 on an instant read meat thermometer)
7. Remove the pork roast and vegetables from the Dutch oven, cover loosely with aluminum foil, and bring to liquid in the pan to a boil. Add the cornstarch mixture, bringing it back to a boil.(If there are vegetables that are too limp to serve, use an immersion blender to smooth out the sauce—sometimes the onions melt into the sauce) Add the parsley and taste for seasoning.
8. Slice the pork into 1/2-inch slices, and arrange on a platter with the vegetables in the center, spoon some of the sauce over the pork and vegetables and serve additional warm sauce on the side.
Grilled Lemon Chicken
Serves 8
1/2 cup extra virgin olive oil
1/3 cup fresh lemon juice
1 tablespoon dried rosemary
1 teaspoon salt
½ teaspoon freshly ground black pepper
2 cloves garlic, minced
8 skinless, boneless chicken breast halves, tenders removed (use for another purpose)
1. In a zipper-top plastic bag, combine the oil, lemon juice, rosemary, salt, pepper, and garlic, shaking to blend. Add the chicken, turning to coat it, and seal.
2. Do-Ahead: At this point, refrigerate for at least 2 hours and up to 2 days. Bring to room temperature before continuing.
3. Build a hot charcoal fire or preheat a gas grill, or a grill pan or the broiler for 10 minutes.
4. Remove the chicken from the marinade, discard the marinade and grill or place on a baking sheet lined with aluminum foil or a silicone liner and broil until cooked through, about 3 to 5 minutes per side.
5. Do-Ahead: At this point, you can let cool, cover, and refrigerate for up to 8 hours or freeze for 6 weeks. Serve cold or bring to room temperature before serving.
6. Variation: Substitute dried oregano or marjoram for the rosemary.
Limoncello Cupcakes
Makes about 24
2 3/4 cup all-purpose flour
1/2 teaspoon baking soda
3/4 teaspoon salt
1 cup unsalted butter, softened to room temperature
2 1/2 cups sugar
1 teaspoon vanilla extract or paste
1 tablespoon grated lemon zest
5 large eggs, at room temperature
1 cup sour cream
1/2 cup fresh lemon juice (about 4 lemons)
1. Preheat the oven to 350 degrees, and line 24 cupcake tins with liners or coat the inside with non-stick cooking spray.
2. In the bowl of an electric mixer, cream the butter and sugar until they are light and fluffy. Add the vanilla, lemon zest and oil, if using.
3. Add the eggs one at a time, mixing well after each addition, scraping down the sides of the bowl.
4. Mix the sour cream and lemon juice together, add with the flour, baking soda and salt, and beat until the mixture comes together and is smooth.
5. Using a large portion scoop fill the muffin tins 3/4 of the way full. Bake for 20 to 25 minutes or until a skewer inserted in to the center comes out clean.
6. Transfer the cake pan to a rack and allow to cool completely.
7. The cupcakes will keep at room temperature for up to 2 days, and freeze for about 2 months.
Limoncello Frosting
Enough to frost two 9-inch layers, or 24 cupcakes
1/2 cup unsalted butter, softened
8 ounces cream cheese, softened
5 cups sifted confectioners' sugar
2 teaspoons lemon juice
1/4 cup Limoncello
1. In the bowl of an electric mixer, beat together the butter and cream cheese until smooth.
2. Add the sugar, and beat until the mixture is smooth, adding the lemon juice and Limoncello to make a spreadable frosting.
Dragon Fruit Dressing for Salads
Makes 2 cups
Similar to papaya seed dressing, this is delicious over fruit salads, cold shrimp or crab, or served over greens.
1 dragon fruit cut in half
2 teaspoons fresh lime juice
1 teaspoon Dijon mustard
1/4 cup rice vinegar
1 cup vegetable oil (non-GMO canola)
Salt and pepper
1. Scoop out the flesh of the dragon fruit and place in a blender. Add the lime juice mustard, and rice vinegar.
2. Turn on the blender, slowly pour in the oil through the top, and blend until the dressing is emulsified, and thick. Season with salt and pepper and adjust.
3. Dragon fruit can be sweet, and if you like a more acidic taste, add a few drops of vinegar, or lime juice to balance.
Farmer's Choice
Caramelized Brown Figs
Serves 4 to 6
1 cup sweet white wine, such as Moscato
1/2 cup sugar
4 to 6 brown figs cut in half
1. In a large non-stick skillet, heat the wine and sugar, until the sugar is dissolved. Add the figs, cut side down, and turn them in the wine syrup. Cook, until the figs begins to caramelize, and the wine and sugar begins to get syrupy, this should not take more than 15 minutes.
2. Turn off the heat, and let the figs cool. The figs and syrup will keep in the refrigerator for up to 1 week.
3. They make a great garnish for grilled, or roast pork, or they can be served for desert with a dollop of mascarpone, or Green yogurt. They are also delicious alongside of chocolate cake.
Cranberry beans Toscana
Serves 4
Almost like a confit of beans, this type dish is served all over Tuscany; I had them yesterday at Maceleria Dario Cecchini along with a 7 course beef lunch—mama mia! Make sure to buy a good quality olive oil.
1 pound cranberry beans shelled (about 2 cups)
1 cup extra virgin olive oil
10 large sage leaves
1 sprig fresh rosemary
2 garlic cloves, minced
1 1/2 teaspoons salt
1/2 teaspoons ground pepper
1. Bring 4 quarts of water to a boil, and boil the beans for 4 minutes. Drain thoroughly.
2. In a medium skillet, over medium heat, bring the oil, sage, rosemary and cloves to a simmer (bubbles just breaking the surface) Add the beans, and simmer (don't boil) the beans for about 30 minutes until they begin to get soft.
3. Remove the garlic, and rosemary from the beans, serve, draining off some of the oil, and season with the salt and pepper.
4. The beans are delicious as a side dish; any leftovers can be made into soup, or pureed with some olive oil and made into a hummus.
@Diane Phillips
www.dianephillips.com
Blog: www.cucinadivina.blogspot.com
Follow me on Pinterest, Facebook, and Twitter
Post your photos on Instagram with the hashtag #specialtyproduceFMB or share them with the FMB community on our facebook page http://facebook.com/specialtyproduce!
If you haven't joined yet, you can order a bag for next week on our FMB page!