Farmers' Market Box 10-2-14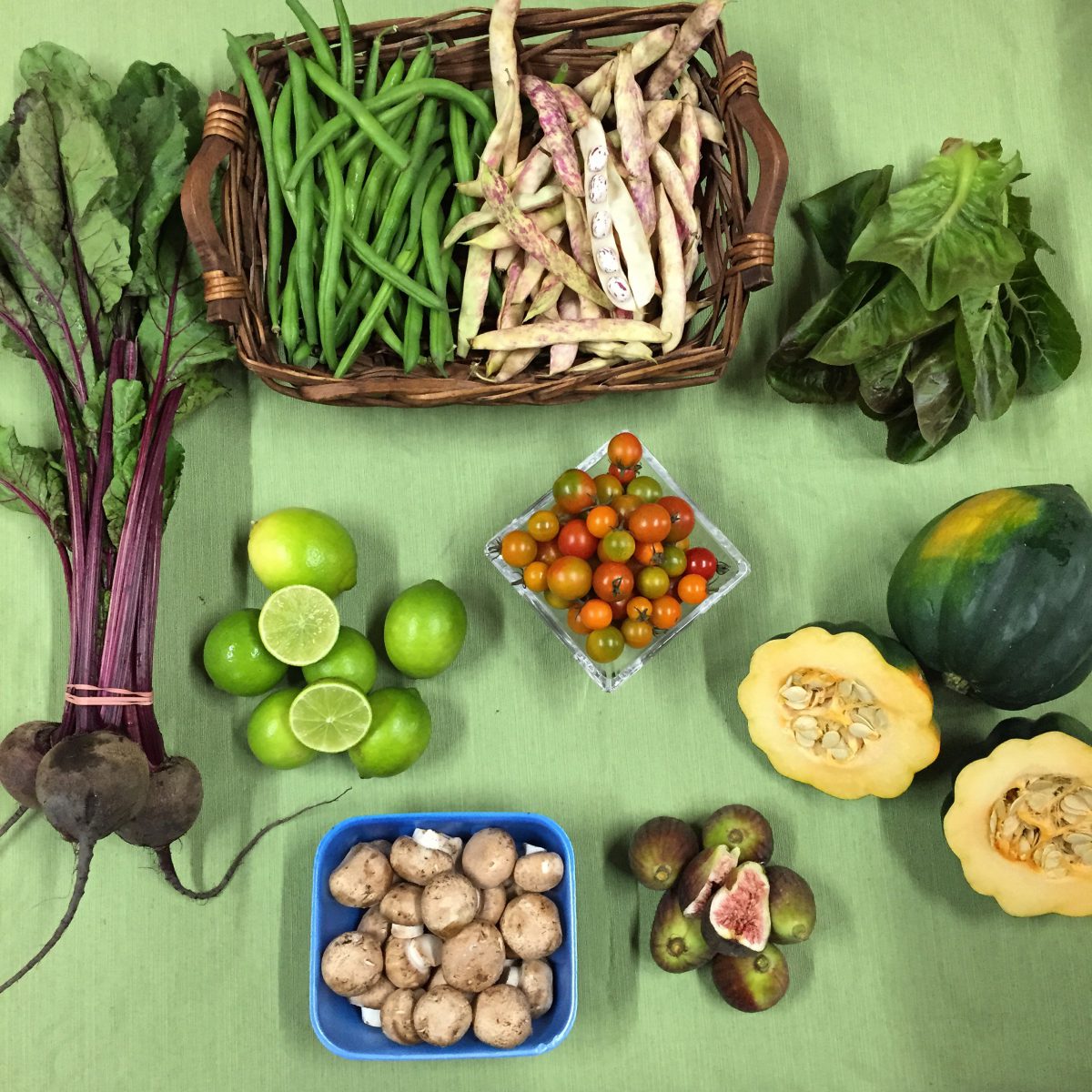 Blue Lake Beans – Rutiz Farms
Cranberry Shelling Beans – Suzie's Farm
Brown Turkey Figs – People Plus Organics
Red Hydro Romaine – Sundial Farm
Limes – Koral's Tropical Fruit
Cremini Mushrooms – Mountain Meadow Mushrooms
Red Beets – Black Sheep Produce
Acorn Squash – Black Sheep Produce
Red Cherry Tomatoes – Suzie's Farm
Organic Juicing Bag:
Fuji Apples – Fair Hills Farm
Cucumbers – Tutti Frutti Farm
Limes – Koral's Tropical Fruit
Valencia Oranges – Polito Farms
Collard Greens – Lakeside Organic Gardens
Farmer's Choice:
Honey Dates – Dates by Duvall
Pomegranate – Rancho Del Sol
Fruit Add on:
Sunchokes – Coleman Farms

Click here to Watch Video on YouTube
Catalina Offshore catch of the week: Black Cod
Post your photos on Instagram with the hashtag #specialtyproduceFMB or share them with the FMB community on our facebook page http://facebook.com/specialtyproduce!
click the links above & search for products on our website with recipes attached
Below are some great recipes for you to try out with the produce from your box/bag. Let us know on our Facebook Page or through twitter if you tried any of them with the hastag #SpecialtyProduceFMB!
FMB JUICE RECIPES
Courtesty of Drew Canole of Fitlife.tv
Green Apple
Handful of Collard greens
3ea Apples
Natures Multivitamin
1ea Cucumber
2ea Oranges
1ea Lime
Magnesium OJ
Handful of Collard greens
4ea Oranges
Green And Lean
2ea Cucumbers
4ea Collards Leaves
1ea Lime
Specialty Produce Recipe Suggestions
courtesy of Diane Phillips (Cucina Divina)
Red Romaine and Brown Fig Salad
Serves 4
One head red romaine, washed, spun dry and chopped
1/2 cup extra virgin olive oil
1/3 cup aged balsamic vinegar
Salt and pepper
4 brown figs, quartered
Shaved Parmigiano Reggiano
1. Arrange the romaine in a salad bowl. In a smaller bowl, whisk together the oil and vinegar, taste for seasoning and add salt and pepper.
2. Pour a bit of the dressing over the romaine, and toss to coat.
3. Plate the salad and arrange a fig on each salad.
4. Drizzle the figs with a bit more dressing, and garnish with the shaved Parmigiano.
Roasted Cremini Mushrooms
Serves 4
1/2 to 1 pound cremini mushrooms, cleaned and quartered
1/4 cup extra virgin olive oil
2 garlic cloves, minced
1 teaspoon chopped fresh rosemary
2 to 3 tablespoons balsamic vinegar
Salt and pepper
1. Preheat the oven to 400 degrees, and line a baking sheet with a silicone liner, or aluminum foil.
2. In a bowl, combine the mushrooms, oil, garlic, rosemary, vinegar, salt and pepper.
3. Toss to coat the mushrooms. Spread the mushrooms onto the baking sheet and roast for 10 to 15 minutes until fragrant and beginning to color.
4. Remove from the oven, and serve as a garnish for grilled meats, or serve on bruschetta with shavings of Parmigiano Reggiano.
5. The mushrooms can be roasted ahead and refrigerated for up to 3 days.
Roasted Maple Bacon Acorn Squash
Serves 4
1 acorn squash, ends cut, and cut in half
1/4 cup unsalted butter, melted
1/4 cup maple syrup
Freshly ground black pepper
4 strips bacon, cooked crisp and crumbled
1. Preheat the oven to 400 degrees. Coat the inside of a 9-inch baking dish with non-stick cooking spray, and arrange halves of the squash cut side up.
2. In a small bowl, combine the syrup and butter, brush over the inside of the squash, and pour any remaining into the center cavity.
3. Grind black pepper over each squash half, and bake for 1 hour, or until the squash is tender.
4. Remove from the pan, and cut each half in half again, serving the quarters on each plate spooning any remaining maple butter over the top and garnishing with the bacon.
Coconut Lime Bars
Serves 12
Makes about 24 two inch bars
Crust
2 cups unbleached all-purpose flour
1/2 cup confectioners' sugar
1 cup (2 sticks) cold unsalted butter
1 cup sweetened shredded coconut
1/2 cup chopped macadamia nuts
1. Preheat the oven to 350°F. Coat a 13 x 9-inch baking pan with nonstick cooking spray.
2. To make the crust, combine the ingredients in a food processor and pulse until the mixture resembles small peas. Evenly press into the bottom of the prepared pan.
3. Bake until browned, about 20 minutes. Remove from the oven and let cool for 10 minutes.
Filling
1 1/2 cups granulated sugar
1/2 cup fresh lime juice
1/4 cup unbleached all-purpose flour
1 teaspoon baking powder
4 large eggs
1/2 cup sweetened shredded coconut
Confectioners' sugar for dusting
1. To make the filling, combine the ingredients in the food processor and process until smooth. Pour over the baked crust and bake until the filling is set, another 20 minutes.
2. Let cool completely, then cut into 24 two-inch squares and dust with confectioners' sugar.
3. Do-Ahead: At this point, you can cover and refrigerate for up to 2 days or freeze for up to 2 months.
4. Cooks'Note: You can make a double batch in a 15 x 12-inch jelly roll pan; the baking time will be the same.
Green beans with Gremolata
Serves 4 to 6
Extra virgin Olive oil
One pound green beans, cut into 1-inch lengths
5 large garlic cloves, crushed
1/3 cup water
Shredded zest of 2 large lemons (organic preferred; after all, you are eating the entire rind)
1 tight-packed cup Italian parsley leaves
Salt and fresh ground black pepper to taste
1-1/2 cups grated Parmigiano-Reggiano cheese
1. Lightly film the bottom of a straight-sided 12-inch sauté pan with oil, over medium-high heat.
2. Add the beans and generous sprinklings of salt and pepper, and sauté for 2 minutes, or until the beans begin to brown. Add 1/2 cup of water to the pan and immediately cover it. Turn the heat to medium-low. Cook the beans for 15 to 20 minutes, checking them often for burning and adding a little water if necessary. You want the beans very tender.
3. As the beans cook, make the gremolata. Put the garlic and 1/3 cup water in a coffee mug and microwave 1 minute, or simmer in a small saucepan to 1 to 2 minutes (this mellows the garlic just a little). Then, in a food processor, mince together the garlic (with its liquid), lemon zest, and parsley. Salt and pepper the mixture to taste.
4. When the beans are tender, uncover them, cook off any liquid in the pan, and turn them into a serving bowl. Toss the beans with the gremolata and the grated cheese.
Cranberry Bean Soup
Serves 6 to 8
3 tablespoons extra virgin olive oil plus extra to drizzle on the finished soup
2 garlic cloves, sliced
1/2 cup onion, finely diced
2 medium carrots, coarsely chopped
2 ribs celery (with leaves) coarsely chopped
1 cup cherry tomatoes, quartered
2 teaspoons fresh rosemary, finely chopped
2 cups shelled cranberry beans
6 cups chicken or vegetable broth
Salt and pepper to taste
In a Dutch oven, heat the oil over medium high heat and sauté the garlic, onion, carrot, celery, tomatoes, and rosemary, until the onion and tomatoes begins to soften. Add the beans, and toss in the oil mixture, to coat. Add the broth, bring to a boil, and simmer for 1 hour stirring occasionally, until the beans are tender. Season with salt and pepper, and serve garnished with a drizzle of olive oil and freshly ground black pepper.
Variations: Sauté a 1/2-inch piece of pancetta, finely diced in the oil until crisp (about 5 minutes) and proceed as directed
Add the rind from Parmigiano Reggiano, finely diced when adding the broth; it will give the soup a lovely flavor.
Roasted Beet Chocolate Cake with Ganache Frosting
(Your family will never know)
Makes one 9-inch two layer cake
2 medium beets, trimmed
Vegetable oil
3/4 cup unsalted butter, softened
1-3/4 cups granulated sugar
2 large eggs, at room temperature
1 tsp. vanilla paste or extract
2 cups unbleached all-purpose flour; more for the pans
2/3 cup natural cocoa powder, such as Scharffenberger
1 tsp. baking soda
1 tsp. salt
1 1/4 cups boiling water
1. Pre-heat the oven to 375°F. Put the beets on a piece of foil large enough to wrap them. Drizzle with the vegetable oil and turn to coat well. Enclose the beets in the foil and roast until tender when pierced with a paring knife, about 1 hour. Let cool.
2. Reduce the oven temperature to 350°F.
3. Coat two 9-inch round cake pans generously with non-stick cooking spray.
4. Peel and finely grate enough of the beets to yield 3/4 cup.
5. Whisk the flour, cocoa powder, baking soda, and salt into a medium bowl.
6. Using a stand mixer fitted with the paddle attachment or an electric hand mixer, beat the butter and sugar on medium-low speed until fluffy, about 3 minutes.
7. Beat in the eggs, one at a time.
8. Mix in the grated beets and the vanilla.
9. Reduce the speed to low and carefully add half of the flour mixture; mix until fully incorporated.
10. Add the boiling water and the remaining flour mixture return to medium-low speed and mix until smooth, about 2 minutes.
11. Divide the batter evenly between the prepared pans, smoothing the tops.
12. Bake the cakes, rotating halfway through baking, until a toothpick inserted in the center of the cakes comes out clean, about 25 minutes.
13. Cool the cakes in their pans on a rack for 10 minutes and then turn them out onto racks and let the cakes cool completely.
For the Frosting
10 Tbs. unsalted butter
1 cup granulated sugar
3/4 cup natural cocoa powder, such as Scharffenberger
3/4 cup heavy cream
1 tsp. instant espresso powder
1 tsp. vanilla paste or extract
1/2 tsp. salt
1. Melt the butter in a 3-quart saucepan over medium heat.
2. Add the sugar and cocoa powder and mix until combined.
3. Stir in the cream, espresso powder, vanilla, and salt.
4. Bring the mixture to a simmer and cook, stirring constantly, until smooth.
5. Pour the mixture into a bowl and cool slightly.
6. Refrigerate, stirring every 10 minutes, until soft peaks form and the frosting is completely cool, about 1 hour.
Farmers Choice
Bacon Wrapped Honey Dates Stuffed with Parmigiano
Serves 8
12 strips bacon, cut in half crosswise
24 pitted honey dates
1/4 pound Parmigiano-Reggiano cheese, cut into 1/2-inch dice
1. Cook the bacon in a large skillet over medium heat until it has rendered some fat and begins to turn translucent; don't let it brown at all. Remove from the pan and drain thoroughly on paper towels.
2. Make a slit in each date and stuff with a small piece of cheese. Wrap the date in a piece of bacon and secure with a toothpick if needed. Place the wrapped dates in a baking dish. Do-Ahead: At this point, you can cover and refrigerate for up to 36 hours.
3. Preheat the oven to 375° F and bake the dates until the bacon is crisp, 10 to 12 minutes. Remove from the oven, drain the dates on paper towels, and set on a platter for serving. Don't serve these right out of the oven; allow them to cool for about 10 minutes.
@Diane Phillips
www.dianephillips.com
Blog: www.cucinadivina.blogspot.com
Follow me on Pinterest, Facebook, and Twitter
Post your photos on Instagram with the hashtag #specialtyproduceFMB or share them with the FMB community on our facebook page http://facebook.com/specialtyproduce!
If you haven't joined yet, you can order a bag for next week on our FMB page!