Farmers' Market Box March 3rd, 2022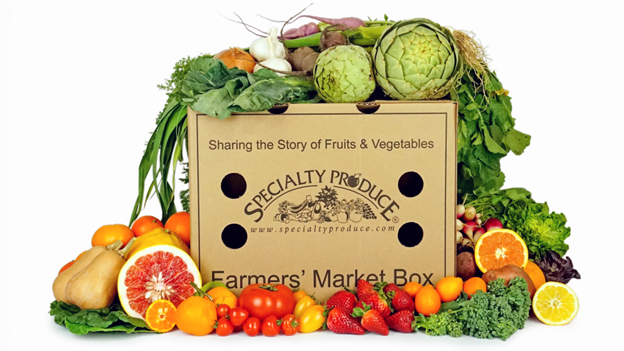 This week's local produce and featured farms:
Farmer's Choice
Farmers' Market Box Recipes:
Shakshuka
Serves 6
 
3 tablespoons extra-virgin olive oil
1 cup thinly sliced red torpedo onion using the red part only
3 garlic cloves, thinly sliced
1 teaspoon ground cumin
1 teaspoon sweet paprika
Pinch red pepper flakes
1 bunch mustard greens, tough stems removed, leaves cut into 1/2-inch ribbons
1 (28-ounce) can crushed tomatoes
1 teaspoon salt
1/2 teaspoon freshly ground black pepper
1 1/2 cups crumbled feta cheese
6 large eggs
1/4 cup finely chopped Italian parsley
Toasted crusty bread for serving
In a large skillet, heat the oil, saute the onion, garlic, cumin, paprika and pepper flakes until the onion is translucent.
Add the mustard greens, and saute until wilted.
Add the tomatoes, salt and pepper and simmer for 10 minutes until the mixture thickens a bit. Taste for seasoning and adjust.
Sprinkle the cheese over the mixture, then make 6 depressions into the tomato mixture, and crack the eggs into each depression. Cover and cook over medium heat for 5 to 8 minutes until the eggs are done to your liking. Serve with toasted crusty bread.
Japanese Sweet Potato Mash
Serves 4 to 6
 
1 pound Japanese sweet potatoes, skin on and scrubbed clean
3 tablespoons olive oil
1/2 cup red torpedo onions, thinly sliced
3 garlic cloves, minced
1 1/4 cups sharp white cheddar cheese, grated
1/4 cup milk or heavy cream if needed
Salt and pepper
Preheat the oven to 400 degrees. Prick the potatoes with the tip of a sharp paring knife, and roast for 40 to 50 minutes, until the potatoes are soft when squeezed with an oven mitt.
In a skillet, heat the oil, and saute the onions and garlic, until the onion is translucent. Transfer to a mixing bowl.
When cool enough to handle, remove the flesh from the potato skin, add the mixing bowl, and mash together with the onion mixture. Add the cheese, adding milk if necessary to make a smooth mash. Season with salt and pepper and serve.
Sesame Braised Mustard Greens
Serves 4
 
3 tablespoons toasted sesame oil
3 garlic cloves, thinly sliced
1 bunch mustard greens tough stems removed: leaves torn into large pieces
1/4 cup sake or dry white wine
1 tablespoon finely grated lemon zest
Salt and a dash of Sriracha
Toasted sesame seeds, for serving
In a large skillet, or wok, heat the oil, add the garlic and swirl in the oil for 1 minute, until fragrant.
Add the greens and sake, and saute until the greens are tender.
Add the zest, season with salt and Sriracha, and serve garnished with sesame seeds.
Pickled Japanese Vegetables
Makes 1 quart
 
I bunch (12 pieces) Japanese Hinona Kabu, tops removed, and quartered
4 red torpedo onions, sliced 1/2-inch thick, using the red part only
4 white carrots, scrubbed, scraped and cut into julienne matchsticks
4 teaspoons sea salt
1 cup rice vinegar
1/4 cup sugar
Combine the vegetables in a glass bowl.
Combine the rice vinegar and sugar in a saucepan, and heat to slightly to dissolve the sugar. Pour over the vegetables.
When cool, cover, and marinate for 8 hours or overnight. Store in the refrigerator.
Maple Soy Salmon with Braised Bok Choy
Serves 6
 
2 tablespoons unsalted butter
1 1/2 teaspoon chopped fresh ginger
1 garlic clove, minced
1/4 cup fresh lime juice
½ cup maple syrup
½ cup soy sauce
2 1/2 pound salmon filets
1 bunch bok choy, chopped into 1-inch pieces
Melt butter in a small pan and saute the ginger and garlic until softened Add the lime juice, syrup, and soy sauce. Bring to a simmer and cook down for 10 minutes. Remove and let cool. Marinate the salmon in half of the marinade for at least 2 hours or at least 8 hours.
Pour the other half of the marinade into a large skillet. Add the bok choy and toss in the marinade.
Drain the salmon from the marinade and discard the marinade.
Put the salmon on top of the bok choy, cover, and cook for 10 minutes, until the salmon is cooked through (155 degrees on an instant read meat thermometer)
Stir Fried Noodles
Serves 6
 
8 ounces egg noodles, cooked according to package directions
2 tablespoons sesame oil
1 tablespoon vegetable oil
1 teaspoon grated ginger
2 garlic cloves, minced
1/3 cup thinly sliced torpedo onion, using the red part only
1 cup white carrots, cut into matchsticks
1 bunch bok choy, thinly sliced
1/4 cup soy sauce
Few drops Sriracha
2 tablespoons rice wine
Toasted sesame seeds for garnish
In a wok, heat the sesame and vegetable oil. Saute the ginger, garlic, and onion for 1 minute. Add the carrots and bok choy, stir fry to 2 minutes, until the bok choy is wilted.
Add the cooked noodles to the wok and toss to combine.
In a small bowl, whisk together the soy sauce, Siracha and rice wine.
Pour over the noodles and vegetables, toss to coat, and serve garnished with sesame seeds.
Arugula Salad with Tangerine Vinaigrette
Serves 4
 
One bunch arugula, washed, spun dry and chopped
2 to 3 tangerines, peeled, and segmented
1 torpedo onion, thinly sliced using the red part only
1/4 cup rice vinegar
1/4 cup tangerine juice
1/3 cup vegetable oil
Salt and pepper
Put the arugula, tangerines, and onion into a salad bowl.
In a small bowl, whisk together the vinegar, juice, oil, and season with salt and pepper.
Pour the dressing over the salad and toss to coat.
White Carrot Muffins
Makes 12
 
2 1/4 cups all-Purpose Flour
1/2 cup granulated sugar
1/4 cup light brown sugar
1 1/2 teaspoons baking powder
1/4 teaspoon baking soda
1 1/2 teaspoons cinnamon
3/4 teaspoon ginger
3/4 teaspoon salt
1/2 cup chopped tangerines
1/3 cup chopped pecans
2 large eggs
3/4 cup tangerine juice
1/3 cup vegetable oil
1 1/2 cups grated carrots
Preheat the oven to 400 degrees, coat the inside of 12 muffin tins with non-stick cooking spray, or line with paper liners.
In a medium bowl, whisk together the dry ingredients.
In a large measuring cup, whisk together the eggs, juice, and oil. Stir the wet ingredients into the dry ingredients, then stir in the grated carrots, tangerines, and nuts.
Scoop the batter into the prepared pan, filling the muffin cups almost to the top. Bake for 20 to 25 minutes, until a toothpick or cake tester inserted into the center of a muffin comes out clean.
Remove the muffins from the oven and let them cool in the pan for 5 minutes before transferring them to a rack to finish cooling completely.
Tangelo Cake
Makes one 13×9-inch cake
 
2 1/2 cups all-purpose flour
1 teaspoon baking powder
1/2 teaspoon baking soda
1 teaspoon salt
10 Tablespoons salted butter, softened
1 3/4 cups sugar
2 eggs
1/2 cup tangelo juice
Zest of one tangelo
3/4 cup plain Greek yogurt
1 teaspoon vanilla
Preheat oven to 350 degrees. Coat the inside of a 9" x 13" glass baking dish.
In a medium bowl, mix flour, baking powder, baking soda and salt. Set aside.
In a large bowl, cream the butter and sugar until light and fluffy.
Add eggs, one at a time. Scrape down bowl and mix again.
Add the yogurt, juice, zest, and vanilla. Mix until combined.
Scrape down bowl and mix again.
Add flour mixture. Mix until mixture is combined, scraping down bowl once more.
Spoon batter into prepared pan.
Bake for 40 minutes or until a toothpick inserted into cake comes out clean.
Cool the cake and serve garnished with whipped cream.
Tangerine Beef Stir Fry
Serves 4
 
1/4 cup soy sauce
1/4 cup brown sugar
8 ounces flank steak, cut into 2-inch wide strips with grain, then sliced across grain into 1/8-inch-thick slices
1/2 cup tangerine juice
½ teaspoon toasted sesame oil
1 teaspoon cornstarch
2 medium garlic cloves, minced
1 ½ teaspoons minced fresh ginger
1/2 teaspoon grated tangerine zest
2 teaspoons oyster sauce
¼ teaspoon chile garlic sauce
1/2 teaspoon grated zest
2 tablespoons vegetable oil
1 cup thinly sliced onion
3 ounces snow peas, ends trimmed, and strings removed (about 11/2 cups)
Combine 1 tablespoons soy sauce, 1 tablespoon brown sugar, and the beef. Set aside to marinate for 30 minutes.
In a small bowl, combine the juice, sesame oil, remaining soy sauce, brown sugar, and cornstarch.
In another bowl combine the garlic, ginger, zest, oyster sauce, and chile garlic sauce.
In a wok or large skillet, over high heat, heat the oil. Add the beef and stir fry for 2 minutes. Remove to a plate.
Add the onion and snow peas to the skillet and stir fry to 2 to 3 minutes. Add the garlic zest mixture, stir fry another 1 minute, add the meat and any accumulated juices to the stir fry.
Add the cornstarch mixture to the skillet and cook until the sauce is thickened. Serve over rice.
Lemon Ricotta Pancakes
Serves 6
 
1 cup whole milk ricotta
1 cup buttermilk
3 large eggs
1/4 cup sugar
1 1/2 tablespoons grated lemon zest (2 lemons), plus extra for serving
1/4 cup freshly squeezed lemon juice
1/2 teaspoon vanilla paste or extract
1 1/4 cups all-purpose flour
1/4 cup cornstarch
1 tablespoon baking powder
1 1/2 teaspoons salt
6 tablespoons butter
Butter and maple syrup for serving
In a large bowl, whisk together the ricotta, buttermilk, eggs, sugar, lemon zest, lemon juice, and vanilla.
In a medium bowl, whisk together the flour, cornstarch, baking powder, and salt.
While stirring with a rubber spatula, add the flour mixture to the ricotta mixture and mix just until combined. Set aside for 5 minutes.
Heat a large saute pan over medium heat. Pour in a tablespoon or two of the butter and heat until the butter sizzles.
Stir the batter with a rubber spatula. Using a standard ice cream scoop, drop level scoopfuls of batter into the pan and allow them to cook for a few minutes, until bubbles appear all over the top. Then turn to cook on the other side, until they spring back when lightly touched.
Repeat with the remaining batter, adding butter to the pan as needed.
Transfer to plates, sprinkle with lemon zest, dot with butter, and drizzle with maple syrup. Serve hot.
Chicken Piccata
Serves 6
 
6 skinless boneless chicken breast halves
Salt and pepper
3 tablespoons unsalted butter, room temperature
1 1/2 tablespoons all-purpose flour
Additional all-purpose flour
3 tablespoons olive oil
1/2 cup dry white wine
1/4 cup fresh lemon juice (depending on the acidity, you may need up to 1/2 cup)
1/4 cup canned low-salt chicken broth
1/2 cup drained capers
1/2 cup chopped fresh parsley
Lemon Basil Pasta
Serves 4
 
3 large lemons
1/3 cup extra virgin olive oil
1/2 cup grated Parmigiano Reggiano
1 cup packed basil leaves, finely sliced
1 pound linguine or spaghetti, cooked 2 minutes short of al dente, reserving some of the hot pasta water
Salt and pepper
Zest two of the lemons into a small bowl. Squeeze the juice from all three lemons into the bowl, add the Parmigiano, and 1/2 of the basil leaves.
When the pasta has finished cooking, drain thoroughly, put back into the pan, and add the lemon mixture in the pan over low heat, adding some of the hot pasta water to create a creamy sauce. Season with salt and pepper and garnish with the remaining basil.
Cook's Note: This is a great recipe to add to, either leftover cooked veg, or seafood, or even chicken.
@Diane Phillips Diane Phillips Blog: Cucina Divina
Follow me on Facebook (professional page) Twitter, and Pinterest