Farmers' Market Box November 23rd, 2022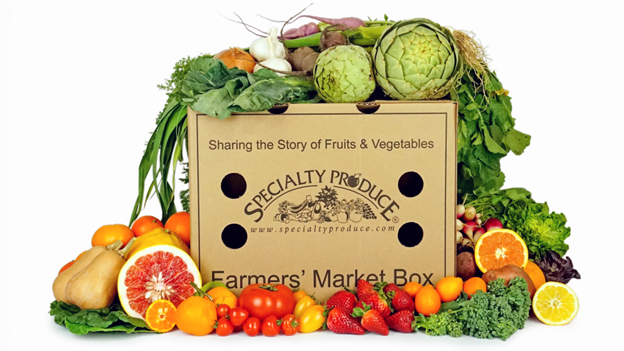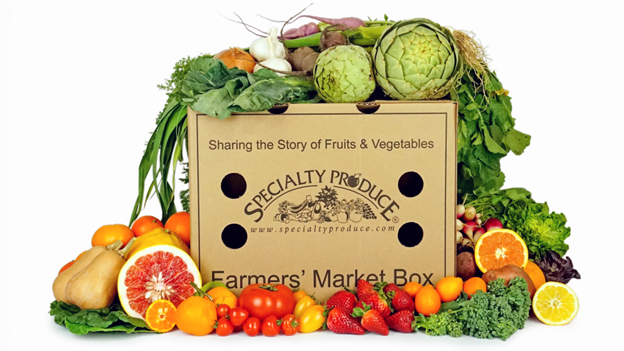 Specialty Produce will be closed on Thanksgiving Day on 11/24. We will be open on Wednesday, Friday and Saturday for Farmers' Market box pick-up. Thank you for supporting local farmers!
This week's local produce and featured farms:
Farmer's Choice
Mixed Herbs (Rosemary, Sage, Thyme, etc.) – JR Organics
Farmers' Market Box Recipes:
Golden Beet Salad
Serves 4

One head little gem lettuce, washed, spun dry 
One bunch golden beets, roasted (see recipe below) and cut into 1/2-inch dice
1/3 cup cranberry juice 
1/4 cup rice vinegar
1 tablespoon Dijon mustard
2 teaspoons finely chopped shallot
1 cup vegetable oil (non-GMO canola, or grape seed oil)
Salt and pepper
1 cup crumbled goat cheese
To Roast the Beets
One bunch golden beets, scrubbed and tops removed (save for another use)
Preheat the oven to 400 degrees, and line a baking sheet with silicone or aluminum foil. Roast the beets for 20 to 30 minutes (this depends on the size — baby beets 15 minutes, medium beets 20 to 30 and large beets 45 minutes to an hour) until they are tender when pierced with the sharp tip of a paring knife. Allow the beets to cool, slip off the skins (they should slide right off) and cut into a 1/2-inch dice, or into slices (for this salad a dice is nice)
Put the beets in a bowl, and pour some of the dressing over the beets, and toss to coat.
To Assemble
Put the lettuce into a salad bowl.
In a small mixing bowl, whisk together the cranberry juice, vinegar, mustard, shallot, and oil, until thickened. Season with salt and pepper to taste.
Drizzle some of the dressing over the lettuce and toss to coat. Plate the salad, arrange some of the beets over the dandelion greens, and top with some crumbled goat cheese.
Hasselback Sweet Potatoes with Thyme and Garlic
Serves 6 to 8

6 to 8 medium sweet potatoes, scrubbed
1/2 cup unsalted butter, melted
1/2 cup olive oil
3 teaspoons dried thyme leaves
4 garlic cloves, minced
salt and freshly ground black pepper
1/2 cup sour cream
4 green onions, finely chopped using the white and tender green parts

Preheat the oven to 400 degrees and coat the inside of a 13-by-9-inch baking dish with non-stick cooking spray.
Slice the potatoes into 1/8-inch slices, only going down about 3/4 of the way. Arrange on the baking sheet.
In a bowl, combine the butter, oil, thyme, garlic, salt, and pepper.
Drizzle the butter mixture over the potatoes, making sure to get into each slice.
Roast the potatoes for 50 to 60 minutes, until the potatoes are tender. Drizzle with any butter mixture in the pan and serve hot.
In a small bowl, combine the sour cream and scallions, and serve alongside the potatoes.
Sweet Potato Apple Gratin
Serves 6 

1 pound red yams, scrubbed
1/4 cup (1/2 stick) unsalted butter, melted 
1/3 cup firmly packed light brown sugar
1/3 cup dark corn syrup
2 tablespoons cream sherry  
1/2 teaspoon ground cinnamon
pinch ground nutmeg
3 Gala apples, peeled, cored, and sliced 1/4 inch thick 

Preheat the oven to 425 degrees, pierce the yams several times with the tip of a paring knife. Bake for 60 minutes, until they are soft.
Split the yams and scrape the flesh into a large bowl.
With an electric mixer, beat until smooth. Add 1/4 cup (1/2 stick) of the butter, the brown sugar, corn syrup, sherry, cinnamon, and nutmeg and blend until creamy.
Spread half the mixture in a 10- to 12-inch pie plate 2 inches deep, or a 13 x 9-inch baking dish.
Arrange half the apple slices over the yam layer and brush with some of the remaining butter. The butter will seal the apples and prevent discoloration.
Spread the remaining sweet potato mixture over the apples and arrange the remaining apples on top in an attractive pattern.
Brush with the remaining butter, covering the apples completely.
Do-Ahead: At this point, you can cover and refrigerate for up to 4 days or freeze for up to 1 month. Defrost and bring to room temperature before continuing.
Preheat the oven to 350°F. Bake the dish, uncovered, until the apples are golden brown, 30 to 40 minutes.
Old Fashioned Turkey Dressing
Enough for a 14 pound turkey

12 cups stale bread cubes
1/2 cup unsalted butter
1 cup finely chopped yellow onion
1 1/2 cups finely chopped celery (including leaves)
1/4 cup finely chopped herbs (rosemary, thyme, and sage)
1 to 2 cups chicken or turkey broth
1 egg, beaten

Preheat the oven to 350 degrees and coat the inside of 2 loaf pans with non-stick cooking spray.
Put the bread cubes into a large bowl.
In a large skillet, heat the butter, and saute the onion, celery, and herbs for 5 to 7 minutes, until the vegetables are softened. Transfer the mixture to the bowl with the bread.
Add 1 cup of broth to the bread mixture and toss to coat. Add the egg and stir to blend.
If you like a wetter dressing, add more broth, if you prefer a dryer dressing, 1 cup should be enough.
Pack the dressing into the loaf pans, and bake covered with aluminum foil for 30 minutes, remove the
Foil, and bake another 15 to 20 minutes until the top if crisp.
Allow the dressing to rest for 5 to 10 minutes, then remove from the loaf pans. Using a serrated knife, you can slice the dressing into attractive slices.
Sweet and Sour Cabbage
Serves 6

6 slices thick cut bacon, cut into 1/2-inch dice
1 cup sliced yellow onion
1 head cabbage, cored, and thinly sliced
1/2 cup dark brown sugar
1/4 cup red-wine vinegar  
Salt and freshly ground black pepper

In a 5- or 6-quart Dutch oven, heat the oil over high heat, add the bacon, and cook, stirring occasionally, until its fat is rendered, and the bacon is crisp, 3 to 4 minutes.
Add the onion and cook, stirring frequently, until soft and lightly colored, about 3 minutes.
Add the cabbage and cook, stirring regularly, until just wilted, about 5 minutes.
Add the brown sugar and vinegar, stir well, and let cook until the cabbage is wilted but still has a bit of crunch left to it, about 5 minutes.
Season with salt and several grinds of pepper.  Adjust the acidity or sweetness with a touch more vinegar or brown sugar.
Colcannon
Serves 4 to 6

4 slices bacon, finely chopped
1/4 cup finely chopped shallots
2 cloves garlic, minced
1/2 green cabbage, thinly sliced (about 3 cups)
1 pound Yukon gold potatoes, scrubbed
1/2 cup heavy cream
1/4 cup unsalted butter
Salt and pepper to taste

In a large skillet, cook the bacon until crisp. Add the shallots and garlic, and cook another 2 minutes, until the onion is softened.
Add the cabbage, and sauté until tender, about 5 minutes. Taste for seasoning and adjust with salt or pepper.
Set the mixture aside while you cook the potatoes. (This mixture can be served as a side dish all by itself; and it can be refrigerated for up to 2 days, and reheated before serving)
Place the potatoes into a large pot, cover with water, add 1 teaspoon salt, and bring to a boil.
Cook the potatoes for 15 to 20 minutes, until tender. While the potatoes are cooking, heat the cream and butter in a saucepan and keep warm.
Drain the potatoes and return them to the pot to dry them out. Add some of the butter and cream mixture to the potatoes, and mash until smooth, adding more of the cream mixture as needed. Stir the cabbage into the potatoes, taste for seasoning, and serve.
Roasted Purple Cosmic Carrots with Carrot Top Pesto
Serves 4

One bunch cosmic purple carrots, tops removed (see note) and cut into quarters lengthwise
1/4 cup extra virgin olive oil
Pinch ground cumin
2 tablespoons honey
Salt and pepper

Preheat the oven to 400 degrees, and line a baking sheet with silicone, parchment, or aluminum foil.
Combine the carrots with the oil, cumin, and honey. Season with salt and pepper. Spread onto the prepared baking sheet. Roast for 10 to 15 minutes until tender. Serve warm or at room temperature.
Cook's note: Save the carrot tops to make a carrot top pesto.
Carrot Top Pesto
Makes about 2 cups

1 1/2 cups packed carrot tops, (tough stems removed), washed, and spun dry
2 garlic cloves
1/3 cup pine nuts
1/3 cup grated Parmigiano Reggiano cheese
1/2 cups extra virgin olive oil
Salt and pepper

In a food processor or blender, combine the carrot greens with the garlic, pine nuts, and cheese.
Pulse on and off to break up the garlic and nuts.
With the machine running, add the oil, until the mixture is a paste. Season with salt and pepper.
Refrigerate for up to 7 days or freeze for up to 6 months.
Cook's Notes: To use the pesto, the paste can be used for bruschetta, or tossed into pasta, and rice.
Add more oil to some of the pesto to make a sauce for grilled meats, roasted vegetables, and poultry.
Add a bit of vinegar or lemon juice to make a vinaigrette.
Slow Cooker French Onion Soup
Serves 6

1/2 cup unsalted butter
2 tablespoons olive oil
5 large sweet yellow onions, such as Vidalia, thinly sliced
2 tablespoons sugar
1 tablespoons dried thyme
1 teaspoon salt
½ teaspoon freshly ground black pepper
1 bay leaf
¼ cup white wine (see below)
5 cups beef stock, (see below)

1.	With the slow cooker set on high add the butter, and oil and cover until the butter is melted.  
2.	Remove the cover, add the onions, sugar, thyme, salt, pepper, and bay leaf.  
3.	Stir the onions until they are coated with the butter, and seasonings.  
4.	Cover and cook on high for 7 to 8 hours, until they are caramelized to a deep golden brown.  Remove the cover and add the wine and beef stock.  Cover and cook the soup on high for another 30 minutes, or low for another hour.  Remove the bay leaf before serving.  

Slow Cooker White wine savvy: If you didn't have any leftover white wine, white vermouth made a good substitute, and it keeps in the pantry for months.
Slow cooker Beef stock savvy: I recommend Superior Touch "Better than Bouillon" brand soup base (available in supermarkets), (www.superiortouch.com) or reconstituted "More than Gourmet" brand Glace de Viande Gold which is a classic reduced brown stock (available in gourmet stores and cooking schools) (www.morethangourmet.com)
Apple Pie Cake
Serves 6

For the Apples

1 1/2 pounds apples, cored, peeled, and sliced 1/2-inch thick
1 teaspoon ground cinnamon
1 tablespoon sugar
1 teaspoon fresh lemon juice

To make the apple mixture, toss together the apples, cinnamon, sugar, and lemon juice in a large bowl.
For the Batter

3/4 cup unsalted butter melted
1 cup unbleached all-purpose flour
1 cup sugar
1 large egg
3/4 cup pecan halves

Preheat the oven to 375°F. Coat a 9-inch pie plate with nonstick cooking spray. Transfer the apples to the prepared pan.
To mix the batter, combine the melted butter, flour, sugar, eggs, and pecans, stirring until blended. Pour over the apples and bake until the top is crisp and golden, and the apples are bubbling underneath, 45 minutes to 1 hour.
Serve the cake warm or at room temperature with unsweetened whipped cream or vanilla ice cream.
Vanilla Poached Pineapple Quince
Yields 16 pieces

3 cups Moscato wine
1 vanilla bean split down the middle and scraped
1/4 cup sugar
4 pineapple quince, cored, and quartered
In a Dutch oven, combine the wine, vanilla, and sugar.
Add the quince, and simmer for 30 minutes until the quince are tender.
Remove the quince from the syrup, and boil down the syrup for about 10 minutes, until thickened.
Serve the quince garnished with crème fraiche, ice cream, or Greek Style yogurt. Drizzle some of the syrup over the top.
If you have syrup leftover over it is great in cocktails, as a sauce over cake, or ice cream.
Thanksgiving Flavor Bomb
Makes about 1 cup

This compound butter can be used to rub over the turkey, or can be stirred into mashed potatoes, or drizzled over vegetables.  

1 cup unsalted butter, softened
1/2 cup mixed herbs (rosemary, thyme, sage) finely chopped
1 teaspoon salt
1/2 teaspoon ground pepper

In a mixing bowl, beat together all the ingredients, until smooth. Form the mixture into a log and wrap airtight in plastic wrap. Freeze for up to 6 months.
The butter can be used straight from the freezer, you can cut off what you need and refreeze the butter.
Chocolate Tangerine Ricotta Cheesecake
Serves 6 to 8

For the Crust

1 1/2 cups finely ground Nabisco Famous Chocolate Wafer cookies (about 25 cookies) (ground in a food processor)
2 Tbs. granulated sugar
1/4 cup unsalted butter, melted

Preheat the oven to 350°F. Coat the inside of a 9-inch spring form pan with nonstick cooking spray.
In a medium bowl, mix the cookie crumbs and sugar with a fork until well blended.
Drizzle the melted butter over the crumbs and mix with the fork or your fingers until the crumbs are evenly moistened.
Put the crumbs in the prepared pan and spread the crumbs so that they coat the bottom of the pan and start to climb the sides.
Bake the crust until it smells nutty and fragrant about 10 min.
Set the baked crust on a rack and let cool.
Do-Ahead: The crust can be made up to one day ahead of filling, and stored at room temperature, wrapped well in plastic.
For the Filling

    1 1/2 cups whole-milk ricotta 
    3 oz. cream cheese, at room temperature
    3/4 cup granulated sugar
    2 Tbs. unbleached all-purpose flour
    1/4 tsp. table salt
    3 large egg yolks
    1 Tbs. finely grated tangerine zest
    2 Tablespoons tangerine juice
    1 Chocolate Wafer cookie crust, baked and cooled 
    Tangerine Syrup, cooled
    3 Satsuma Tangerines, peeled and segmented for garnish

Preheat the oven to 350°F.
In a medium bowl, combine the ricotta and cream cheese.
Using an electric mixer, beat on medium speed until well blended and no lumps remain, about 3 min.
Add the sugar, flour, and salt and continue beating until well blended, about 1 min.
Add the egg yolks, zest, and juice.
Beat until just incorporated. Use a rubber spatula to scrape the filling into the crust and spread the filling evenly.
Bake the tart until the filling just barely jiggles when the pan is nudged, 35 to 40 minutes.
Let cool completely on a rack.
Refrigerate the tart in the pan until chilled and firm, 2 to 3 hours. Serve the cheesecake at room temperature drizzled with tangerine Syrup.
Tangerine Syrup

1 cup Tangerine Juice
1 cup sugar
Grated zest of 1 Tangerine 

In a small saucier, combine the ingredients and bring to a boil.
Simmer the mixture for 5 to 10 minutes, until it becomes thick and syrupy. Strain out the zest and cool the syrup. Serve the cheesecake drizzled with the syrup and garnish with a few tangerine segments.
@Diane Phillips Diane Phillips Blog: Cucina Divina
Follow me on Facebook (professional page) Twitter, and Pinterest