Farmers' Market Box May 25th, 2023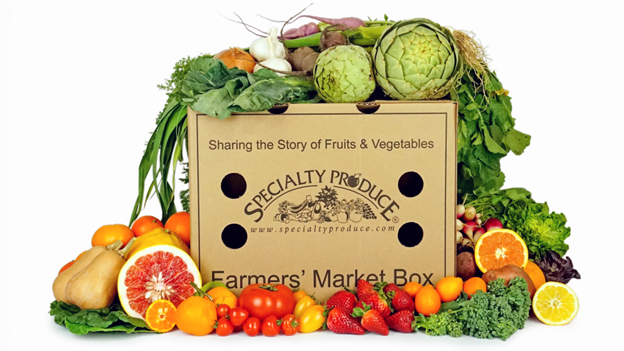 This week's local produce and featured farms:
Farmers' Choice
Farmers' Market Box Recipes
Wonton Soup
Serves 6
If you decide not to make your own wontons, they are readily available in Asian markets (in the frozen section) or you can have them delivered from www.calidumplingsd.com We ordered them several weeks ago and they are not only authentic, they are delicious.  The beauty of making your own is that your kids can help, and you can have them ready in the freezer.  You can sub in some ground chicken or turkey for the pork, just add a tablespoon of vegetable oil to that mix, since the chicken and turkey can be dry.
For the Wontons

1 pound ground pork, chicken, or turkey
1/3 cup thinly sliced scallions
1 1/2 tablespoons soy sauce
1 tablespoon Mirin rice wine
1 tablespoon toasted sesame oil
1 tablespoon minced ginger
1 teaspoon salt
1 teaspoon granulated sugar
About 35 (about 3-inch-wide) square wonton wrappers

In a small bowl, combine all the ingredients except wonton wrappers.
Using a small spoon, spoon the filling into the middle of the wrapper, dip a small brush or your finger in water and trace around the edges of a wrapper.
Fold in half to form a triangle and press to seal, pushing out any pockets of air. Pull the two bottom corners over the center until they meet, then dab with a little water so they stick together, and the wonton resembles a nurse's cap. Place on the baking sheet and repeat with the remaining wrappers.
At this point you can cover and refrigerate the wontons for up to 3 days or freeze for up to 2 months.
For the Soup

6 wontons per person---this is a guesstimate
1 tablespoon sesame oil--plus more for garnish if desired
2 garlic cloves, minced
1 teaspoon grated ginger
2 bunches bok choy, root end trimmed, and thinly sliced
8 cups chicken or vegetable broth
1 tablespoon soy sauce

Bring 6 quarts of salted water to a boil and keep on a simmer.
In a Dutch oven, heat the oil over medium-high heat, add the garlic, ginger, and bok choy and saute till the bok choy is wilted.
Add the chicken broth, and soy sauce.
Simmer for 15 minutes.
Cook the wontons in salted water for 4 minutes. Using a slotted spoon, arrange 6 wontons in each soup bowl, and ladle in the soup. Garnish with a drizzle of sesame oil if desired.
You can also simmer some cubed firm tofu in the broth for a vegetarian soup.
Miso Glazed Cod with Sauteed Bok Choy
Serves 4

4 cod filets (4 to 5 ounces each)
2 teaspoons water
2 tablespoons rice vinegar
2 tablespoons mirin (sweet rice wine) or sherry
1 tablespoon sugar
2 teaspoons soy sauce
1/4 cup white miso 
2 tablespoons black sesame seeds
2 tablespoon white sesame seeds
2 scallions, finely chopped, using the white and the tender green parts

Place the cod in a glass baking dish with 1" sides.
In a small bowl, whisk together the water, vinegar, mirin, sugar, soy, and miso until blended. Pour over the cod, cover, refrigerate, and marinate overnight.
Preheat the oven to 400°F.
Line a baking sheet with aluminum foil, or a silicone baking liner. Drain the fish from the marinade and discard the marinade.
Combine the sesame seeds in a small bowl, and sprinkle over the filets. Bake for 10 minutes, or until cooked through. Remove from the oven and serve garnished with scallions.
Cook's Note:  Other fish that take well to this marinade are salmon, sea bass, and snapper.
For the Bok Choy

2 tablespoons vegetable oil
1 tablespoon toasted sesame oil
2 garlic cloves, minced
1 teaspoon grated ginger
1 head bok choy, root end trimmed, and thinly sliced
1/4 cup chicken or vegetable broth

In a large skillet or wok, heat the oils and sauté the garlic and ginger for 30 seconds until fragrant. 
Add the bok choy, and sauté tossing in the oil.  Add the broth, cover, and cook for 3 to 4 minutes, stirring occasionally until the bok choy is wilted. 
Arrange the bok choy on a platter, and top with the roasted cod. 
Basil White Bean Spread with Ninja Radishes
Serves 4 to 6

3/4 cups Extra Virgin Olive Oil
2 garlic cloves crushed
3 cups cooked small white beans, drained, and rinsed (two 15-ounce cans drained and rinsed)
¼ cup packed basil leaves
1 tablespoon freshly squeezed lemon juice
3 tablespoons Parmigiano-Reggiano cheese, grated
Salt and pepper
1 bunch purple Ninja radishes, scrubbed, ends trimmed, and thinly sliced

In a small sauté pan heat 1/2 cup olive oil over medium heat.
Add the garlic cloves and cook until lightly golden, add cannellini beans and toss to coat the beans with the oil mixture.
Remove from the heat and allow it to cool slightly.
In a food processor combine the garlic bean mixture, basil, lemon juice, remaining 1/4 olive oil and the Parmigiano Reggiano. Puree until smooth.
Season with salt and pepper and serve with crudites, like purple Ninja radishes.
Roasted Purple Ninja Radishes
Serves 4

3 tablespoons unsalted butter
1 tablespoon extra virgin olive oil
1 bunch purple ninja radishes, scrubbed, and quartered, tops removed
Salt and pepper
¼ cup finely chopped basil

Preheat the oven to 350 degrees.
Melt the butter and oil together in an ovenproof skillet, add the radishes, and toss to coat. Season with salt and pepper, and roast for 20 to 30 minutes until tender. Serve garnished with chopped basil.
Farfalle with Creamy Tomato Basil Sauce
Serves 6

3 tablespoons extra virgin olive oil
2 garlic cloves, minced
1 basket cherry tomatoes, quartered
1 cup heavy cream
½ cup packed basil, thinly sliced
Salt and pepper
One pound farfalle, cooked 2 minutes short of al dente saving some of the hot pasta sauce
1 cup grated Parmigiano Reggiano

In a large skillet, heat the oil, add the garlic and swirl for 30 seconds, until fragrant.
Add the tomatoes, and saute until they begin to give off some of their liquid.
Add the cream and basil, and simmer for 7 to 10 minutes, reducing the sauce.
Season with salt and pepper, drain the pasta, and toss with the sauce in the skillet, add ½ of the cheese, and stir creating a creamy sauce. Add pasta water if necessary to make a creamy sauce.
Serve garnished with the remaining cheese.
Basil Garlic Flavor Bomb
Makes about 1 cup

6 garlic cloves 
1 cup packed basil leaves and any tender stems
Grated zest of 1 lemon
¼ cup grated Parmigiano Reggiano
1 cup unsalted butter, softened

Put the garlic, basil, zest, and Parmigiano in a blender or food processor. Process on and off to break up the garlic and basil.
Add the butter, and process until smooth.
Turn the butter out onto a rectangle of plastic wrap, shape into a log about 1 ½-inches in diameter. Wrap firmly in the plastic wrap and freeze. Cut off 2 tablespoon portions and use the butter for corn on the cob, steak, chicken fish, soups, vegetables, slather on bread for delicious garlic bread, or use to dress pasta.
Classic Salad with Vinaigrette
Serves 4

One head French butter lettuce, washed, spun dry and chopped
2 cups halved cherry tomatoes
1 cup julienne purple radish
2 teaspoons Dijon mustard
1/2 cup white wine vinegar  
1 cup olive oil  
Salt and pepper
1 garlic clove, minced

Put the lettuce, tomatoes, and radish in a salad bowl. In another bowl, whisk together the mustard, vinegar, oil, salt and pepper, and garlic.
Dress the salad with the vinaigrette and serve.
French Potato Salad
Serves 4 to 6

1 pound Satina potatoes
1/4 cup finely chopped scallion
1/3 cup or so extra-virgin olive oil
2 cloves garlic, minced
3 to 4 tablespoons white wine vinegar
1 1/2 tablespoons Dijon-style mustard
2 to 3 tablespoons chopped chives
1 tablespoon finely chopped basil
1/2 teaspoon salt
1/4 teaspoon black pepper

Put the potatoes into water to cover and bring to a boil. Simmer for 20 to 30 minutes until tender when pierced with the tip of a sharp paring knife.
Cool the potatoes, then cut into bite sized pieces and add to a salad bowl.
Sprinkle the onion over the potatoes.
In a mixing bowl, whisk together the oil, garlic, vinegar, Dijon, chives, and basil. Season with salt and pepper. Pour over the potatoes and onions and toss to coat. Allow it to mellow at room temperature for 1 hour before serving. Or, if you are making this ahead, toss with 1/2 of the dressing, then cover and refrigerate the salad and the remaining dressing. Re-toss just before serving.
The French serve this salad with hard boiled eggs, tuna, vine ripened tomatoes and cooked green beans to form a Salad Nicoise.
Pizza Pie Potatoes
Serves 6

1 pound Satina potatoes
 3/4 cup extra virgin olive oil
4 garlic cloves, minced
2 teaspoons dried oregano
Salt and pepper
2 cups cherry tomatoes, thinly sliced
1 ball fresh mozzarella, thinly sliced
1/3 cup grated Parmigiano Reggiano

Put the potatoes into water to cover and bring to a boil. Simmer for 15 minutes until almost tender.
Remove from the water and cool slightly.
Preheat the oven to 400 degrees and coat the inside of a 10-inch baking dish with non-stick cooking spray.
Thinly slice the potatoes and lay them into the baking dish.
Tam
Drizzle some of the garlic oil over the potatoes.
Lay the tomatoes over the potatoes, drizzle with the remaining oil, and cover with the mozzarella and Parmigiano.
Bake for 25 to 30 minutes, until the potatoes are crispy, and the cheeses are melted, and golden brown.
Allow it to rest for 5 minutes before serving.
Tangerine Pie
Serves 6

For the Crust

1½ sleeves saltine (with salt) crackers (about 60 crackers)
3 tablespoons granulated sugar
½ cup unsalted butter (1 stick), at room temperature
Make the crust: Heat oven to 350 degrees. Using a food processor or your hands, pulse or crush the crackers finely. (Stop before all the crackers turn to dust; it's O.K. if you have some little pieces.) Add sugar, then butter.
Pulse to combine or work the butter in with your hands until the crumbs hold together like dough. Press into and up the sides of a 9-inch pie pan. Freeze for 15 minutes, then bake for 12 to 15 minutes or until the crust gets a little color.
For the Filling

4 egg yolks
1 (14-ounce/396-gram) can sweetened condensed milk
½ cup tangerine juice
Pinch salt
Fresh whipped cream, tangerine zest, and flaky sea salt, for garnish (optional)

While the crust is cooling (it doesn't need to be cold), in a medium bowl, whisk egg yolks into condensed milk, then whisk in the juice and salt, making sure to combine them completely.
Pour into the shell and bake for 14 to 16 minutes until the filling has set. Refrigerate until completely cold, 4 hours up to overnight. Serve with fresh whipped cream, zest, and a sprinkling of flaky sea salt, if desired.
Tangerine Chicken
Serves 6

For the Glaze

2 cups fresh tangerine juice
5 tablespoons honey
1/4 cup soy sauce
2 tablespoons finely grated tangerine peel or orange peel
2 canned chipotle chiles in adobo sauce, minced
1/4 cup extra virgin olive oil
2 garlic cloves
1/4 cup packed Italian parsley

In a food processor or blender, combine the ingredients and pulse until blended.
Pour the mixture into a saucepan, and simmer for 20 minutes until thickened. Set it aside. (The Glaze can be made 3 days ahead and refrigerated)
For the Chicken

1 cup fresh tangerine juice or orange juice
1/3 cup chopped Italian parsley
3 tablespoons chopped fresh thyme
3 tablespoons minced peeled fresh ginger
2 garlic cloves, minced
3 tablespoons seasoned rice vinegar
2 tablespoons olive oil
2 tablespoons finely grated tangerine peel or orange peel
Salt and pepper
1 2 3/4- to 3-pound chicken, quartered, backbone removed

In a bowl, whisk together the marinade ingredients. Pour into a 1-gallon zip-lock bag add the chicken, seal the bag, and marinate in the refrigerator at least 4 hours or overnight.
Preheat the oven to 400 degrees, and line a sheet pan with silicone, aluminum foil or parchment.
Remove the chicken from the marinade and discard the marinade.
Lay the chicken on the baking sheet skin side down and roast for 20 minutes, turn and roast another 20 minutes until the dark meat registers 160 degrees on an instant read meat thermometer.
Turn on the broiler, brush the chicken with some glaze, and broil until the skin is crispy.
Remove from the oven, and brush with additional glaze. Serve the warm glaze with the chicken.
Grilled Lamb Burgers with Mint Chimichurri
Serves 4

For the Chimichurri

1 cup chopped parsley
1 cup chopped mint
¾ cup olive oil
¼ cup lemon juice
2 Garlic cloves, minced
2 teaspoons red chile flakes
salt and pepper

In a bowl combine the ingredients and season with salt and pepper.  The sauce will keep in the refrigerator for up to 1 week.  Delicious on grilled meats and drizzled over vegetables. 
For the Burgers

1-pound lean ground lamb
1-pound lean ground beef
3 garlic cloves, minced
1 cup finely chopped yellow onion
2 teaspoons dried oregano
1 teaspoon dried rosemary, crushed in the palm of your hand
2 slices bread, crust removed, torn into pieces
1/4 cup milk
2 teaspoons salt
1 teaspoon freshly ground black pepper
Grated zest of one lemon
½ cup finely chopped mint
Pita bread for serving

In a large mixing bowl combine all the ingredients stirring to combine. Using a scoop burgers about 5-inches in diameter and refrigerate until ready to cook.
Preheat the grill for 10 minutes, and grill over direct heat for 4 to 5 minutes on each side, until the burgers are cooked to your desired degree of doneness.
Serve on pita bread drizzled with chimichurri.
Mint or Basil Ice Cream
Makes one quart

1cup mint or basil leaves, cleaned and dried
⅔ cup sugar
2 cups heavy cream
1 cup whole milk
⅛ teaspoon fine sea salt
6 large egg yolks

In a food processor, pulse together mint or basil leaves and sugar until pulverized and bright green.
In a small pot, simmer heavy cream, milk, herb sugar and salt until sugar completely dissolves, about 5 minutes. Remove pot from heat.
In a separate bowl, whisk yolks. Whisking constantly, slowly whisk about a third of the hot cream into the yolks, then whisk the yolk mixture back into the pot with the cream.
Return pot to medium-low heat and gently cook until mixture is thick enough to coat the back of a spoon (about 170 degrees on an instant-read thermometer). Remove from heat and allow custard to steep for 30 minutes.
Strain through a fine-mesh sieve into a bowl. Cool mixture to room temperature. Cover and chill at least 4 hours or overnight.
Churn in an ice cream machine according to manufacturer's instructions. Serve directly from the machine for soft serve, or store in freezer until needed.
Crostini with Creamy Ricotta and Sweet-tart Balsamic Cherries
Serves 6 to 8

For the Crostini
Makes about 24 pieces

One baguette sliced into1/2-inch pieces
1/2 cup extra virgin olive oil

Preheat the oven to 400 degrees, line a baking sheet with silicone or parchment. Lay the baguette slices in one layer on the baking sheet.
Brush the baguette slices with oil and bake for 10 minutes until the slices begin to turn golden brown.
Remove it from the oven and allow it to cool.
The crostini can be stored at room temperature for 2 days, or frozen for one month.
For the Cherries and Assembly

2 tablespoons unsalted butter
1/2-pound sweet cherries, pitted and chopped
1/4 cup sugar
1/4 cup aged balsamic vinegar
1/4 cup whole milk ricotta

In a saucepan, melt the butter, add the cherries and sugar, and saute until the cherries begin to soften, about 3 minutes. Add the vinegar, and simmer for 2 minutes.
Allow the mixture to cool, cover and refrigerate for up to 5 days.
Spread the ricotta onto the crostini and top with some of the cherries.
Use the cherries over dessert, as a topping for crostini with burrata, goat cheese or fresh ricotta.
Cherry Amaretto French Toast
Serves 6 to 8

2 cups pitted sweet cherries
1/4 cup sugar
2 tablespoons cornstarch
2 tablespoons Amaretto di Saronno or 1/4 teaspoon almond extract
Two 8-ounce containers mascarpone 
2 tablespoons Amaretto di Saronno
2 tablespoons sugar
8 large eggs
1 1/2 cups heavy cream
1/2 cups sugar
2 tablespoons Amaretto di Saronno
1 teaspoon ground cinnamon
One 8-ounce loaf Brioche, egg bread like Challah or Hawaiian Sweet bread sliced
1/2 cup sliced almonds for garnish
1/4 cup unsalted butter
cinnamon sugar for garnish

Coat the inside of a 13-by-9-inch baking dish with nonstick cooking spray.
In a bowl, combine the cherries, sugar, cornstarch, and Amaretto. Pour into the prepared pan.
In another bowl stir together the mascarpone, Amaretto, and sugar.
Spread the cherries in the pan.
In another bowl, whisk together the eggs, heavy cream, sugar, and cinnamon.
Dip the brioche into the egg mixture and lay over the mascarpone in the pan.
I was able to do 2 layers. Pour any remaining egg mixture over the bread evenly. Sprinkle with the almonds, brush with the butter, and sprinkle with cinnamon sugar. Cover and refrigerate for at least 8 hours, or up to 36 hours.
Remove the casserole dish from the refrigerator 30 minutes before baking.
Preheat the oven to 350 degrees, and bake for 45 minutes, until the casserole is bubbling, and the top is browned. Allow to rest for 10 minutes, then cut into squares and serve.
@Diane Phillips Diane Phillips Blog: Cucina Divina
Follow me on Facebook (professional page) Twitter, and Pinterest