Farmers' Market Bag 12-19-12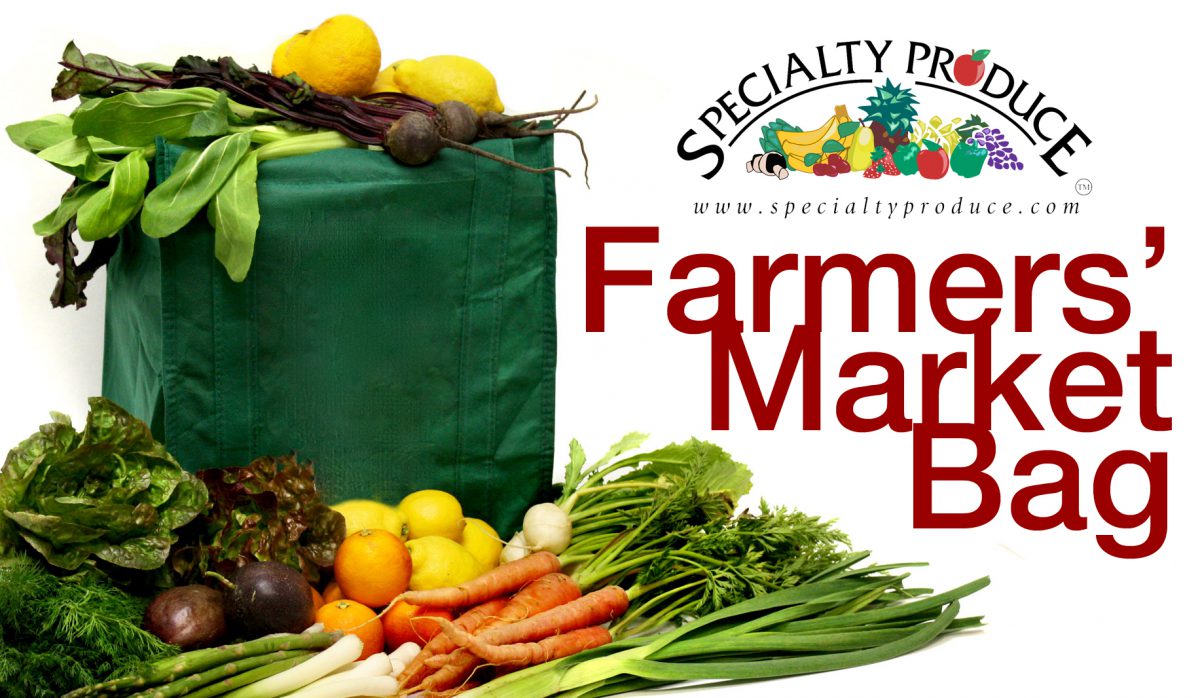 Granny Smith Apples – Penryn Orchards
Baby Green Artichokes – Life's a Choke
Blue Lake Beans – Gloria Tamai Farms
Broccoli – Jaime Farms
Green Chard – Coastal Organics
Meyer Lemons – Rancho Del Sol
Fuyu Persimmons – Beck Grove
Baby Bunch Rutabaga – Flora Bella Farms
Grenbloise Lettuce – Coleman Farms
Organic Juicing Bag:
Celery – Jaime Farms
Valencia Oranges – Garcia Organic Farms
Green Bell Peppers & Red Beets – Lakeside Farms
Ginger – Earthbound Farms
Nantes Carrots – Rutiz Farms

Click here to Watch Video on YouTube
Catalina Offshore catch of the week: U-15 Mexican White Shrimp

click the links above & search for products on our website with recipes attached
Below are some great recipes courtesy of Diane Phillips (Cucina Divina) & Mischa's Cafe & Juice Bar (located just down the street from us!) for you to try out with the produce from your bag. Let us know on our Facebook Page or through twitter if you tried any of them!
Specialty Produce Recipe Suggestions
courtesy of Diane Phillips (Cucina Divina)
Lemon Bundt Cake
Cook's Note: This cake can be made with any citrus, lime, orange, or grapefruit. Make sure to wash the fruit thoroughly before zesting.
Makes one 10-inch Bundt or tube cake
2 3/4 cup all-purpose flour
1/2 teaspoon baking soda
3/4 teaspoon salt
1 cup unsalted butter, softened to room temperature
2 1/2 cups sugar
1 teaspoon vanilla extract or paste
1 tablespoon grated lemon zest
5 large eggs, at room temperature
1 cup sour cream
1/2 cup fresh Meyer lemon juice (about 4 lemons)
1. Preheat the oven to 350 degrees, and coat the inside of a 10-inch Bundt or tube pan with non-stick cooking spray.
2. In the bowl of an electric mixer, cream the butter and sugar until they are light and fluffy. Add the vanilla, lemon zest, and oil, if using.
3. Add the eggs one at a time, mixing well after each addition, scraping down the sides of the bowl.
4. Mix the sour cream and lemon juice together, add with the flour, baking soda, and salt, and beat until the mixture comes together and is smooth.
5. Transfer the batter into the prepared pan. Bake for 1 hour or until a skewer inserted in to the center comes out clean.
6. Transfer the cake pan to a rack and allow to cool for EXACTLY 10 minutes. Allow to cool.
7. Pour the lemony icing over the cake when the cake is cooled.
8. The cake keeps at room temperature for up to 5 days, freezes for about 2 months.
Lemony Icing
1 1/2 cups confectioners' sugar
2 to 3 tablespoons fresh lemon juice
Whisk the lemon juice into the sugar and drizzle over the cooled cake.
Adapted from: Tate's Bake Shop Cookbook
Creamy Broccoli Soup
Serves 6
2 tablespoons unsalted butter
1 clove garlic, minced
1 medium shallot, finely chopped
2 cups broccoli florets and peeled stems cut into chunks
2 medium Yukon Gold Potatoes, peeled, and cut into 1/2-inch chunks
3 cups chicken stock
1 cup heavy cream (for a lower fat version, add 1/2 cup more stock to the finishes soup—it will not be as thick, but will do the trick)
Salt and a few dashes of Tabasco (Tabasco takes the place of pepper here)
1/2 cup finely shredded Parmigiano Reggiano cheese for garnish
In a 4 to 5-quart Dutch oven, melt the butter, and sauté the garlic and shallot for 2 to 3 minutes, until softened. Add the broccoli, potatoes, and stock, and simmer for 10 to 12 minutes until the vegetables are tender. Puree the soup with an immersion blender, or cool and puree in a blender or food processor. Add the soup back to the pan, add the cream, taste for seasoning and add salt and Tabasco to taste. Serve the soup garnished with shredded Parmigiano Reggiano cheese.
Cooks' Note: This formula can be used to make any number of vegetable soups, using spinach, chard, leek, carrot, or fennel.
American Gothic House Apple Pie
My friend Beth Howard runs the Pitchfork Pie Stand during the summer at the American Gothic House in Eldon Iowa. When she heard about the shootings in Newtown, she loaded up her RV with pie making supplies and headed East—she is distributing pies to the residents and families and first responders with the help of an army of her Facebook Buddies who have been baking for days while she drove from Iowa. This is Beth's recipe from her book, Making Piece, a Memoir of Love, Loss, and Pie. You can follow her on Facebook at The World Needs More Pie, or at her blog, theworldneedsmorepie.com – Read about her event on CNN here
For the Crust
2 ½ c. flour (but have at least 3 ½ cups on hand, as you'll need extra flour to roll dough and thicken filling)
½ c. vegetable shortening
½ c. butter
Dash of salt
Ice water (fill one cup, but use only enough to moisten dough)
1. In a large bowl, work the butter and shortening into the flour with your hands until you see marble-size lumps form.
2. Pour in ice water a little at a time, sort of "fluffing" the flour to mix in liquid. When the dough feels moist, do a "squeeze test" and if it holds together you're done. Your dough should feel tacky, but not wet. (Do not overwork the dough! It takes very little time and you'll be tempted to keep touching it, but don't!)
3. Divide the dough in 2 balls. Form each ball into a disk shape. Roll flat and thin to fit your pie dish.
4. Sprinkle flour under and on top of your dough to keep it from sticking to your rolling surface.
5. Trim excess dough around the edges with scissors so that it is about 1 inch wider than the dish edge.
For the Filling
7 large Granny Smith apples*, depending on size of apples and size of pie dish
2 teaspoon cinnamon (or more, depending on how much you like)
¾ c. sugar
1 Tablespoon unsalted butter (to put on top of apples before covering with top crust)
4 Tbsp. flour
1 beaten egg (to brush top crust before putting in oven)
Dash of salt
1. Lay the prepared bottom crust into the pie dish. Slice half of the peeled apples directly into the pie, arranging and pressing them into the dish to remove extra space between slices.
2. Cover with half of your other ingredients (sugar, flour, cinnamon, salt), then slice the remaining apples, and cover with second half of ingredients. Add dollop of butter.
3. Cover with top crust and crimp edges, then brush with the beaten egg (this gives the pie a nice golden brown shine). Use a knife to poke vent holes in the top crust (get creative here with a unique pattern if you want).
4. Bake at 425 degrees for 20 minutes.
5. Turn oven down to 375 degrees and bake for another 30 to 40 minutes or so, until juice bubbles. Poke with a knife to make sure apples have softened. Do not over bake or apples will turn mushy.
Rutabaga Potato Gratin
Serves 8 to 10
6 medium Yukon Gold potatoes, peeled and thinly sliced (I use the slicing blade of the food processor)
1 rutabaga, peeled and sliced thinly
2 leeks, cleaned and thinly sliced using some of the tender green part
1 1/2 cups heavy cream
1 2/3 cups whole milk
1 1/2 teaspoons salt
1/2 teaspoon freshly ground black pepper
4 shakes of Tabasco sauce
2 tablespoons unsalted butter or olive oil
2 cups shredded Gruyère cheese
1/2 cup freshly grated Parmesan cheese
1. Put the potatoes, rutabaga and leeks in a 12-inch sauté pan, add the cream, milk, salt, pepper, and Tabasco and bring to a boil. Reduce the heat to medium and simmer just until the potatoes are tender, 6 to 8 minutes; they should not be cooked through and should still hold their shape.
2. Coat a 13 x 9-inch baking dish with butter or oil or non-stick cooking spray.
3. Transfer half the potato mixture to the baking dish along with some of the sauce, and sprinkle with half the Gruyère.
4. Cover with the remaining potatoes and sauce and sprinkle with the remaining Gruyère and the Parmesan.
5. Do-Ahead: At this point, you can cover and refrigerate overnight. Bring to room temperature before continuing.
6. Preheat the oven to 375°F. Bake the potatoes, covered with aluminum foil, for 20 minutes, and then remove the foil and bake until the potatoes are tender and the cheese is golden brown, another 10 to 15 minutes. Let rest for 10 to 15 minutes before serving.
Home for the Holidays Salad
Serves 6
One head lettuce, washed and spun dry
1/2 cup dried cranberries
1 cup canola oil
3 tablespoons white vinegar
3 tablespoons cranberry juice cocktail
2 tablespoons finely chopped red onion
1 tablespoons Dijon mustard
1 tablespoon sugar
1 teaspoon salt
1/2 teaspoon freshly ground black pepper
1 cup crumbled goat cheese (or blue cheese)
1/2 cup toasted walnuts
1. Place the lettuce and cranberries in a large salad bowl.
2. In a small mixing bowl, whisk together the oil, vinegar, cranberry juice, onion, mustard, sugar, salt, and pepper.
3. Pour a bit of the dressing over the greens in the bowl, and toss to coat.
4. Plate the salad and garnish with cheese and walnuts. Drizzle with a bit more dressing if desired.
FMB JUICING RECIPES
courtesy of Misha's Cafe & Juice Bar
Juice #1
1 beet
1 green pepper
3 carrots
Juice #2
1 beet
3 carrots
1 celery
1 small piece ginger
Juice #3
3 beets
2 carrots
4 oranges (peeled)
Post your photos on Twitter with the hashtag #spFMB or share them with the FMB community on our facebook page http://facebook.com/specialtyproduce!
If you haven't joined yet, you can order a bag for next week on our FMB page!