Farmers' Market Bag 12-26-12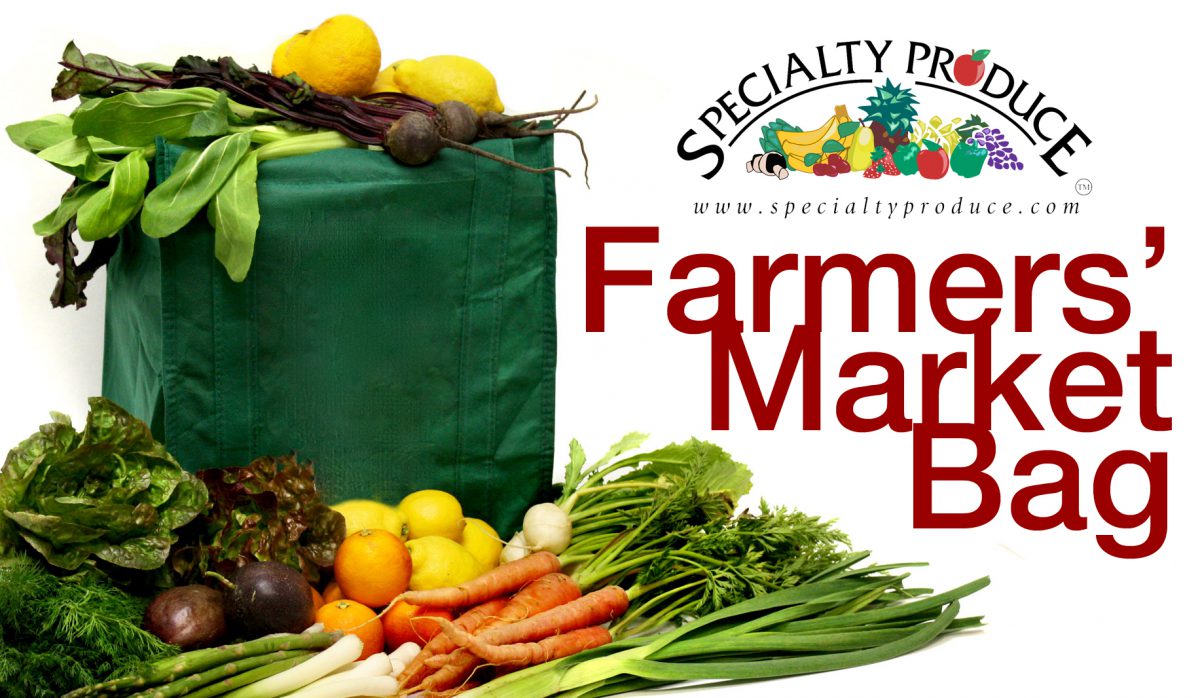 Green Dragon Apples – Dragonberry Produce
Fuerte Avocado – Garcia Organic Farms
Dino Kale – Be Wise Ranch
Butternut Squash – McGrath Farms
Kishu Tangerines – Rancho Del Sol
Medjool Dates, 1 QT Apple Cider & 1 Jar Honey – Wynola Flats
Organic Broccolini & Organic Garnet Yam – Earthbound Farms

Click here to Watch Video on YouTube
Catalina Offshore catch of the week: Grouper

click the links above & search for products on our website with recipes attached
Below are some great recipes courtesy of Diane Phillips (Cucina Divina) & Mischa's Cafe & Juice Bar (located just down the street from us!) for you to try out with the produce from your bag. Let us know on our Facebook Page or through twitter if you tried any of them!
Specialty Produce Recipe Suggestions
courtesy of Diane Phillips (Cucina Divina)
Bacon Wrapped Dates Stuffed with Parmigiano
Serves 8 to 10 (with other appetizers)
12 strips bacon, cut in half crosswise
24 pitted Medjool dates
1/4 pound Parmigiano-Reggiano cheese, cut into chunks
1. Cook the bacon in a large skillet over medium heat until it has rendered some fat and begins to turn translucent; don't let it brown at all. Remove from the pan and drain thoroughly on paper towels.
2. Make a slit in each date and stuff with a small piece of cheese. Wrap the date in a piece of bacon and secure with a toothpick if needed. Place the wrapped dates in a baking dish.
3. Do-Ahead: At this point, you can cover and refrigerate for up to 36 hours.
4. Preheat the oven to 375° F and bake the dates until the bacon is crisp, 10 to 12 minutes. Remove from the oven, drain the dates on paper towels, and set on a platter for serving. Thin shreds of any leftover Parmesan would make an awesome garnish.
Sweet Potato (Yam) and Apple Gratin
Serves 8
6 medium-size Yams or sweet potatoes
1/2 cup (1 stick) unsalted butter, melted
2/3 cup firmly packed light brown sugar
2/3 cup dark corn syrup
3 tablespoons cream sherry
1 1/2 teaspoons ground cinnamon
1/8 teaspoon ground nutmeg
4 medium-size Granny Smith or other tart apples, peeled, cored, and sliced 1/4 inch thick
1. Preheat the oven to 425 degrees. Poke a few holes in the Yams using the tip of a sharp paring knife, bake until tender when squeezed with an oven mitt, 50 to 60 minutes. When cool enough to handle, cut in half and scoop out the flesh.
2. Put the yams in a large bowl. With an electric mixer, beat until smooth. Add 1/4 cup (1/2 stick) of the butter, the brown sugar, corn syrup, sherry, cinnamon, and nutmeg and blend until creamy.
3. Spread half the yam mixture in a 10- to 12-inch pie plate 2 inches deep, or a 13 x 9-inch baking dish.
4. Arrange half the apple slices over the yam layer and brush with some of the remaining butter. The butter will seal the apples and prevent discoloration.
5. Spread the remaining yam mixture over the apples and arrange the remaining apples on top in an attractive pattern. Brush with the remaining butter, covering the apples completely.
6. Do-Ahead: At this point, you can cover and refrigerate for up to 4 days or freeze for up to 1 month. Defrost and bring to room temperature before continuing.
7. Preheat the oven to 350°F. Bake the dish, uncovered, until the apples are golden brown, 30 to 40 minutes.
Mulled Cider
1 quart apple cider
12 teaspoon whole allspice
1 stick cinnamon
3 whole cloves
1/8 teaspoon ground ginger
Peel (without pith) of one navel orange
1 cup brandy or rum
1. Heat cider; add the spices, and orange peel, keeping warm over low heat for 30 minutes. Remove the spices and peel with a sieve.
2. Serve the cider warm; add 2 tablespoons brandy or rum to each serving if desired.
3. Do-Ahead: The cider can be steeped, then cooled and returned to its container and warmed individually in cups if desired.
Green Dragon Apple Puff Pancake
Serves 6
The perfect Christmas breakfast, the apples and the batter can be prepared ahead of time. Reheat the apples while you are preheating the oven. Serve with Canadian bacon, or warm ham. Serve topped with confectioners' sugar. If you have a Cast Iron Skillet, this is a great recipe to cook in it!
For the Batter
Similar to a Dutch Baby Pancake or Popover batter, the batter can be made the day before and the blender container refrigerated overnight.
4 large eggs
3/4 cup cold milk
2/3 cup all-purpose flour
1 tablespoon cinnamon sugar
1 teaspoon vanilla paste or vanilla extract
1. Preheat the oven to 400 degrees.
2. In a blender, process the milk and eggs until frothy, about 1 minute. Add the flour, cinnamon sugar, and vanilla, and blend another 2 minutes.
3. Refrigerate while making the apples.
For the Apples
6 tablespoons unsalted butter
1 cup granulated sugar
4 to 6 Green Dragon apples, peeled, cored and cut into thin slices
2 tablespoons lemon juice
1. Preheat the oven to 400 degrees.
2. In a 10 to 11-inch skillet with 2-inch sides, melt the butter over medium high heat, and add the sugar, cooking until the sugar turns a pale blonde color.
3. Add the apples, and lemon juice, and cook, stirring until the apples begin to soften.
4. Pour the batter (see preceding recipe) over the apples, and bake for 25 to 35 minutes until the pancake is puffed and golden.
America's Finest City Guacamole
Serves 8
When the Super Bowl was held in San Diego the avocado growers submitted their favorite guacamole recipes; I adapted this one from the winning recipe—the roasted veggies give this guacamole great character and flavor. Serve with homemade tortilla chips.
1 cup frozen corn kernels, defrosted
1 jalapeño, cut in half and seeded
2 cloves garlic
1/2 cup coarsely chopped onion
2 tablespoons olive oil
1 teaspoon salt
1/2 teaspoon freshly ground black pepper
2 large fully ripened avocados, peeled and pitted
2 tablespoons fresh lime juice
2 tablespoons bottled tomatillo salsa (Frontera brand is nice)
1/4 cup chopped fresh cilantro
6 shakes of Tabasco sauce
1. Preheat the oven to 400°F. Line a baking sheet with a silicone liner, parchment paper, or aluminum foil.
2. In a small bowl, toss together the corn, jalapeño, garlic, onion, olive oil, salt, and pepper.
3. Spread the mixture over the prepared baking sheet and roast until the vegetables are lightly browned, 15 to 20 minutes.
4. Remove the roasted mixture from the oven and, when cool enough to handle, peel and chop the jalapeño and squeeze the garlic from its skin.
5. Do-Ahead: At this point, you can cover the mixture and refrigerate for up to 2 days.
6. In a medium-size bowl, mash the avocados with the lime juice.
7. Stir in the roasted mixture, and then add the salsa, cilantro, and Tabasco, stirring until blended.
8. Taste for seasoning, transfer to a serving bowl, and press plastic wrap onto the dip.
9. Do-Ahead: At this point, refrigerate for at least 4 hours to let the flavors develop and up to 12 hours.
Broccolini with Pasta and Pancetta
Serves 6
8 ounces farfalle pasta, cooked 3 minutes short of al dente and kept warm over boiling water
1/2 cup extra-virgin olive oil
One 1/4 inch slice pancetta, finely diced
1 large shallot, finely chopped
2 garlic cloves, sliced
4 ounces broccolini, trimmed of any woody ends, and cut into thin ribbons
1/4 to 1/3 cup chicken or vegetable broth
Salt and freshly ground black pepper
4 ounces fresh goat cheese
1/2 cup grated Pecorino Romano cheese
1/4 cup pine nuts, toasted
1. Heat the olive oil in a large skillet over medium high heat. Add the pancetta, and cook until the pancetta becomes crispy and renders some fat.
2. Add the shallot and garlic, and cook for 2 to 3 minutes until fragrant.
3. Add the Broccolini and broth, and cook over medium heat for 5 to 7 minutes until the broccolini is tender. Season with salt and freshly ground black pepper to taste.
4. Stir in the pasta into the skillet, and cook over medium high heat, until the pasta is coated with the sauce. Add the goat cheese to the skillet, and toss to coat the pasta.
5. Serve the pasta with garnished with Pecorino Romano and pine nuts.
6. Cook's Note: Veggie option—omit pancetta and proceed as directed.
Tangerine Cole Slaw
Serves 6
Sweet and tangy, this is a great slaw to serve with grilled fish, poultry, or pork.
For the Dressing
1/4 cup vegetable oil
1/3 cup tangerine juice
2 tablespoons seasoned rice vinegar
2 tablespoons honey
1 teaspoon Dijon mustard
1. In a small mixing bowl, whisk together the oil, juice, vinegar, honey and mustard.
2. Set aside while making the slaw. (the dressing will keep in the refrigerator for up to 5 days)
For the Slaw
1 medium head green cabbage, finely sliced (you will need about 4 cups)
(food processor makes quick work of it!)
3 tangerines, peeled and segmented
Slaw dressing (see preceding recipe)
1/4 cup toasted almonds or pecans
1. In a large serving bowl, toss together the cabbage and tangerines. Toss with some of the dressing, and garnish with toasted nuts. Serve immediately.
Roasted Butternut Squash and Kale with Pasta
Serves 8
A great recipe for a quick weeknight dinner; roasting the squash and kale makes the squash deliciously sweet, the kale crispy and the whole dinner is ready in 30 minutes.
One 3 pound butternut squash, peeled, seeded, and cut into bite-sized chunks
1 large onion, cut into 1-inch chunks
1 bunch kale, washed, dried, and cut into thin ribbons
1/2 cup packed fresh basil leaves, torn
6 large fresh sage leaves, torn
5 large garlic cloves, coarsely chopped
1/3 cup extra-virgin olive oil
1/8 teaspoon red pepper flakes
1 tablespoon brown sugar
Salt and fresh-ground black pepper
1 pound bow-tie or shell pasta, cooked 2 minutes short of al dente
1/2 cup half-and-half
1 to 1-1/2 cups (about 6 ounces) shredded Asiago cheese
2. Preheat the oven to 400 degrees. Line a baking sheet with aluminum foil or a silicone baking liner. Place the empty baking sheet into the oven while the oven is preheating to get it hot.
3. In a big bowl, toss together all the ingredients for the roasted vegetables. Be generous with the salt and pepper.
4. Transfer the vegetables onto the hot sheet pan and spread into one layer.
5. Bake for 25 minutes, or until the squash is tender, turning the vegetables two or three times during roasting.
6. Scrape the contents of the baking sheet into a serving bowl. Add the half-and-half, hot pasta, and 1 cup of the cheese. Toss to blend, tasting for salt and pepper. Add more cheese if desired. Serve hot with additional cheese on the side.
Post your photos on Twitter with the hashtag #spFMB or share them with the FMB community on our facebook page http://facebook.com/specialtyproduce!
If you haven't joined yet, you can order a bag for next week on our FMB page!