Farmers' Market Box 1-9-13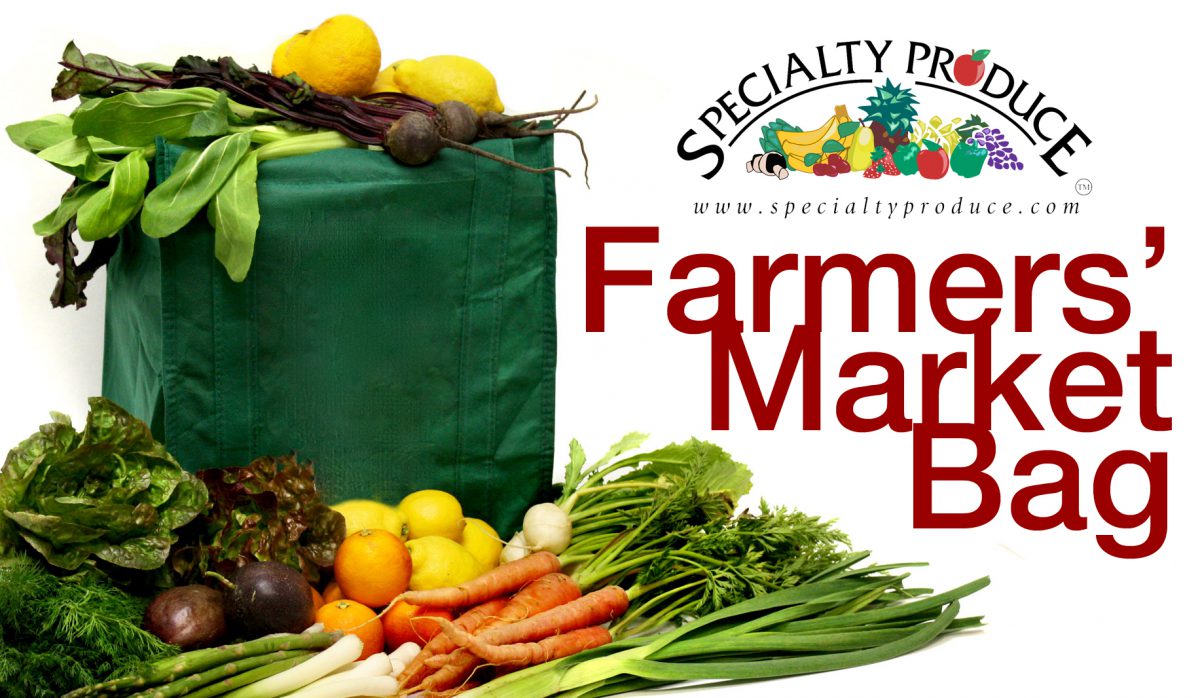 Lyon Artichoke – Life's a Choke
Bacon Avocado – J.J's Lone Daughter Ranch
Mixed Baby Carrots – Jaime Farms
Arugula – Coastal Organics
Red Torpedo Onions – Tutti Frutti Farms
Kishu Tangerines – Rancho Del Sol
Purple Potatoes – Weiser Farms
Strawberries – Be Wise Ranch
Butter Lettuce – Go Green Agriculture
Mangoes
Organic Juicing Bag:
Oro Blanco Grapefruit – Polito Farms
Valencia Oranges – Garcia Organics
Nantes Carrots – Coastal Organics
Strawberries – Be Wise Ranch
Mangoes

Click here to Watch Video on YouTube
Catalina Offshore catch of the week: Half Moon Scallops
click the links above & search for products on our website with recipes attached
Below are some great recipes courtesy of Diane Phillips (Cucina Divina) & Mischa's Cafe & Juice Bar (located just down the street from us!) for you to try out with the produce from your bag. Let us know on our Facebook Page or through twitter if you tried any of them!
Mango Citrus Squeeze (smoothie)
2 grapefruits, juiced
2 mangoes
6 ice cubes
Mango Mango (smoothie)
2 mangoes
2 oranges
juice of a lime
splash of apple juice
Specialty Produce Recipe Suggestions
courtesy of Diane Phillips (Cucina Divina)
Mango Tart
Serves 8
A delicious ending to any meal, this tart will work well with strawberries, fresh pineapple, or mangoes.
One 9 or 10-inch baked pie crust, cooled (see recipe below)
1/2 cup heavy cream
1/3 cup sugar
12 ounces mascarpone cheese
1/2 teaspoon almond extract or 2 teaspoons Amaretto
One large ripe mango, peeled, and thinly sliced
1/2 cup apricot jam
1. In the bowl of an electric mixer, beat together the cream and sugar, until the the cream forms stiff peaks.
2. Add the mascarpone and almond extract, and beat until blended.
3. Spread the mixture into the baked pie shell.
4. Cover the cream with mango slices in a decorative pattern.
5. Heat the jam in a small saucepan, and brush the jam over the mangoes. Refrigerate the tart for up to 8 hours before serving.
Butter Lettuce Salad with Avocado Dressing
Serves 4
The dressing makes a great sandwich spread, or mix in for chicken or tuna salad sandwiches.
For the Dressing
1 cup mayonnaise
1/4 cup chopped scallions
1 cup packed fresh basil leaves
2 tablespoons lemon juice
2 cloves garlic
One large avocado, cut into chunks
2 teaspoons anchovy paste
4 drops Tabasco (to taste)
1 cup sour cream
1. Place all the ingredients into the food processor and process until smooth.
2. Taste for seasoning and adjust with salt, pepper, or Tabasco.
3. Do-Ahead: The dressing will keep refrigerated for up to 4 days. Delicious on chicken, shrimp, pasta, or potato salads.
Assembly
One head butter lettuce, washed and spun dry
2 red torpedo onions, finely chopped
Avocado dressing, (see above)
1. Separate the lettuce into leaves, and distribute evenly between 4 salad plates.
2. Sprinkle with the onions, and drizzle the lettuce with the dressing.
Purple Potatoes, with Garlic Herb Butter
Serves 4 to 6
This recipe will work with any low starch potato, like reds, white creamers, or Yukon Gold.
1 pound purple potatoes, scrubbed, and cut into quarter
2 tablespoons unsalted butter
2 garlic cloves, minced
2 tablespoons finely chopped mixed herbs (try tarragon, thyme, oregano, dill, basil, rosemary)
1/4 cup extra virgin olive oil
1 teaspoon salt
1/2 teaspoon freshly ground black pepper
1. Put the potatoes into a saucepan with cold water to cover. Bring to a boil, and cook for 10 to 15 minutes, until the potatoes are tender.
2. While the potatoes are cooking, melt the butter in a small skillet, add the garlic, herbs, and oil, cooking for 2 to 3 minutes until the garlic is fragrant. Stir in the salt and pepper.
3. When the potatoes are tender, drain the potatoes, and transfer to the skillet with the herb butter, and toss the potatoes in the butter mixture. Serve immediately.
Strawberries with Yogurt and Brown Sugar Dip
Serves 2 to 4
1 cup Greek Yogurt
1/3 cup firmly packed brown sugar
One pint strawberries, washed and hulled
1. In a small mixing bowl, whisk together the yogurt and brown sugar, refrigerate for up to 4 days.
When ready to serve, serve the dip with fresh strawberries to dip.
Post your photos on Twitter with the hashtag #spFMB or share them with the FMB community on our facebook page http://facebook.com/specialtyproduce!
If you haven't joined yet, you can order a bag for next week on our FMB page!